Compare travel insurance for Pakistan
Your next trip to Pakistan should be remembered for the right reasons, so it's important you get travel insurance to protect you
Why do I need travel insurance for Pakistan?
It's a good idea to take out travel insurance if you are planning a trip to Pakistan, just in case something goes wrong either before or during your holiday. 
Travel insurance is designed to cover the costs involved in a range of common travel issues, including losing your luggage, having your flight cancelled, or being injured in an accident. 
It's the safety net you need when your travel plans are derailed due to circumstances beyond your control.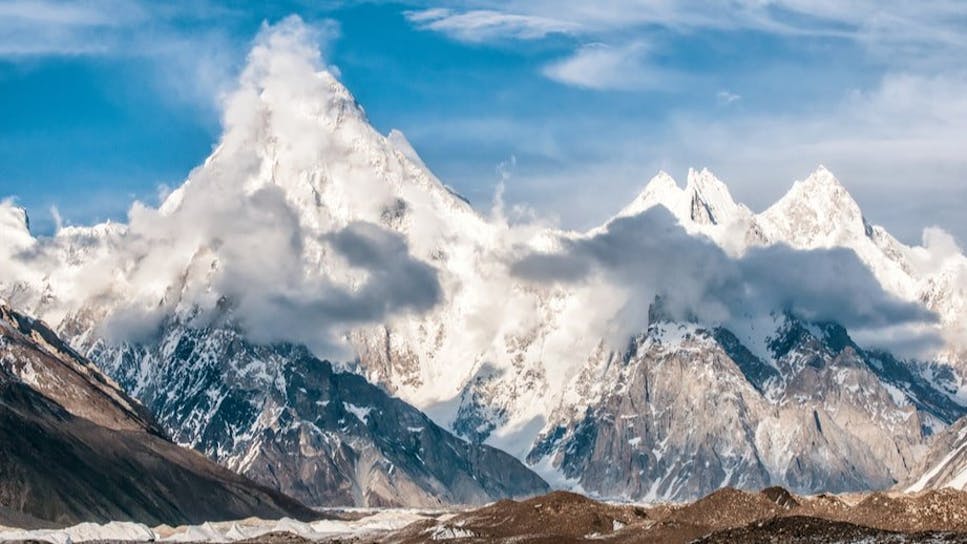 What type of travel insurance do I need for Pakistan?
You will need worldwide cover to protect you during a trip to Pakistan. Whether you need single-trip travel insurance or an annual multi-trip policy will generally depend on whether or not you are planning any further holidays during the next 12-month period. 
If not, then single-trip cover will often be the better choice. But if you do have more trips planned, then annual travel insurance is a convenient and often price-effective way to cover them all in one go.
For extended travel that includes a visit to Pakistan, meanwhile, a backpacker travel insurance policy is often the best way to cover the entire trip. 
What should my travel insurance policy include for Pakistan?
Your travel insurance policy for Pakistan should include:
Medical: Cover for medical treatment is one of the most important benefits offered by travel insurance. It will usually cover the cost of emergency treatment up to a certain amount, say £5m. However, you'll need to inform your insurer of any pre-existing medical conditions you have if you want to be covered for treatment relating to them while you're away.  

Repatriation: This type of cover is designed to pay out if you need to be brought home to the UK due to a medical emergency

Cancellation: This covers you if you need to cancel your trip or cut it short due to circumstances outside your control 

Travel delays and missed departures: This cover pays out if you miss your flight (due to no fault of your own) or your travel plans are hit by long delays 

Baggage: Baggage cover offers a pay out if your belongings are lost or stolen during your trip. However, if you want to take high-value items such as an expensive camera or necklace, you may need separate cover to be properly protected 

Cash: This offers cover for if your money is lost or stolen while you're away. There is usually a maximum amount you can claim, often around £300

Gadgets: This covers you if your mobile phone or laptop is stolen or damaged while you're on holiday

Travel abandonment: This provides cover for if circumstances change and your trip becomes unfeasible as a result

Passport: This covers your costs if your passport is lost or stolen while you're abroad

Personal liability: This covers your costs if you are involved in an accident in which someone is injured or their possessions are damaged Destination travel insurance: Exclusions and what to watch out for
Pakistan travel insurance: Exclusions and what to watch out for
There are certain situations in which travel insurance for Pakistan will not pay out due to exclusions set out in the policy terms. Fortunately, in many cases, you can take out extra cover to plug these gaps. 
Common exclusions/extra cover options to bear in mind include: 
Pre-existing condition travel insurance: If you live with a pre-existing medical condition, or have had treatment for one within the last few years, it's important to disclose this information to your insurer. Otherwise, you may well find you are unable to make a claim relating to medical treatment that is linked to that condition. 

Buying insurance that covers pre-existing medical conditions is often more expensive than taking out a standard policy. But honesty is the best policy, and given the cost of medical treatment abroad, it could prove a far cheaper option in the long run. 

FCDO advice: Some insurance providers will invalidate your policy if you travel against Foreign, Commonwealth & Development Office (FCDO) advice, so it's always a good idea to check what the government is saying about your destination before going on holiday. Our guide on coronavirus and travel insurance offers more information if you're worried about how Covid-19 could affect your travel plans.

Sports and activities: If you're planning on participating in higher-risk activities such as trekking and climbing while you're in Pakistan, it's important to check these are covered by your travel insurance. If not, you can often get the extra protection you need by taking out adventure cover.
Is healthcare free in Pakistan?
There are both public and private sector healthcare services available in Pakistan, but you are much more likely to end up in the private sector, and you will have to pay for treatment either way. As a result, the FCDO recommends that UK-based travellers going to the country take out "comprehensive travel insurance that covers the duration of your stay in Pakistan".
Travelling to Pakistan: Key Information

Language(s)

Urdu, English

Currency

Pakistani rupee -

Dialling code

+92

Plug sockets

C & D

Emergency contact number

15 (Police), 16 (Fire), 115/1020/1122 (Ambulance)

Embassy address

34-36 Lowndes Square, London SW1X 9JN

FCDO travel advice

Check the
Top tips for travelling to Pakistan
Pakistan has stunning mountain ranges, lively and interesting cities such as former capital Karachi, and incredible historical sites, including the 9th century fortress at Bahawalpur. However, while the risks associated with travel here certainly mean it's off the well-trodden tourist trail, they also make it off limits for many holidaymakers.
Here are a few tips to help you make the most of your time in Pakistan: 
When to visit: The months between May and October are generally considered the best time to visit Pakistan, particularly if you want to explore the northern regions. 

Getting around: There are lots of bus and minibus networks in Pakistani cities, but both these and the nation's trains can be dangerous – due to both petty crime such as pickpocketing and the risk of terrorist attacks. Taxis are also a high-risk option, although booking via the Uber network at least means you can track the journey. For longer journeys, air travel is probably the safest bet. 

Cash is king: You can use debit and credit cards in Pakistan but many transactions still take place in cash, so it's a good idea to have a reasonable amount on you at all times.

Dress modestly: Modest attire is recommended at all times in Pakistan, while drinking alcohol is also generally frowned upon. 

Be prepared: The weather in Pakistan can change massively from one part of the country to another, so if you're planning a tour of different regions, you may need to pack for extreme heat and much chillier temperatures. 

Shopping etiquette: Haggling is accepted in Pakistani bazaars and markets, and most other places apart from upscale shopping centres. So don't be afraid to drive a hard bargain!