Compare travel insurance for Pakistan
Pakistan has stunning mountain ranges, lively and interesting cities such as former capital Karachi, and incredible historical sites, including the 9th century fortress at Bahawalpur. With so much to see, your next trip to Pakistan should be remembered for the right reasons. That's why it's so important to get travel insurance to protect you
Why do I need travel insurance for Pakistan?
It's a good idea to take out travel insurance if you are planning a trip to Pakistan, just in case something goes wrong either before or during your holiday. 
Travel insurance is designed to cover the costs involved in a range of common travel issues, including losing your luggage, having your flight cancelled, or being injured in an accident. 
It's the safety net you need when your travel plans are derailed due to circumstances beyond your control.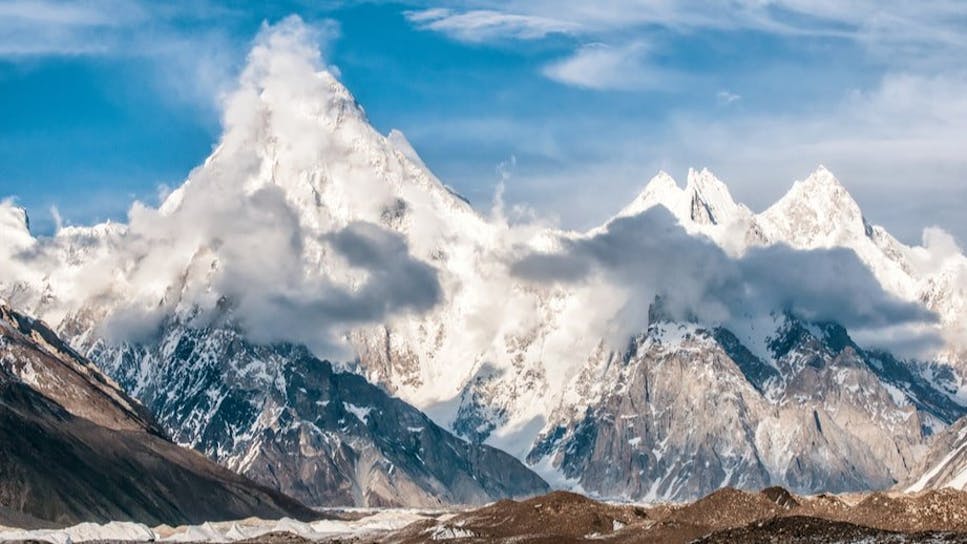 What type of travel insurance do I need for Pakistan?
You will need worldwide cover to protect you during a trip to Pakistan.
Whether you need single-trip travel insurance or an annual multi-trip policy will generally depend on whether or not you are planning any further holidays during the next 12-month period.
If you are only planning one or two trips during the year, single-trip cover may be the cheaper option. But if you you do have more trips planned, annual travel insurance is a convenient and often price-effective way to cover them all in one go.
For extended travel that includes a visit to Pakistan, a backpacker travel insurance policy may be best way to cover the entire trip. It allows longer stays and travel to multiple destinations in one trip.
What should my travel insurance policy include for Pakistan?
Your travel insurance policy for Pakistan should include:
Medical: Cover for medical treatment is one of the most important benefits offered by travel insurance. It will usually cover the cost of emergency treatment up to a certain amount. However, you'll need to inform your insurer of any pre-existing medical conditions you have if you want to be covered for treatment relating to them while you're away.  

Repatriation: This type of cover is designed to pay out if you need to be brought home to the UK due to a medical emergency

Cancellation: This covers you if you need to cancel your trip or cut it short due to circumstances outside your control 

Travel delays and missed departures: This cover pays out if you miss your flight (due to no fault of your own) or your travel plans are hit by long delays 

Baggage: Baggage cover offers a pay out if your belongings are lost or stolen during your trip. However, if you want to take high-value items such as an expensive camera or necklace, you may need separate cover to be properly protected 

Cash: This offers cover for if your money is lost or stolen while you're away. There is usually a maximum amount you can claim

Gadgets: This covers you if your mobile phone or laptop is stolen or damaged while you're on holiday

Travel abandonment: This provides cover for if circumstances change and your trip becomes unfeasible as a result

Passport cover: This covers your costs if your passport is lost or stolen while you're abroad

Personal liability: This covers your costs if you are involved in an accident in which someone is injured or their possessions are damaged Destination travel insurance: Exclusions and what to watch out for
Pakistan travel insurance: Exclusions and what to watch out for
There are certain situations in which travel insurance for Pakistan will not pay out due to exclusions set out in the policy terms. Fortunately, in many cases, you can take out extra cover to plug these gaps. 
Common exclusions/extra cover options to bear in mind include: 
Pre-existing condition travel insurance: If you live with a pre-existing medical condition, or have had treatment for one within the last few years, it's important to disclose this information to your insurer. Otherwise, you may well find you are unable to make a claim relating to medical treatment that is linked to that condition. 

Buying insurance that covers pre-existing medical conditions is often more expensive than taking out a standard policy. But honesty is the best policy, and given the cost of medical treatment abroad, it could prove a far cheaper option in the long run. 

FCDO advice: Some insurance providers will invalidate your policy if you travel against Foreign, Commonwealth & Development Office (FCDO) advice, so it's always a good idea to check what the government is saying about your destination before going on holiday.

Sports and activities: If you're planning on participating in higher-risk activities while you're in Pakistan, it's important to check these are covered by your travel insurance. Most high-risk activities aren't usually covered as standard, and if you're planning to visit one of Pakistan's ski resorts, you will need to add winter sports cover to your travel insurance.
Is healthcare free in Pakistan?
There are both public and private sector healthcare services available in Pakistan, but you are much more likely to end up in the private sector, and you will have to pay for treatment either way. As a result, the FCDO recommends that UK-based travellers going to the country take out "comprehensive travel insurance that covers the duration of your stay in Pakistan". This will help you cover the cost of any emergency medical treatments you may need while you're there, as well as cover emergency repatriation if you need to be sent home.
Do I need a visa for Pakistan?
Visitors with a British passport need a visa to travel to Pakistan. Entering Pakistan without a visa can be seen as a criminal offence and result in detention or a fine. You can apply for a tourist visa online, which will require a photo of you, a copy of your passport, and your accommodation details.