Compare travel insurance for Ireland
This guide will help you have a great trip to the Emerald Isle – and travel insurance will protect you while you're there
Ireland is a small country, but it's packed with history and excitement. From raucous pub crawls through old cities to isolated medieval monasteries and breathtaking natural landscapes, there's never a dull moment – even if it rains, which it does, a lot.
The country's proximity to the UK and the regular flights and ferries make it a perfect destination for a weekend break, but if you have a little more time there's loads to discover beyond Dublin and the coast. These travel tips well help you take a trip you won't forget – just make sure your insurance is sorted before you set off.
Do I need travel insurance for Ireland?
Even though it's right next door, you still need to buy travel insurance before you set off for Ireland. That way, you'll be protected against many common travel problems while on your trip. For instance, travel insurance can cover you against illness, accidents, lost baggage and theft while you're on your Irish getaway.
Travel insurance also means you'll be able to reclaim your costs if you have to cancel or cut short your trip in an emergency – so you can relax and enjoy your holiday.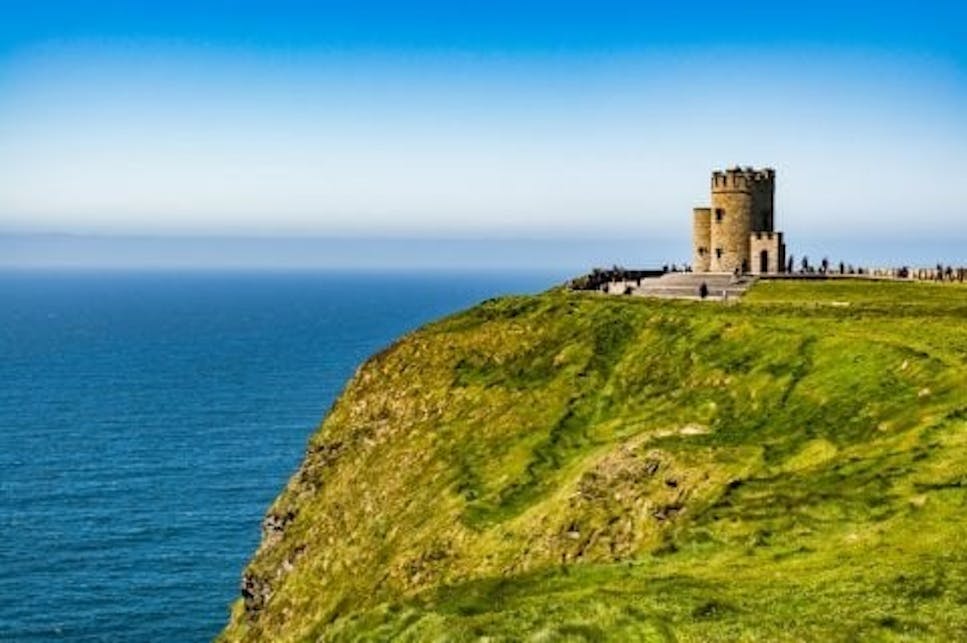 What type of travel insurance do I need for Ireland?
Your trip to Ireland should be covered by any European travel insurance policy. However, there are many different types of insurance that might suit your holiday. When you find the best travel insurance deals through MoneySuperMarket, you'll be able to tailor your insurance to your needs. Some categories to look out for:
Single-trip insurance: If you only want to cover your trip to Ireland, select single-trip travel insurance, and type in Ireland as your destination.

Annual multi-trip insurance: If you take two or more holidays a year, it might save money to buy an insurance policy for the entire year. You can choose from a policy that only covers trips within Europe, or policies that will cover you across the world. (If you're planning to visit the USA, Canada or the Caribbean, you'll need a specific policy for these countries.)

Backpackers' insurance: If you're visiting Ireland as part of a backpacking holiday, you can find great deals on backpackers' insurance, which can cover you for longer trips or if you'll be visiting several different countries.
What should my Ireland travel insurance include?
When you're choosing a travel insurance deal for your Irish holiday, watch out for these important features your cover should include:
Medical cover, which most insurers will offer for costs up to £5m. If you're a UK resident, you should be able to access Irish healthcare services (even though the UK is not in the EU) – but having good travel insurance makes sure you'll be protected from any extra expenses

Cancellation cover, which pays out up to a certain amount if you need to cancel your holiday or cut it short due to an emergency

Repatriation, which covers the cost of bringing you back to the UK

Baggage cover, which insures you in case your luggage is lost during your trip or any of your possessions are stolen. If you're taking any particularly expensive items – such as jewellery – on your holiday, make sure they'll be included in your insurance

Gadget cover, which will help in case a possession such as a mobile phone or a GoPro is lost or stolen

Passport cover, which protects you against extra expenses if your passport is lost or stolen while you're abroad
You should also keep an eye on your policy's excess – that's the amount you'll have to pay yourself towards any claim. A higher excess usually means your premium is cheaper – but make sure it's an amount you'll be able to pay.
The full details of your insurance will be in your policy document, so make sure you read it in full before you choose a travel insurance deal.
What won't be covered in my Irish travel insurance?
There are some features that may not be included in your insurance for your trip to Ireland. These are known as exclusions. Make sure know what you can and can't claim for before you make your holiday plans.
Some insurance policies might not cover you for accidents or injuries you sustain during activities like skiing and snowboarding, or even hiking or kicking around a football on the beach. MoneySuperMarket's insurance comparison tool allows you to quickly find out what activities will and won't be covered in any travel insurance policy. If you plan on enjoying any physical activities while on your Irish getaway, check that they're included first

If you have a pre-existing medical condition, or you've had one in the past for which you've received advice or treatment, you may be charged a higher premium. If this is the case, it may help to take out a special policy for pre-existing conditions

Ireland is a stable and peaceful country – however, you may not be covered for incidents related to civil unrest, war or terrorism, so exercise caution

If you suffer an accident or injury that can be linked to you drinking too much or using illegal drugs, insurers are likely to refuse your claim
When should my Ireland insurance policy start from?
When you choose an insurance policy, make sure you're covered from the day you book your trip, not the day you actually leave. That way, you'll be covered in case you need to cancel your holiday before you set off.
Health and vaccinations
Due to an arrangement between the British and Irish governments, UK residents can access state health services while in Ireland. You won't need a European Health Insurance card (EHIC), and this situation isn't affected even now the UK is no longer part of the European Union. It's a good idea to keep proof of your UK residency with you in case of an emergency – this can be a driving licence, passport, or similar ID.
Healthcare facilities in Ireland are excellent, and you should expect to receive the same standard of care that you'd get in the UK.
You won't need any special vaccinations to travel to Ireland, but you should make sure you're fully up to date before you leave.
Ireland fact file
Travelling to Ireland: Key information

Language

English, Irish

Currency

 Euro – compare travel money

Dialling code

 +353

Plug sockets

 Plug socket type G – the same as in the UK

Emergency services phone number

112 or 999

Vaccinations:

See the National Travel Health Network for latest information

Embassy address and contact details

Telephone: +353 1 205 3700

FCDO travel advice

 See UK gov website for latest information
Top travel tips for Ireland
Ireland is full of beautiful sights and exciting things to do. Use our Irish travel tips to help you make the most out of your holiday:
Do more than Dublin: Many trips to Ireland start with the bustling capital – but if you have time, there's loads more to explore outside the city. Take in the spectacular lakes and mountains of Killarney, hike along the coast in County Donegal, wander the colourful streets of Galway or just relax in an Irish country pub for some good craic

Mine's a Guinness: No Irish holiday would be complete without a pint of the black stuff. It really does taste better in Ireland, and it's served in just about every single one of the country's 7,000 pubs. Plus, you can also visit the Guinness brewery in Dublin to see how it's made

Or something stronger? Ireland is also famous for its incredible variety of whiskeys. The country has 88 distilleries, and many of them are also open for tours. You can see the famous Jameson distillery in County Cork, or branch out to visit one of the others – such as the Kilbeggan distillery in County Westmeath, which will let you bottle your own sample of one of their whiskeys

Don't miss the bus: Buses in Ireland can sometimes catch travellers out. Even if you're at a bus shelter, they won't stop unless you flag them down. Stick your hand out when one approaches – and don't forget to thank the bus driver when you get off

Festivals: Just about every city in Ireland has some kind of local festival. For an unmissable experience, visit around 17 March, when the whole country celebrates St Patrick's Day – but there are plenty more to enjoy. 16 June is Dublin's Bloomsday, when locals celebrate James Joyce's novel Ulysses by retracing its hero's steps around the city, alongside pub crawls and dramatic performances from the book. Or head out into the depths of County Kerry in early August for the Puck Fair – the celebrations close with a wild goat being crowned as 'Ireland's only king'

Eat your heart out: Irish food is about more than potatoes. Dublin now has some of the best restaurants in Europe, with everything from Michelin-level fine dining to raucous burger bars to Korean comfort food. Or if you're by the coast, try some just-picked local oysters

Lazy Sundays: This is changing in Dublin and some of the larger cities, but if you're in the Irish countryside you might find that absolutely nothing is open on a Sunday – even the local shop

Get your jig on: One of Ireland's great exports is its folk music, which has fans all over the world. But there's nothing like the raucous fun of seeing it live in a traditional pub setting

Catch a match: Irish sports are unique. Don't miss out on a game of hurling – the world's fastest sport, and played in Ireland for over 4,000 years
Get the best price on travel insurance for Ireland
Travel insurance for Ireland is essential to keep your protected, but not all policies are the same. To find the cheapest Irish travel insurance that meets all your needs, it's important to compare before you buy.
MoneySuperMarket's comparison tool asks you a few simple questions about you and your holiday: where you are going, how long for and what you want your policy to cover, and in just a couple of minutes you can compare prices from a range of leading travel insurers.