Compare travel insurance for the Philippines
Your next trip to the Philippines should be remembered for the right reasons, so it's important you get travel insurance to protect you
Why do I need travel insurance for the Philippines?
Travel insurance for the Philippines should be the first item taken care of once you have booked your holiday. Travel insurance protects you in a variety of ways, from losing your luggage to having your passport stolen, paying for medical treatment or helping you fly home in the case of an emergency. It also gives you the peace of mind that you will be covered if anything goes wrong while you are travelling.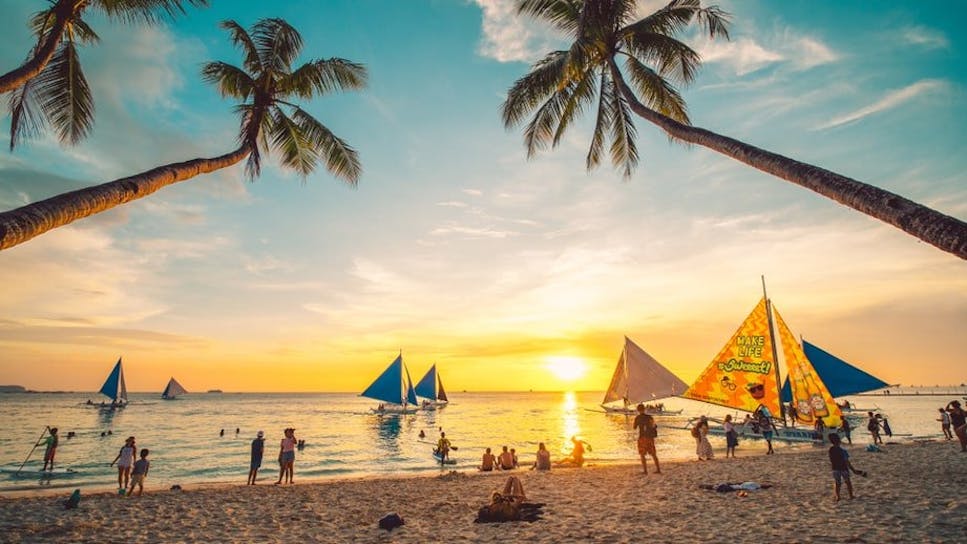 What type of travel insurance do I need for the Philippines?
As the Philippines is more than 6,700 miles from the UK and spread out over more than 7,600 islands in Asia, you will need to book worldwide cover for your travel insurance. Check with your provider if you're in any doubt about taking out the right policy.
If you are only travelling to the Philippines a single-trip travel insurance policy may be the right option for you. Single-trip cover is designed for a one-off trip, and protects you from when you take out your cover to when you return home. 
However, if you're planning to go on multiple holidays throughout the year, then an annual multi-trip policy is likely to be your preferred choice. You'll probably find that even if you only travel two or three times a year, an annual multi-trip policy may work out cheaper than individual single trip cover.
If you're backpacking and the Philippines is just one of a number of destinations you're planning to visit, backpacker travel insurance may be the best option. It covers you for one trip to multiple locations over an extended time period. 
What should my travel insurance policy include for the Philippines?
Your travel insurance for the Philippines is designed to cover you against unexpected and unwanted events while you're on your travels. Travel policies can and will differ, so make sure you check the terms for key cover such as: 
Medical cover: Cover for medical treatment  is usually up to a limit of £5m, which should be enough to cover any eventuality – although you may be able to pay a premium to raise it further. Be upfront about any pre-existing medical conditions. Failure to disclose a condition that means you later need emergency treatment may invalidate your claim

Repatriation: Will cover arrangements for you to be brought back to the UK, usually by plane or air ambulance as a result of a medical emergency

Cancellation: Covers you if you need to cancel your trip unexpectedly, or cut your holiday short (known as 'curtailment') because of an emergency

Travel delays and missed departures: If you miss your flight due to an event beyond your control such as a breakdown on the way to the airport or a death on the family

Baggage: Cover for belongings that are lost or stolen during your trip. Check to see if you need to cover high value items separately as there is likely to be a maximum per-item limit for baggage insurance

Cash: If your money is lost or stolen while you're away you can be reimbursed, but generally only up to a certain amount, often around £300

Gadgets: Most of us travel with electrical items and cover is included for your mobile phone or if your laptop or tablet is stolen or damaged while you're travelling

Travel abandonment: For circumstances that couldn't be foreseen, in which the journey becomes unfeasible and out of your control

Passport: Covers you if your passport is lost or stolen. Sorting out a replacement while you're abroad can be expensive

Personal liability: Covers you in case you accidentally inflict injury to others while away, or you lose or damage their possessions
Travel insurance for the Philippines: Exclusions and what to watch out for
While travel insurance protects you for most things, if you plan on doing something a little out of the ordinary – such as an extreme sport – it's worth checking whether you'll still be covered. Common exclusions and extras that can be added to your travel insurance, include:
Pre-existing condition travel insurance: If you have a pre-existing medical condition, let your insurer know. You don't want to travel, need emergency treatment and then find out it's excluded from your policy. Insurers vary in how they view pre-existing conditions. For example, if you've not experienced a relapse for a number of years, it may no longer be considered an issue. But it's always best to check. If you live with a medical condition, you may have to pay more for travel insurance, but you will be protected.

FCDO advice: Always check the Foreign, Commonwealth & Development Office's (FCDO) travel advice before you go on holiday. Your policy may be invalid if you travel against government advice. Worried about COVID-19 affecting your travel plans? Take a look at our guide to coronavirus and travel insurance.

Sports and activities: If you're planning on participating in higher-risk activities while travelling in the Philippines, you can opt for adventure cover. The islands offer a host of different opportunities from whitewater rafting to swimming with whale sharks. Insurers have financial limits, so check first to ensure all your holiday plans are covered adequately.

Natural disasters: The Philippines occasionally suffers from earthquakes, and it has around 20 typhoons each year, most of which occur between June and December. It could be worth making sure you take out a policy that includes cover for such freak events. 
Is healthcare free in the Philippines?
Medical treatment isn't free for foreign travellers in the Philippines, so it's sensible to have travel insurance in place. Without cover costs can be as much as £1,000 per day for intensive care treatment, according to the Foreign Office. 
Healthcare provision varies, but is generally better around the larger cities such as Manilla. Although the free Global Health Insurance Card (GHIC) has replaced the EHIC, it is not a replacement for travel insurance and doesn't extend to the Philippines.
Travelling to the Philippines: Key Information

Language(s)

Filipino, English

Currency

Philippine peso - compare travel money

Dialling code

+63

Plug sockets

A, B & C

Emergency contact number

+117 (Emergency network)

Embassy address

6-11 Suffolk St, London SW1Y 4HG

FCDO travel advice

Check the
Top tips for travelling to the Philippines
Situated in the western Pacific Ocean, and comprising more than 7,600 islands, the Philippines is a delight for beachgoers, nature lovers and water sport enthusiasts. It boasts crystal-clear tropical waters, lush countryside and majestic wildlife. Ruled by the Spanish for over 300 years and governed by the US before declaring independence in 1946, the Philippines has a fascinating history. Visit towns filled with colonial architecture and experience urban city life inspired by its former rulers.
Here are just a few of things to note when travelling in the Philippines: 
When to visit: The dry season in the Philippines runs from November through April and this is by far the most popular time for tourists to visit the region. December through February will be the coolest months (between 24°C-31°C) while temperatures reach their peak in May. June to September are the wettest because it's rain and typhoon season.

Getting around: Taxis are cheap in the Philippines compared to UK rates, and plentiful in cities such as Manila. A 20-minute trip rarely costs more than P150 – just be sure to insist they turn the meter on. Flights are more reliable than ferries when travelling between islands.

Don't be surprised if you see cock fighting in the smaller villages and cities. It's a way of life here and locals will spend a lot of time preparing their cock for the brawl. It's normal to see them stood or sat outside their houses holding roosters.

Filipinos love to sing. Even more so than what you might be used to at home, expect to hear whistling and (sometimes tuneful) singing wherever you go.

Don't spend all your pesos. The airport terminal fee or "Philippine passenger service charge" (DPSC) is an airport tax/exit fee for passengers departing from airports in the Philippines. The terminal fee ranges from P50 to P220 per person for domestic flights or P600 to P1,135 per person for international flights.