Compare travel insurance for Thailand
A trip to Thailand could well be the holiday of a lifetime, but make sure you buy travel insurance before you go!
Are you planning an unforgettable holiday in the bustling city of Bangkok? Or are you dreaming of a breakaway spent on unspoiled, sandy beaches? Thailand is a country rich in landscapes, culture, and delicious food.
Whatever your plans, taking out travel insurance will allow you to make the most of your holiday safe in the knowledge that you are covered for any unexpected mishaps that may occur during your stay.
Do I need travel insurance for Thailand?
Travel insurance is vital if you're planning a holiday to Thailand. It will protect you and pay costs if you fall ill, have an accident, lose your baggage, or something is stolen while you're there. These are all mishaps which might otherwise have pricey consequences.
Travel cover also provides financial protection if you need to cut short or cancel your trip in an emergency. Knowing you're covered means you can relax and enjoy your holiday.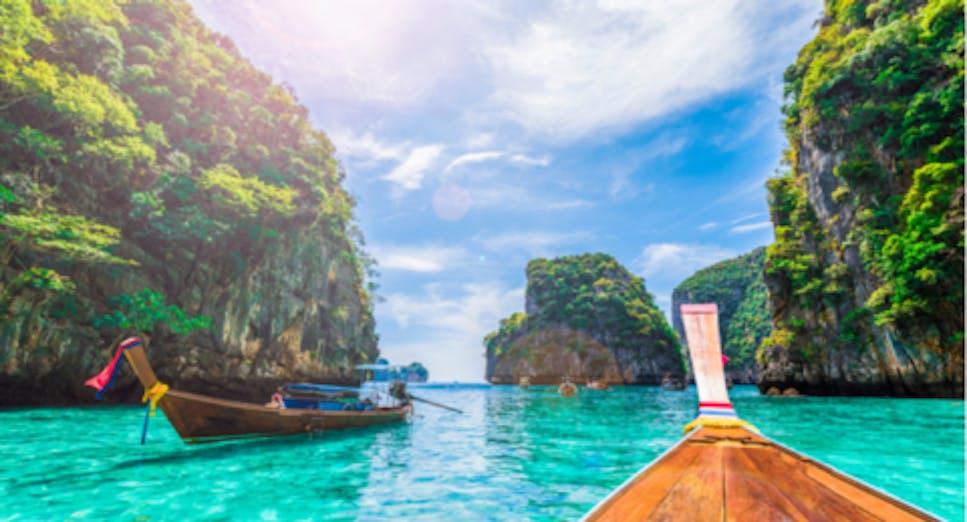 What should your travel insurance include?
A good travel insurance policy should include the following:
Cover for medical expenses, usually up to a limit of £5m.

Cover for the cost of bringing you back to the UK, otherwise known as repatriation

Cover for the cancellation or curtailment of your holiday. This will help if you have to head home earlier than planned or an emergency prevents you from going in the first place.

Delay and missed departure cover. This will help if events beyond your control (such as a car breakdown) cause you to miss your flight.

Travel abandonment cover, which protects against unusual circumstances where the journey to your destination becomes unfeasible.

Baggage cover, in case your belongings are lost or stolen during your trip. Make sure you include cover for any particularly costly items you'll have with you, such as jewellery.

Passport cover, because getting a replacement for a lost or stolen passport while abroad can be both complicated and costly.

Personal liability cover, which protects you in case something you do causes injury to someone else. It will also cover for the loss or damage of their possessions.
What type of travel insurance do you need for Thailand?
Trips to Thailand are covered by most worldwide travel insurance policies. It should fall into one of the following categories:
A Single holiday to Thailand: If you are only taking one trip, select single-trip travel insurance with Thailand as your destination.

A trip to Thailand and other countries: If you are visiting other countries during the same trip, select multi-trip insurance and then pick each country you plan to visit as multiple destinations. If you are backpacking, select backpackers' insurance.

Several holidays throughout the year that include the USA, Canada, or the Caribbean: You might be able to save money by selecting an annual multi-trip travel insurance policy. If you plan to visit the USA, Canada, or somewhere in the Caribbean, you need to select a worldwide policy that covers these countries.

Several holidays throughout the year that do not include the USA, Canada, or the Caribbean: Again, you could save by selecting an annual multi-trip travel insurance policy. If you don't plan to visit the USA, Canada, or the Caribbean, you can select a worldwide policy that excludes those countries.
Thai travel insurance: Exclusions and what to watch out for
Many standard travel insurance policies won't include the following:
How much should my travel insurance excess be?
The excess on your travel insurance is the amount you will have to pay before your travel insurance company will pay out on a claim. While a higher excess might reduce the cost of your cover, you shouldn't increase it to the point that you wouldn't be able to afford it if you made a claim.
When should my travel insurance policy start?
Start your travel insurance policy from the day you book your trip, not from the date you are planning to travel. If you delay the start of your policy, you will not be covered if you need to cancel unexpectedly.
Health and vaccines
While there are excellent private hospitals in Thailand, the public health system isn't as advanced as the UK's. This is especially true outside the larger cities. Also, medical facilities will ask you to prove up front that you have health insurance or can pay for treatment.
Regarding vaccines, visitors to Thailand should make sure they're up to date with their routine boosters in the UK. This means making sure you have your measles-mumps-rubella vaccine (MMR) and a tetanus booster, which will also protect you from diphtheria. There's no yellow fever in Thailand, but isolated incidents of rabies have been reported. What's more, the Foreign Office advises travellers to avoid direct contact with wild animals. Likewise, dengue fever is present and you should try to bring mosquito repellent.
Certain UK medications are strictly controlled in Thailand, while others are more freely available. It's best to check in advance whether any medications you take are controlled. You should also be careful when buying things like Viagra or Valium on the street in Thailand. In fact, it might be fake, or you might not be able to tolerate it for other reasons.
Do I need a visa for Thailand?
It depends. If you have a British passport and plan to stay in Thailand no longer than 30 days, you will not need a visa. If you intend to explore the country for more than 30 days, you will need to apply for one.
What are travel risks in Thailand?
Thailand on the whole is a relatively safe country. However, as with anywhere in the world, it is always wise to behave responsibly and keep your belongings with you at all times.
Thailand is a popular destination for those in search of parties and a carefree getaway. Of course, you're allowed to make the most of your holiday, but it's essential to stay vigilant and avoid overdoing it. For instance, episodes of drink spiking have been reported in Thailand, so always keep your drink in sight.
The FCDO provides up-to-date advice on travel to Thailand.
Do I need to add diving insurance?
Thailand is renowned for its heavenly beaches and pristine waters. In particular, the country's southern islands are home to some of the best diving spots in the world.
If you plan to explore the depths of the sea, make sure to add scuba-diving cover to your travel insurance for Thailand. This will allow you to truly make the most of this unique activity. Bear in mind, though, that the level of cover you'll get depends on your level of experience. It is unlikely that insurers will cover the costs of any unexpected mishaps if you dive at levels you are not qualified for.
Top travel tips for Thailand
Thailand is the quintessential country for people who want to find themselves. There's something about the mixture of gorgeous beaches, the party atmosphere, and the incredible religious architecture that makes the country so compelling.
There is so much to see and do there that we couldn't possibly summarise it all here. However, MoneySuperMarket has collected a few essential tips for Thailand below:
When to visit: Thailand is perhaps at its most beautiful between December and April. But it's worth a visit at any time of year, even during the rainy season from July to October.

Drinks on the roof: Bangkok is the archetypal city that never sleeps. There are a million things to see and do, savoury and otherwise. You'll definitely want to take it all in from one of the city's many rooftop bars!

Country of smiles: Thailand is known as 'the country of smiles' for a good reason, so make sure you grin back. What you shouldn't do, on the other hand, is touch anyone on the head or show anyone the soles of your feet. In fact, it is considered to be disrespectful.

Don't mention the monarchy: To say Thais are protective of their king is an understatement, so don't be critical in any way.

Take in a temple: Thailand is rightly famous for its temples, many of which are unfathomably beautiful. There are too many treasures to mention here, but you can't go wrong with Wat Pho and Wat Phra Kaeo in Bangkok, as well as Wat Phra Si Sanphet in Ayutthaya. Be sure to cover up: women especially mustn't show cleavage, upper arms, or legs. Monks are highly revered and must be respected, so don't touch them!

Street food: Thailand is also known for its incredible street food markets, and you should eat at them as often as possible. The usual rules apply though, so eat where the local people go.

How to get around: Thailand is also famous for its gridlock, especially in the capital. There's an app called Grab which can help you catch taxis, but the MRT and BTS railways are pretty nifty too.

Songkran: Thai New Year has to be seen to be believed. There are celebrations, a festival, and huge water fights. It's impossible to stay dry, but that's all part of the fun.

Bug spray: Trust us – you'll want to bring mosquito repellent!

Drinking water: Always drink bottled water. It might be bad for the environment, but the tap water is definitely going to be worse for your stomach. It's a hot country, so make sure you drink a lot of water to avoid dehydration and sunstroke.

Steer clear of mopeds: Hiring one of the millions of scooters in Thailand is extremely dangerous and best avoided. If you absolutely must ride around on one, check whether your insurer will cover you. They'll expect you to have a UK licence, to obey the local laws, and to ride with a helmet.

Animal welfare: Be wary of the elephant and tiger attractions which dot the country, as the animals are often drugged or beaten, if not both. If you really want to meet some magnificent beasts, do your research and find a reputable sanctuary which takes the welfare of its charges seriously.
Compare travel insurance for Thailand and pick the one that suits you best
While travel insurance for Thailand is a necessity, the price of a policy varies. Different companies will sell the same level of cover at completely different prices, so it's important to compare before you buy.
MoneySuperMarket's comparison tool asks you a few simple questions about you and your holiday: where you are going, how long for, and what you want your policy to cover. In just a couple of minutes, you can compare prices from a range of leading travel insurers.