Compare travel insurance for Vietnam
Your next trip to Vietnam should be remembered for the right reasons, so it's important you get travel insurance to protect you. It's important to have adequate medical cover for your trip to Vietnam, just in case you come a cropper to an out-of-control scooter or undercooked street food. Most trips to Vietnam are trouble-free but it's good to know you're covered for eventualities such as have to cancel or curtail your trip, or your belongings or passport being snatched by a bag thief.
Do I need travel insurance for Vietnam? 
Travel insurance isn't compulsory for Vietnam, but it's a good idea if you travel to from the UK. If anything goes wrong during your trip, the right travel insurance will give you peace of mind that you have financial protection. 
Travel insurance is designed to prevent you losing out financially should you encounter any problems during your trip to Vietnam. From lost passports to emergency medical treatment or cancellation, travel insurance is your holiday safety net. 
Travel insurance is a good idea if you go to Vietnam because: 
The standard of healthcare varies in Vietnam; for some conditions you may be flown to another country for treatment 

Motorbike accidents are common in Vietnam – as is being robbed by thieves making their getaway by motorbike or scooter 

Repatriation from Vietnam to the UK is expensive as it's a long way 

Vietnam is sometimes hit by typhoons which can cause trips to be curtailed or cancelled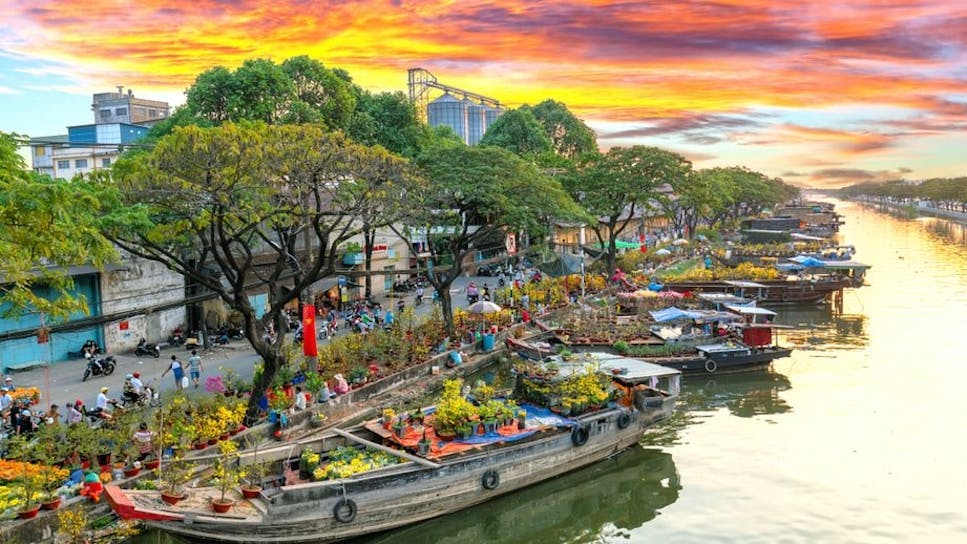 How much is travel insurance for Vietnam? 
How much travel insurance costs depends on: 
Your age 

Whether you travel alone or as a couple or family 

The excess 

The amount of medical expenses covered 

Limits for cancellation cover and lost baggage 

Any pre-existing medical conditions  

Activities you plan to do on your trip 
What type of travel insurance do I need for Vietnam? 
Vietnam is in Asia which means you need to take out a policy for worldwide cover. If you only plan to travel to Vietnam in the next 12 months then a single-trip travel insurance policy may suffice, but if you're thinking about more trips abroad then an annual multi-trip policy is likely to work out cheaper in the long run.  
Vietnam is also popular with backpackers, and you can also get special backpacker travel insurance, which will cover you for multiple destinations during an extended time period or gap year.  
What will Vietnam Travel Insurance cover? 
Think of what might go wrong, and then see if it's included in your policy's key features. As standard, a good travel insurance policy for Vietnam should include: 
Medical cover: Cover for medical treatment, usually up to a limit of £5m, although some travel insurers may raise this for an additional premium. You might need to pay more if you have a pre-existing medical condition  

Repatriation: Covers costs if you need to be brought back to the UK. Often caused by a medical emergency 

Cancellation: Also known as curtailment, this covers you financially if you need to cancel your trip unexpectedly because of an emergency 

Travel delays and missed departures: If you miss your flight due to an event beyond your control such as your car breaking down or a family emergency 

Baggage: Cover for belongings that are lost or stolen during your trip. There will be a limit to this cover and high-value items may need to be listed separately 

Cash: You can be covered for cash, if your wallet, purse or bag is lost or stolen while you're away. Again, most insurers place a limit on this, usually up to £300 as standard 

Gadgets: Cover in case your mobile phone or laptop is stolen or damaged while you're on holiday 

Travel abandonment: For other unusual circumstances where the journey becomes unfeasible 

Passport: Covers you if your passport is lost or stolen. Sourcing a replacement while in Vietnam can be expensive 

Personal liability: Covers you in case you inflict injury to someone else by accident, or if you cause loss or damage to their possessions 
What won't Vietnam Travel Insurance cover? 
Your travel insurance should cover you for any planned activities on your trip, such as extreme sports and adventures – and you may need to add these as a policy extra.  You should also be aware of common exclusions prior to travelling: 
Pre-existing medical conditions: If you have a pre-existing medical condition such as diabetes, it's vital you declare this when you take out cover. Not doing this is known as 'non-disclosure' and can invalidate your travel insurance policy. This potentially means you won't be able to claim for the cost of medical treatment for the condition if it flares up while you're away 

High-risk activities: If you're planning on taking part in any high-risk activities like winter, water or adventure sports in any country, you'll need to take out a special policy to cover you for accidents and medical costs. If you're planning on hiring a motorbike or scooter in Vietnam, you might need to buy extra insurance to cover any accidents or injuries or in case you injure someone else  

Alcohol and drugs: If any claims you make result from you being intoxicated – for example, if you injure yourself after drinking too much Vietnamese moonshine– then you won't be covered for your losses  

War and terrorism: Vietnam is rarely a target for terrorists, but attacks can't be ruled out. Some losses caused by terrorism, civil unrest, and war might not be covered by standard insurance policies, although medical expenses are usually covered  

Government advice: If the UK Foreign Commonwealth and Development Office (FCDO) has advised against travel to Vietnam for any reason, it's unlikely that your travel insurance will cover you if you still go 
Expert quote, Emma Lunn:
"Vietnam is an amazing diverse country with tons to see and do. The two big hazards for tourists are motorbikes/scooters and bag-snatchers. Keep yourself safe and be aware of your surroundings – having travel insurance in place offers peace of mind that you're covered should the worst happen." 
 Is healthcare free in Vietnam?
 At present, most Vietnamese citizens have to pay for medical services themselves at both private and public hospitals. In many cases, Vietnamese people opt to use private hospitals as these are usually far better equipped. They also have English-speaking medical staff which for travellers could make all the difference in an emergency situation. 
Medical expenses are a crucial part of travel insurance with some policies covering up to £10m or £20m of medical treatment.  
Although it's not a particularly dangerous country, motorbikes and scooters are involved in a lot of accidents in Vietnam. According to World Health Organisation statistics, you are more than eight times more likely to be killed in a road traffic accident in Vietnam than in the UK. If you hire a motorbike or scooter, make sure you have a good quality helmet and plan your journeys. Bear in mind that not all the other road users in Vietnam will comply with road rules and regulations.  
Compare Vietnam Travel Insurance 
Tell us about you, your trip to Vietnam, and your travel insurance requirements and we'll compare travel insurance deals to help you find the best value cover.