Compare travel insurance for Vietnam
Your next trip to Vietnam should be remembered for the right reasons, so it's important you get travel insurance to protect you
Why do I need travel insurance for Vietnam?
Travel insurance for Vietnam should be at the top of your holiday checklist so you can enjoy your break with the peace of mind that should anything untoward happen, you'll be covered.
Travel insurance gives protection for all manner of adverse circumstances, from paying for medical care if you fall ill, to emergency repatriation should you need to be flown home. It will also cost you for lost or stolen belongings, such as your passport, wallet or luggage. In short, it's not worth the risk to travel without it.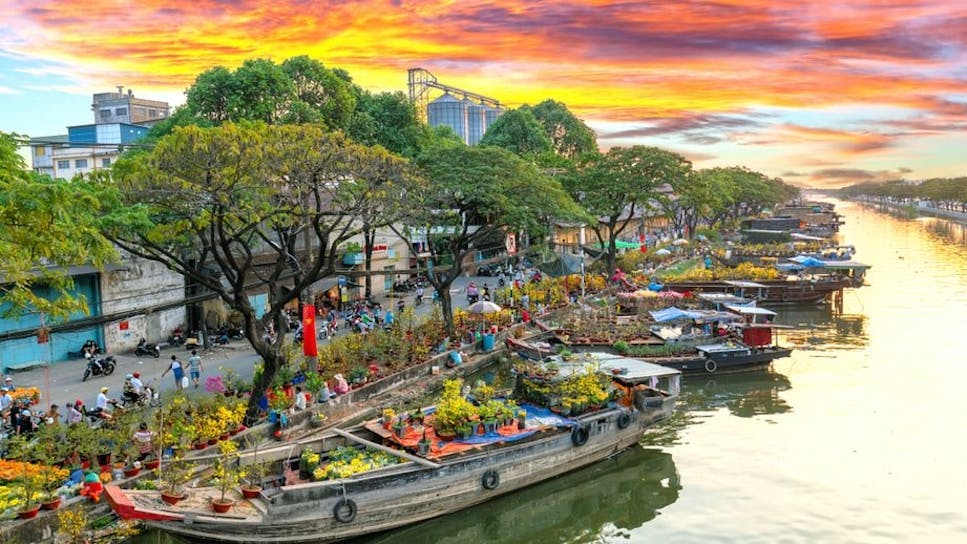 What type of travel insurance do I need for Vietnam?
With Vietnam located in Asia you need to take out a policy for worldwide cover. If you only plan to travel to Vietnam in the next 12 months then a single-trip travel insurance policy may suffice, but if you're thinking about more trips abroad then an annual multi-trip policy is likely to work out cheaper in the long run. 
Vietnam is also popular with backpackers, and you can also get special backpacker travel insurance, which will cover you for multiple destinations during an extended time period. 
What should my travel insurance policy include for Vietnam?
Think of what might go wrong, and then see if it's included in your policy's key features. As standard, a good travel insurance policy for Vietnam should include:
Medical cover: Cover for medical treatment, usually up to a limit of £5m, although some travel insurers may raise this for an additional premium. Let your insurer know if you have a pre-existing medical condition or it may invalidate your insurance should you later need to claim

Repatriation: Covers costs if you need to be brought back to the UK. Often caused by a medical emergency

Cancellation: Also known as curtailment, this covers you financially if you need to cancel your trip unexpectedly because of an emergency

Travel delays and missed departures: If you miss your flight due to an event beyond your control such as your car breaking down or a family emergency

Baggage: Cover for belongings that are lost or stolen during your trip. There will be a limit to this cover and high-value items may need to be listed separately

Cash: You can even be covered for cash, if your wallet, purse or bag is lost or stolen while you're away. Again, most insurers place a limit on this, usually up to £300 as standard

Gadgets: Cover in case your mobile phone or laptop is stolen or damaged while you're on holiday

Travel abandonment: For other unusual circumstances where the journey becomes unfeasible

Passport: Covers you if your passport is lost or stolen. Sourcing a replacement while abroad can be expensive

Personal liability: Covers you in case you inflict injury to someone else by accident, or if you cause loss or damage to their possessions
Vietnam travel insurance: Exclusions and what to watch out for
Your travel insurance should cover you for any planned activities on your trip, such as extreme sports and adventures – and you may need to add these as a policy extra. You should also be aware of any exclusions, such as if you have a health condition prior to travelling. It's worth taking note of the following:
Pre-existing condition travel insurance: Let your insurer know if you live with a pre-existing medical condition, or you've had one in recent years. If it's not covered by your policy, you may end up paying out of your own pocket should you need medical treatment linked to the condition.

Foreign Office advice: Always check the Foreign, Commonwealth & Development Office's (FCDO) travel website before you go on holiday. Insurers may make your policy invalid if you travel against government advice. If you're concerned about COVID-19 affecting your travel plans, take a look at our guide to coronavirus and travel insurance.

Sports and activities: If you're planning on participating in higher-risk activities, consider taking out adventure cover. There will be set limits on what specific activity is covered, so make sure you check with your insurer first.Section copy
Is healthcare free in Vietnam?
At present, most Vietnamese citizens have to pay for medical services themselves at both private and public hospitals. In many cases, Vietnamese people opt to use private hospitals as these are usually far better equipped. They also have English-speaking medical staff which for travellers could make all the difference in an emergency situation.
So, travel insurance is wise if you're planning a trip to the Vietnam. It has a good standard of healthcare, but without a travel policy that covers the cost of emergency medical treatment you could face a medical bill of thousands of pounds if you're sick while away.
Travelling to Vietnam: Key Information

Language(s)

Vietnamese, English

Currency

Dong VND -

Dialling code

+84

Plug sockets

A, C & F

Emergency contact number

113 (Police), 115 (Ambulance), 114 (Fire)

Embassy address

12-14 Victoria Rd, London W8 5RD, United Kingdom

FCDO travel advice

Check the
Top tips for travelling to Vietnam
Vietnam is one of Southeast Asia's most stunning locations. Travellers are attracted to its mountains, cities such as Hanoi and Ho Chi Minh, and golden sand beaches. It is awash with traditional customs and provides many ancient landmarks and colonial structures to explore. 
When to visit: The country has a tropical monsoon climate, with the south or south-westerly monsoon dominating from May to September and the northeast monsoon from October to April. If you want to see a bit of everything, work around the regional weather differences. Autumn and spring are probably the most favourable seasons if you're planning to cover the whole country.
Getting around: Buses are the main means of transport for locals in Vietnam, but travellers use an array of different ways of getting about 
Trains: Reasonably priced and comfortable enough in air-conditioned carriages (and sleepers). But you won't get anywhere super fast as there are no real express trains

Flights: Plenty of choice and cheap if you book ahead, but watch for cancellations 

Cars: Useful for travelling at your own pace or for visiting regions with minimal public transport. Cars tend to come with a driver

Taxis: Metered taxis are notoriously cheap by international standards – priced at around 10-15,000 dong per kilometre. However, watch out for erratic meters that quadruple in a second and avoid unmetered cabs. Drivers are not ones to negotiate. You'll find taxi scamming hardest to avoid in typically touristy areas, such as museums in the major cities and airport. Play it safe when you first arrive and only look to Vinasun and Mai Linh – the two known trustworthy operators

Bus: Services are frequent on main highways, although it's not a particularly relaxing way to travel. Things deteriorate rapidly out in the sticks. For sightseeing, open-tour buses are not pricey and also worth considering.
Sepak Takraw is a traditional sport played in Vietnam. It's also known as 'kick volleyball'. Participants must pass a ball over a net, slightly lower than a badminton net, using only their feet and heads. It is also played in Thailand, Laos, Myanmar and Cambodia. 
Snake Wine has an almost legendary status in Vietnam. It's one of the stranger gastronomic choices in Southeast Asia. Bottles of wine with snakes coiled inside, as if ready to strike, can be seen in shops and on markets throughout the country. Snake wine is thought to improve health and vitality as well as enhancing sexual performance, although this is not verified. 
Banh Mi sandwiches are king. When it comes to Southeast Asian street food, you might like spicy noodle dishes and fried insects, but in Vietnam, the Banh Mi sandwich is king, alongside the classic Pho noodle soup. This baguette filled with meat, cheese, pickles and seasonal veg is a Vietnamese staple. 
The Kingdom of Motorbikes. There are around 60 million registered motorbikes in the country – enough for almost half of the population. Taxes are much cheaper than owning a car and bikes are easier to navigate the narrow, windy roads. Crossing the road amid the chaos can feel scary at times but Vietnamese traffic etiquette is that pedestrians walk in straight lines and the vehicles will move to the side – just don't stop suddenly!