Compare travel insurance for Singapore
Your next trip to Singapore should be remembered for the right reasons, so it's important you get travel insurance to protect you
Why do I need travel insurance for Singapore?
Just as with any overseas travel, getting insurance for a visit to Singapore should be one of your top priorities. Travel insurance can help you in many ways: it provides cover for losing your luggage, having your money or passport stolen, paying for medical care and even to fly you home in the case of an emergency. Importantly, you'll also have the peace of mind that if anything does go wrong, you'll be supported.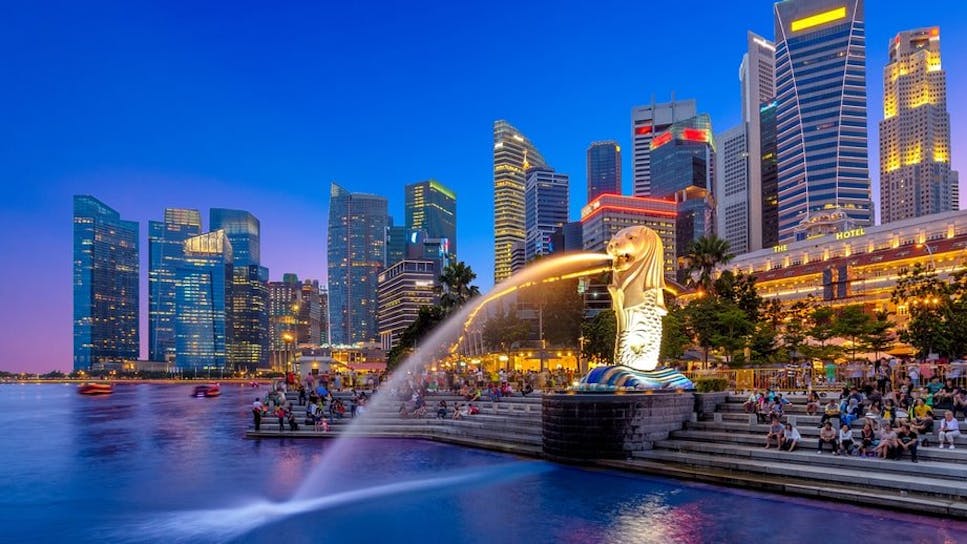 What type of travel insurance do I need for Singapore?
You'll need to take out worldwide cover if you're travelling to Singapore.
If you're only making a one-off trip and don't plan to travel for another 12 months, then single-trip travel insurance is worth considering. It'll protect you from when you take out your cover to when you return home.
However, if you're planning to travel many times through the year, an annual multi-trip policy should be your preferred choice as it's likely to prove cost-efficient. If you're backpacking and Singapore is just one of a number of countries along your chosen route, backpacker travel insurance may be the best option. It will cover you for multiple destinations during one extended trip.
What should my travel insurance policy include for Singapore?
While travel insurance policies differ, there are elements of cover you'll find as standard. These include:
Medical cover: If you have to pay for medical treatment yourself it can become very expensive very quickly, so cover for medical care is top priority. If you have a pre-existing medical condition, be upfront about it. Failure to disclose a condition may invalidate your claim if you need related medical attention when in Singapore

Repatriation: The costs should be covered for you to fly home to the UK in the event of a medical emergency

Cancellation: If you need to cancel your trip unexpectedly or cut your holiday short because of an emergency

Travel delays and missed departures: Cover in case you miss your flight due to a breakdown on the way to the airport, for example

Baggage: Financial cover for any belongings that are lost or stolen during your trip, but check to see if you need to cover high value items separately

Cash: If your money is lost or stolen while you're away. There is typically a maximum limit of about £300

Gadgets: Cover should be included for your mobile phone, laptop or tablet if they are stolen or damaged when travelling

Passport: Covers you if your passport is lost or stolen

Personal liability: Covers you in case you accidentally inflict injury to others while travelling, or you lose or damage their possessions
Singapore travel insurance: Exclusions and what to watch out for
While travel insurance protects you for most things, changing situations, especially during a pandemic, mean that it's always wise to check you have adequate cover in place before you travel. Exclusions and extras that can be added to your travel insurance include:
Pre-existing condition travel insurance: If you have a pre-existing medical condition, let your insurer know. Your policy may become more expensive, but it's preferable to having no cover and needing to pay for emergency treatment yourself.

FCDO advice: Always check the Foreign, Commonwealth & Development Office's (FCDO) travel advice before you travel because your policy may be invalid if you travel against government advice. Our guide on coronavirus and travel insurance may also come in useful.

Extreme sports: If you want to take part in higher-risk activities while in Singapore, consider including adventure cover. You'll be able to check you're covered for the specific type of sport or activity you want to do.

Natural disasters: Due to its geographical location, Singapore is fortunate that not to suffer many natural disasters. It you're travelling to the wider region and have concerns, you may be able to purchase natural disaster cover as an add-on.
Is healthcare free in Singapore?
Singapore's healthcare provision is lauded as extremely high quality, but as one of the world's most expensive cities, medical treatment doesn't come cheap. This makes it even more important to have travel insurance in place.
Travelling to Singapore: Key Information

Language(s)

English, Malay, Mandarin, Tamil

Currency

Singapore dollar -

Dialling code

+65

Plug sockets

C, G & M

Emergency contact number

999 (police), 995 (fire & ambulance), 1777 (non-emergency ambulance)

Embassy address

9 Wilton Cres, London SW1X 8SP

FCDO travel advice

Check the
Top tips for travelling to Singapore
As one of Southeast Asia's most intriguing destinations, Singapore has something of interest for every traveller. Located off the southern coast of Malaysia, Singapore is a futuristic urban centre rich with experiences around every corner. It is surrounded by more than 60 islands including St John's Island, Kusu Island, Pulau Semakau, Pulau Ubin, Lazarus Island, and Sentosa, the largest of them all.
Here are just a few things to note when travelling in Singapore:
When to visit: The island's year-round warm, tropical climate has daily temperatures in the high 20s (°C). November to June is the high season, especially during the Chinese New Year. The Northeast Monsoon season occurs from November to January, however, so you may encounter plenty of rain. Late summer and early autumn (July to October) is also a good time to visit if you're hoping to avoid all the tourist traffic. The weather is still pleasant, and the Southwest Monsoon (from June to September) is not as harsh as the Northeast Monsoon.
Getting around: Singapore's Mass Rapid Transit (MRT) is the fastest and easiest way to get around. The rail network is extensive, so most of the city's main attractions are within walking distance to an MRT station. Most trips will cost around $4 SGD but you can save money by buying a Singapore Tourist Pass which gives you unlimited travel for a chosen period.
Buses are another option but you can only pay with cash, and it must be the exact change. A single trip will cost between $1.40-2.50 SGD. Taxis are comfortable and convenient, but they're not cheap. Instead, try the app, Grab – it's a local must-have and works just like Uber.
Trishaws (like rickshaws) are less popular these days, but you'll find them along most tourist routes. They're now managed by a queue system called Trishaw Uncle. You'll pay about $40 SGD ($30 USD) for a 30-minute run.
Singapore's cuisine is a big reason to visit alone! It's home to the cheapest Michelin-starred meal – a $3 SGD chicken rice dish from street food vendor Hawker Chan. But all the hawker stalls around China Town and Marina Bay do sumptuous food. Be sure to try Singaporean specialties like Chicken Rice, Chili Crab, Prawn Mee, and Laksa (a spicy noodle soup).
The Night Safari – the world's first night zoo. Launched in 1994, the open-concept night zoo invites visitors from all over the world to observe more than 130 species of nocturnal animals in their natural habitat without any barriers via a 50-minute tram ride.
You don't have to tip. Tipping isn't actually a part of Singapore's culture. The staff doesn't expect tips, so don't feel obligated. Though, if you are really happy with the service, tips are most certainly appreciated.
The locals speak Singlish, not just English. Don't be too surprised to hear Singaporeans adding exclamations like 'lah' and 'leh' to their sentence. Singlish – the colourful local slang – is a collection of colloquial catchphrases influenced by Singapore's multiculturalism and is an integral part of everyday conversation amongst Singaporeans. Examples include the Singlish term "chope", which means to reserve a seat. Locals often chope seats at a hawker stall using packets of tissue paper! Singaporeans also tend to refer to strangers such as cab drivers and hawker stall owners as "Aunties" and "Uncles". This is an endearing way of addressing older gentlemen and ladies.
Singapore is notoriously strict on drugs. If you're caught even with marijuana in your system, you'll do jail time. You'll also get fined up to $1,000 SGD for things like littering, spitting, and smoking in public. So, politeness and manners are a good idea.