How to buy travel insurance if you have Crohn's disease
It is still possible to get travel insurance if you have Crohn's disease, but there are a few extra things to consider. Our Q&A helps to explain all you need to know.
Crohn's disease is a lifelong condition and is believed to affect more than 100,000 people in the UK. However, it doesn't have to be a barrier to travel. Here, we answer some of the most common questions from those living with Crohn's.
Can I get travel insurance if I have Crohn's disease?
Yes, but because Crohn's is classed as a pre-existing medical condition, you may need a specialist policy.
A pre-existing condition means an injury or illness you were aware of before taking out a policy.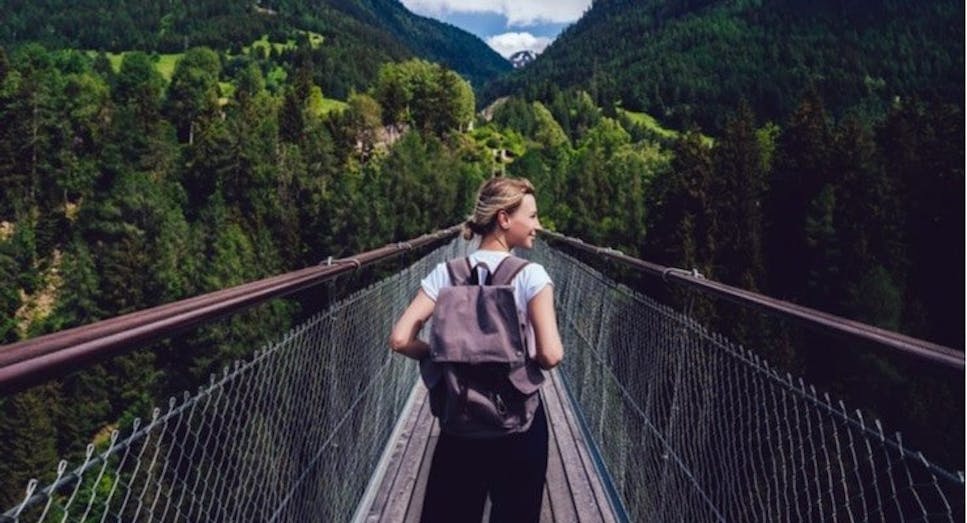 Should I tell my insurer that I have Crohn's disease?
As with all pre-existing conditions, you'll need to tell your insurer you have Crohn's disease when you get your quote. Let them know even if it isn't a severe case, otherwise your policy is likely to be invalid.
You'll be asked about your medical history when you take out your policy. This is where you should let the insurer know you have Crohn's.
What does your insurance provider need to know?
It is likely that most insurance providers will have their own screening process when it comes to discussing your Crohn's disease. Although this can seem intrusive, it's important to be honest. This way, your condition will be properly covered by the policy.
Questions may include how many operations you've had and when, what medication you are on, when you last experienced any symptoms, and whether you've recently been admitted to hospital. They may also ask you whether you are waiting for the results of any tests or investigations.
What happens when I tell my insurer I have Crohn's?
Once you have given them the information about your condition, the potential insurer will either
refuse to cover any medical costs relating to Crohn's but cover you as standard for any other issues that may arise during your travels

offer cover but add restrictions to your policy

offer full cover with a higher premium and/or higher excess

decline your application
What will my travel insurance policy cover?
Once your policy is in place, you will be covered for the same criteria as a standard travel insurance policy.
This normally includes coverage for medical emergencies and repatriation, baggage claims, cancellation or lost or stolen cash.
It might also extend to personal liability and legal protection, connection flight cover and gadget cover.
Am I limited in where I can travel because I have Crohn's?
No, but because medical costs differ from country to country, you should think carefully before setting your maximum cover limit.
You need your travel insurance for Crohn's disease to be high enough to cover potential medical bills. But the higher the cover limit, the higher your premium.
Will I need a letter from my doctor before I can travel?
You may require a letter from your doctor stating you're able to travel. Check the terms of your travel insurance policy.
Will an EHIC / GHIC help if I am travelling with Crohn's disease?
An EHIC  - and its new replacement the Global Health Insurance Card (GHIC) - allows you to access state-provided healthcare in EU countries on the same terms as a local resident. This may mean a reduced cost or sometimes for free. UK residents can still get a free GHIC through the NHS and it will continue to be accepted, even though the UK is no longer part of the EU.
But it is not a replacement for travel insurance, and it will not cover you for treatment at a private hospital.
If you need treatment, head to a state medical facility first and then tell your insurance provider. You'll then be advised on what additional private treatment might be covered by your policy.
What else do I need to consider when travelling with Crohn's disease?
Make sure you keep your policy and your insurance provider's contact details to hand when you are on your trip. If you change travel plans, be sure to update your insurer so it can be reflected in the policy.
You may also need a doctor's letter. In fact, you should always have clear instructions of the medication you need to take while you are on your travels.
Make sure you have enough medication to see you through your trip and take note of when you need to take your medication. This is particularly important if you are travelling through and visiting countries in different time zones.
If you need to transport the medication in your hand luggage while flying, arrive at the airport early. This way, you can explain the situation as necessary.
What other medical conditions related to Crohn's disease will travel insurance cover?
Insurers may offer specialist cover for ulcerative colitis and irritable bowel disease.
Will I be covered by travel insurance for Crohn's disease if I'm still waiting for treatment?
The truth is that there is no universal answer to this question – each insurer has their own policies. But overall, you may find it more difficult to get cover if you're awaiting tests, results, or treatment.
Some insurers will only offer limited cover. Others, instead, could offer you more protection. Therefore, make sure to compare multiple options and choose the one that best fits your needs.
Tips for travelling with Crohn's disease
Invest in a 'can't wait card'. These are designed to allow you to gain quick access to bathroom facilities without having to explain yourself. The cards have appropriate logos and simple language on them to help while you're abroad. They are available from Crohn's and Colitis UK.

Have you travel insurance policy on hand. This will allow your insurer to be contacted easily in case of an emergency

Carry your medical records. This will help explain your condition to medical professionals should you need their support. Even better, take a translated version in the language of the country you're visiting

Plan ahead for travel. Whether you are going by car, train or plane, plan ahead to keep inconvenience down to a minimum. For car travel, maybe avoid rush hour and check in advance where you can stop en route. For air travel, consider booking an aisle seat for quick access to the bathroom. If you plan to order a meal on board, request a specific dish before you travel to avoid anything that might irritate you.
Compare travel insurance for Crohn's disease sufferers
Comparing travel insurance quotes on MoneySuperMarket is a quick and easy way to find cover. Just tell us a little about yourself, including any pre-existing medical conditions you have. Let us know where you're going and how long for, and we'll search the market for a list of deals.
You'll be able to compare quotes by the overall price you'll pay, the level of cover you'll get, and the excess payment required to make a claim. Once you've found the one you want, just click through to the provider's website to finalise your purchase.
As with any insurance policy, keep in mind the cheapest quote isn't always the best. You should try to balance the cost with the cover you'll get, so you know you have the protection you need at the best available price.