How burglary and theft can affect your home insurance
Did you know if your area has a high crime rate, your home and contents insurance premium could be higher? We explain what areas of the UK are most affected by burglary and how you can make your home more secure to get cheaper home insurance.
Burglary can be an unsettling experience. After all, your home is your personal property and having a stranger intrude on your safe space can be a scary thought. This is especially true if you have valuable or sentimental items around your home, as they can put a strain on your finances if they're stolen.
Home insurance can offer a helping hand if your home is burgled, helping with the financial impact of having your property broken into and your belongings stolen.
What is considered burglary, theft and robbery?
Theft, burglary and robbery are often used interchangeably, but actually mean different things:
Robbery is using force to steal something of value from another person and leaves the victim in fear. It's seen as a violent crime and can include the robbery of a shop, or street mugging

Theft is taking something from someone else with the intention of keeping it for yourself. This could be stealing from a shop or picking someone's pocket

Burglary is illegally entering someone's home or property with the intention of stealing from it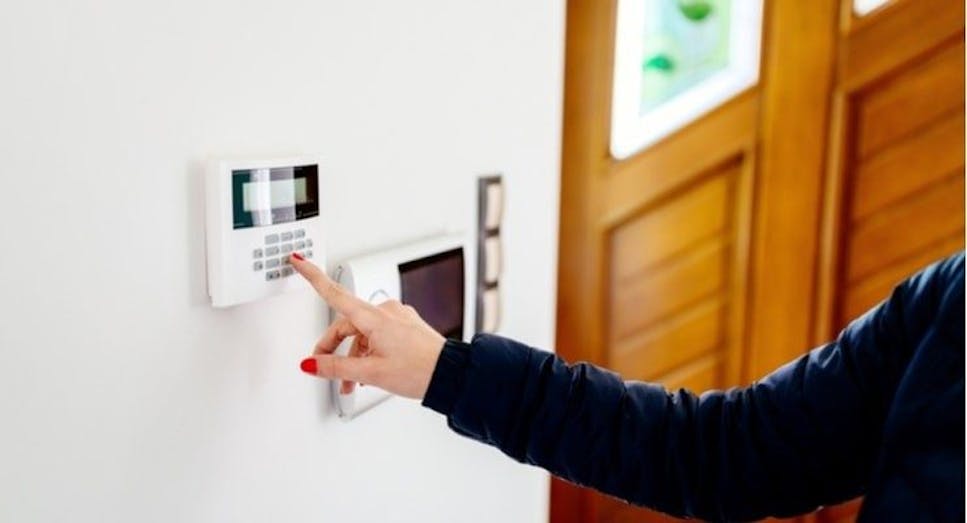 Does home insurance cover against burglary?
Home insurance can offer protection if your home is burgled, helping with the financial impact of having your property broken into and your belongings stolen.
Your home contents policy can cover the cost of replacing any of your belongings that were stolen, though the specifics will depend on your policy. It can cover high value items like your mobile phone, TV or laptop up to a certain amount, as well as things like clothes, furniture, and important documents such as your passport.
Your buildings insurance policy should cover damage caused to your windows and doors as a result of the break-in, as well as any fencing, outer gates or outbuildings, though you may need extra cover for this. The contents of outbuildings, like your shed or garage, should be covered by your contents policy, as long as you've declared them.
What should you do if your home has been burgled?
If your home is burgled, it's important that you contact the police as soon as possible. Make sure you get a crime reference number as your home insurance provider is likely to ask for this to support your claim.
After you've contacted the police, you'll need to notify your home insurance provider immediately, or at least within 24 hours of discovering the break-in. Make sure you gather as much evidence as possible, take photos or a video recording of the damage and make a list of everything that has been stolen. Your home insurer may ask for evidence of you owning certain items and their value, including receipts or bank statements. The more detail you give your insurer, the better chance you have of your claim being accepted and paid out.
Am I covered for burglary if I'm away from home?
Your home insurance can cover you if you're burgled away from home, but bear in mind insurers will ask that you take steps to protect your home while you're away to reduce the chances of a burglary. Make sure you lock all your doors and windows and consider having a burglary alarm installed. These small steps let your insurer know you've made a conscious effort to secure your home, and it also acts as a deterrent to criminals to hopefully prevent a burglary at all.
If you're away from home for a long period of time, usually over 60 days, you'll need to take extra cover to ensure your home and contents are protected. This is because unoccupied properties are more at risk, so some levels of your cover may be reduced while your home is empty.
Our tips on keeping your home secure apply while you're at home and while you're away, to reduce your chances of being burgled.
Am I covered if my belongings are stolen from my person while I'm away from home?
If your belongings are stolen from you while you're outside your home, you may be covered by personal possessions insurance (out-of-home cover.) This will usually be part of your contents insurance, either included as standard or available as an optional extra.
Personal possessions insurance can offer you protection if your personal belongings are stolen from your person or lost or damaged, while you're away from home.
Are all my items covered by home insurance?
Whether all your items are covered by your home insurance policy will depend on the value your policy covers you for. Your contents insurance policy will cover your possessions up to a certain amount (as listed on your policy), known as the sum assured.
Some insurers set a maximum claim limit for all valuables, so it's important you look into this when you take out your home insurance, especially if you own a lot of high value items.
Single item limits
Most insurers will set a single item limit on your contents insurance. This will be the maximum amount of money you can claim for on a single item. So, if a burglar stole a valuable necklace of yours worth £2,500, but your single item limit was £1,500, that will be the maximum your insurer will pay out.
It's worth looking into single item limits when you take out your home insurance policy. If you have high value items (items worth over £1,000), you'll need to tell your insurer about them when you take out your cover and may need to pay extra to insure them. In some cases, you may need to provide proof of valuation.
New-for-old
New-for-old home contents insurance will replace an item that's been stolen with a new item of the same value, or pay out enough for you to replace items you're claiming for with new ones of the same type and value.
When looking for quality home insurance, having new-for-old cover may be worth bearing in mind, especially if you have high value items. So, if your TV is stolen because of burglary, your home insurer should pay out enough for you to replace it with a new one of the same value, even if your TV is a few years old. Do bear in mind that not all home insurance policies offer this level of cover.
If you choose wear-and-tear cover (or indemnity cover), your insurer will compensate you for the loss of your item rather than paying for a replacement. So, if your three years old laptop is stolen, you will receive a replacement laptop that is also three years old.
Does contents insurance also cover cash?
Your home insurance policy should cover money in the home, up to the amount listed on your policy. It's important that you check how much cash your policy covers you for, as some insurers will only cover up to £500.
Money in the home cover may include gift vouchers, travel tickets and phone cards, so make sure you read up on what you're covered for.
Are items in my outbuilding like garage and shed also covered?
Your outbuildings will usually be covered under your home insurance, as long as you list what you keep inside them under your contents policy. That way, if you're burgled and your shed is stolen from, you'll be covered up to your policy limits.
The structure of your garage or shed should also be covered by your buildings insurance policy, if they're damaged as a result of vandalism or a burglary.
It's easy to forget about valuables stored in your outbuildings, like your bike or golf clubs. Make sure you list these valuables when taking out your home and contents insurance, so if a burglary does occur, you'll have peace of mind that these stolen items can be replaced.
Where are burglary hotspots in the UK?
You'll always be asked to give your address when you compare home insurance quotes, as your location will affect the cost of your home insurance policy.
When you get your quote, the home insurance provider will assess the crime rate in your area. If the area you live in has a high rate of burglary claims, your home insurance quote is likely to be more expensive.
Our burglary hotspots search tool can show you how often your neighbours claim on their home insurance because of burglary and theft. Just enter your postcode to find out how common burglary is in your area, compared to the rest of the country.
Is it worth claiming on my home insurance after a burglary?
Choosing whether to claim on your home insurance after a burglary is your decision, and will usually depend on the severity of the break-in.
If the damage to your property or loss of possessions isn't significant, you could save yourself money by fixing the damage yourself, rather than claiming on your home insurance. Claiming on your home insurance would mean paying an excess, and if the damage or loss isn't major, you could end up spending more money than you would if you fixed the damage.
Equally, making a claim on your home insurance can affect your no-claims bonus, when the impact of the burglary could be resolved yourself.
If the burglary caused significant damage to your property or you've had a large sum of money or items stolen, making a claim is an obvious decision. But if the break-in's damage is minimal, you'd likely save yourself both money and time by fixing the damage yourself.
Our top tips to avoid a burglary
Keeping your home secure can be an easy way to prevent a burglary. These tips are simple ways to avoid your home being broken into:
Make your home secure: Your insurer will recognise that you take care of your property and try and prevent burglary, by making your home secure. Installing burglar alarms, having quality locks on the doors and security lights work as great deterrents to potential burglars

Don't forget about your garden: Make sure you always lock your outbuildings, such as your garage or shed. Your outbuildings need securing just as much as your home, especially if you store your bike or gardening equipment in them. You could also use curtains on your garage windows

Always lock your doors: Burglars don't need to 'break in' if they have an unlocked door to walk through! Remember to always lock your doors and windows, even if you're only leaving the house for a few minutes

Hide your valuables: The bedroom is an obvious place to store your valuable jewellery, so consider hiding your expensive items in places burglars wouldn't expect.

Store your keys in a safe place: Don't keep your keys in an obvious place like under a flower pot or doormat
Compare home insurance today
If you're looking for quality home and contents insurance, MoneySuperMarket does the hard work for you. We compare home insurance quotes for you to find the best deal for your needs. Just tell us a little bit about yourself, your property and the items you want covered and we'll put together a list of quotes for you to choose from. Once you've decided on your preferred deal, just click through to the provider to finalise your purchase and get the cover you need.
A quality home insurance policy means protection against the unexpected, so you can feel confident about your finances and enjoy life.
Our expert says
Any conversation around theft, robbery or burglary can start to feel like the world is just waiting to take your precious, hard-earned possessions off you. That isn't true, but we do know that most of these types of crimes are opportunistic. That means anything you can do to keep your items and home secure, and to be vigilant while out and about is worth it – every time. Even if you're only going to be gone for a minute or two. Do that and not only will you reduce the chance of becoming the victim of crime, but if you are, the claims process may be more straightforward.