How house locks affect your home insurance
The type of lock you use to secure your home has a direct effect on your home insurance premiums. Here's everything you need to know about door locks and security
Looking for home insurance?
When calculating your home insurance premiums, insurers need to work out how secure your property is – and how easily someone could break in. 
So when you look for a new home insurance policy, you'll usually be asked what type of locks you have fitted to your doors, and sometimes your windows too. 
Giving incorrect information about your locks could result in any claims being rejected, so it's important to provide the right details. If your locks are out of date, you may also be able to get a lower quote by replacing them before taking out your cover.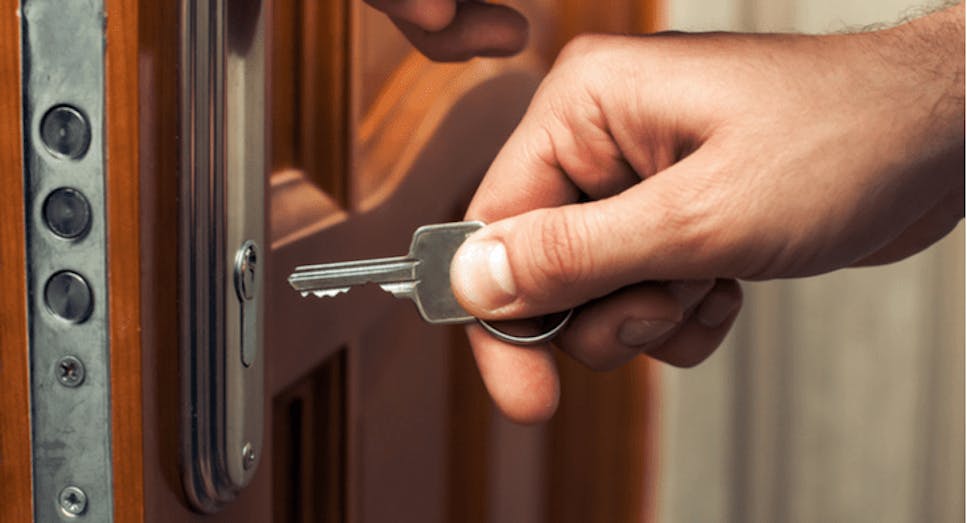 What are the different types of door locks?
There are several different types of door locks. The main types you are likely to have on your doors are:
Five-lever mortice deadlocks

Key-operated multi-point locks

Night latches/rim locks
Here, we explain how the different locks work, what insurers think of them, and how to know what type of locks you have.
Five-lever mortice deadlocks
One of the most common types of lock, five-lever mortice deadlocks are fitted within a cavity in the door, which is called a mortice.  
The levers are what the key has to move in order to 'throw' the 'deadlock' – i.e. to move the block of metal that prevents the door from opening. So the more levers a mortice lock has, the more secure it is – because you need more points of contact to pick it. 
You can buy three-lever mortice locks, but most insurers want you to have at least five levers, as this is what's needed for the locks to meet the British Standards Institute (BSI) BS3621 lock standard.
You may need BS3621 standard five-lever mortice deadlocks on all your external doors to get home insurance, while most companies will provide contents cover for a bit less if you have BS3621 locks on all your doors and ground-floor windows. 
Key-operated multi-point locks
A multi-point locking system has three, four or five locking points, all of which lock simultaneously when you turn the key. It's a very secure system that strengthens the top and bottom of the door as well as the middle, but it's only usually used on uPVC and composite – rather than wooden – doors.
For insurance purposes, you will generally need at least five locking points to secure the main entrance to your home. The Master Locksmiths Association also recommends the use of multi-point locking systems with cylinders that are SS312 Diamond Approved or conform to the newer TS007 three-star Kitemark standard, both of which should protect against attempted burglaries.
Night latches
Night latches, or Yale Locks, lock the door automatically when it closes and are often used alongside mortice deadlocks. From the inside, they can be opened by turning the latch; from the outside, they can only be opened using the key. 
Insurers don't generally view locks of this kind as secure enough on their own, but as an extra lock they can earn you a discount on your home insurance. 
Look for one that meets the BS3621 standard; and remember that if you let the door close behind you, you'll need your key to get back in!
How do I know what door lock I have?
The types of doors you have on your home are a big clue to the type of locks you have. If you have wooden doors, they are probably fitted with mortice deadlocks and/or night latches – if you have uPVC or composite doors (or a patio door), you're more likely to have a multi-point locking system.
Other ways to work out what type of locks you have include answering the following questions:
Does the door automatically lock behind you? If so, you almost certainly have a night latch fitted

Does the door lock at various different points? If so, it's a multi-point locking system

Is the lock fitted inside a cavity in the door? It's a mortice deadlock

Do you have to lift the handle to lock it? If so, it's a multi-point locking system

What is written on the lock? 5 lever means it's a five-lever mortice deadlock; Yale generally means it's a night latch; A serial number starting BS3621 means it meets the BSI standard; SS312 and TS007 are codes more commonly linked with multi-point locking systems and cylinders
Whatever type of locks you have fitted, remember to use them when you go out, as you will have difficulty claiming on your insurance if you leave your doors unlocked.
What about window locks?
It's a good idea to fit key-operated locks to all your downstairs windows. They can be fitted to the top or bottom of a window, or on the handle you use to close it.
So providing you remember to lock up when you leave the house, locked windows should knock a few quid off your premiums.
Are electronic door locks worth it?
You can get door locks that require you to enter a digital combination before opening, as well as locks that can be opened using your smartphone or another trusted device.
However, unlike key-operated locks, these smart locks could potentially be hacked. So while some insurance companies view them as the latest word in home security, others consider them more risky than a traditional five-lever mortice deadlock. 
So, if you're considering fitting electronic door locks, it's a good idea to talk to your home insurance provider first.
What's the best lock for a front door?
Insurers believe the safest kind of door lock to have is a BS3621 standard five-lever mortice deadlock – and we're inclined to agree as they are generally the hardest locks to break. 
However, the right type of door locks for your home will depend on the type of property and where it is, as well as what type of doors you have and your home insurance provider's requirements.
What else can I do to keep my house safe?
Fitting secure locks to your doors and windows is not the only way to reduce the risk of your home being targeted by burglars. Other security measures that can help – and can also cut the cost of your home insurance – include:
Installing a burglar alarm – and making sure it's visible to any potential thieves

Putting in external lights that come on when people are on your property

Storing garden tools and ladders in a secured shed or garage
On a day-to-day level, you can also keep your home and its contents safer by:
Always taking keys out of door and window locks

Avoiding publicising when you go away on holiday

Only giving spare keys to trusted friends and family members

Keeping your valuables out of sight

Using timers to turn the lights on and off while you're away
Will having good locks save me money on my premium?
As explained above, many insurance companies will not offer you cover at all if your door locks do not meet their criteria. So ensuring your door and window locks are up to scratch will give you a much wider choice of insurers, which should help you find cheaper cover.
Most insurers also reward those who take steps to make their homes more secure with discounts to reflect the reduced probability of the property being burgled. You might, for example, get a 5% discount for fitting a night latch as well as a BS3621 five-lever mortice deadlock or for installing an insurer-approved burglar alarm.
Which door locks are insurer approved?
Different insurers have different rules when it comes to the type of locks you need on your doors and windows. The safest bet is therefore to always opt for locks that conform to industry standards and kitemarks – and to update your locks if they don't.
For five-lever mortice deadlocks, window locks, and night latches, the standard you want is BS3621. For multi-point locking systems, look out for the codes SS312 or TS007.
Looking for home insurance?