How burglar alarms affect home insurance costs
While there's no guarantee having a house alarm will cut the cost of your home insurance, installing insurance-approved alarm systems undoubtedly improves the security of your home.
Does a house alarm reduce the cost of home insurance?
Some insurers offer discounts to policyholders who install house alarm systems; others don't. However, as some insurers only offer cover on homes with burglar alarms, fitting one will give you a wider choice of policies to choose from. 
The flipside is that you'll need to offset any savings on your home insurance against the cost of installing and maintaining a burglar alarm.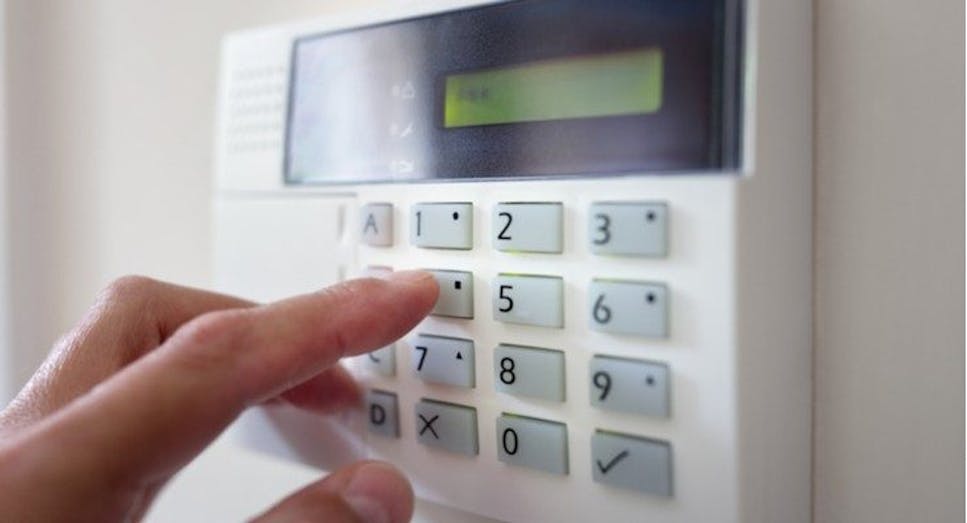 Are burglar alarms worth it?
Close to 270,000 homes in England and Wales were burgled between April 2021 and March 2022, according to figures from the Office of National Statistics, despite people being locked down at home for much of that time. Burglar alarms, especially easily visible, monitored ones that are linked to external security companies, slash your chances of joining this list, which should help you to feel safer in your home and can also make it more attractive to buyers.
Avoiding a burglary should also save you money, as well as stress, heartache, and the time it takes to make an insurance claim. With this in mind, installing a burglar alarm as part of a wider home security set up could prove a wise move. 
What type of house alarm system should I get?
There are several different types of house alarm you can buy to protect you home. The main types are:
Bells-only
The external element of a bells-only alarm makes a loud noise for a set time – often around 20 minutes – when triggered by a break in. They also have an internal part that continues to ring or flash until switched off.
Police only respond to a bells-only alarm if there's evidence a crime is happening – for example in response to a witness call. So, while a loud alarm is a deterrent to burglars, if you aren't home, you'll have to rely on your neighbour or someone who hears the noise to call the police and stop or catch the thieves. 
Monitored
Monitored alarms are linked to an external security company, which react if your alarm goes off. When that happens, someone at the security company will usually call you and ask for a key phrase or password to indicate everything is ok. If you fail to answer, do not provide the password, or don't know why the alarm has gone off, they will then alert the police.  
Smart home security
Modern security alarms can come as part of a wider smart home hub setup, and can be programmed to alert your phone if the sensors are activated, or to connect to the police when there is something wrong. You can use a smart security system to check up on your property via your phone while you're away, but systems of this kind are often more expensive than more traditional options.
Dummy alarms
A dummy burglar alarm is, in most cases, simply a non-functioning box placed on your home's exterior. It may help to deter some thieves, but will not fool professional burglars and will not lead to a discount on your home insurance.
Wireless burglar alarm
These alarms are battery powered and usually connect to a home's Wi-Fi. They're often easier to install and move around your home and can also be taken with you if you move house.   
Whatever type of alarm you choose, be sure to use it, as if you're burgled and your alarm wasn't set, this could invalidate your home insurance claim.
Do all burglar alarms cut home insurance costs?
No, not all insurers offer discounts to policyholders with house alarms, and not all burglar alarms will qualify you for a discount on your policy.
If you're buying a new insurance policy, it's worth checking these details or asking before you buy to make sure you know exactly what's required, and how much it might cost you.
Some insurers will only give discounts to those with house alarm systems that are installed and maintained by a third-party security company.
Can I install a burglar alarm myself?
Yes, you can often install your burglar alarm by yourself – particularly if it's wireless, as these are easier to set up. But where possible it's better to use a reputable installer; one that has been approved by either the National Security Inspectorate (NSI) or the Security, Systems and Alarms Inspection Boards (SSAIB). 
Once you have a burglar alarm fitted, you'll also need to check it regularly to make sure it's working properly and may need to have it checked by a professional once or twice a year. Again, these professional checks may be a requirement to qualify for a discount on your home insurance.
Am I insured if I fit a burglar alarm myself?
Fitting a burglar alarm yourself can be a lot cheaper than paying someone to do it. But to claim a discount on your home insurance, you may need to have it installed by a professional. If you're unsure, contact your existing insurer to find out.
How much does it cost to install a burglar alarm?
Burglar alarm systems come in all shapes and sizes and the cost will vary based on the size of your home and the type of alarm system you choose.
It also depends on whether you install it yourself. While a simple DIY burglar alarm might set you back less than £150, top-end house alarm systems cost at least £1,000, and professional installation will usually cost £200 or more.
If you choose a monitored alarm, you'll also have to pay a monthly fee – usually of between £20 and £50 – to an external security company. 
Alternatives to home burglar alarms
If you don't want to fit a burglar alarm, you can secure your home lower the risk of it being broken into by installing:
Door and window locks – especially locks that meet British Standards Institute (BSI)

Security cameras and lights

External motion-sensor lights
Other tips include always locking windows and doors, keeping valuables out of sight, and using timed lights to make it look like someone is home.
You may also consider joining your local Neighbourhood Watch programme and installing a safe for your most valuable possessions – both of which can earn you a discount with some home insurance providers.
Compare home insurance
Comparing home insurance quotes with MoneySuperMarket makes it quick and easy to find affordable cover, whether you have a burglar alarm or not. Just tell us a bit about yourself, your home and contents, and the kind of cover you need, and we'll search the market for quotes.
You'll be able to compare quotes by the premiums you'll pay, as well as the level of cover provided, and the excess you'll need to pay towards any claim. You can also run two searches to see how installing a burglar alarm affects the cost of your home insurance.
Then just pick a deal – remember the cheapest one does not always offer the best value for money – and click through to the provider to finalise your purchase.