What is an uninsured driver promise?
Find out what happens if you're hit by an uninsured driver, and how the uninsured driver promise can help.
A road accident can be a stressful experience, and even more so when it's someone else's fault. To make it worse, some people don't have insurance or drive off before you can get their details.
Each year, thousands of people are injured or killed by uninsured drivers and without the correct insurance, their compensation comes from the Motor Insurers' Bureau (MIB). This bill is paid for through the insurance premiums of all law-abiding motorists.
According to MIB, there are around 1 million uninsured drivers on UK roads. It's estimated that every three days someone has an accident involving an uninsured or 'hit and run' driver.
What is an uninsured driver promise?
Recognising that it's unfair to penalise policyholders for claims they weren't responsible for, some insurers are now putting clauses in place which mean your no-claims bonus is protected from uninsured motorists. This is called the uninsured driver promise.
Some will even waive your claim excess if the accident is clearly not your fault, so you won't lose any money. Both of these options however come with a downside in that your premiums will most likely increase at renewal.  
When you claim, most insurers will often deduct your no claims bonus (or some of it at least) and ask you to pay the excess, but only while the claim is settled. Then they should refund your excess and restore your no claims bonus after the dispute is settled.
It's a guarantee that your no claims discount will be reinstated, and your excess will be reimbursed if you're involved in an accident with an uninsured driver. Not all insurance providers offer this, so if it's something you want, check it's included before deciding on a policy.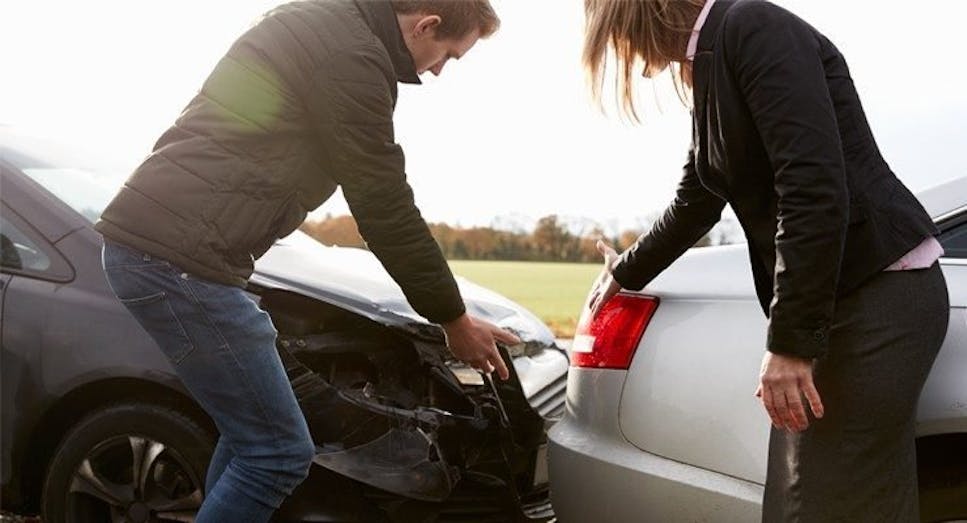 Can I claim against an uninsured driver?
If you have a fully comprehensive car insurance policy, you can make a claim through your insurance provider. Be aware that if the driver is uninsured this will likely take a lot longer than a standard claim.
If you only have third-party, or third-party, fire and theft cover, you won't be able to make a claim through your insurance provider. The MIB may be able to offer you compensation though but this process is often very slow.
What if the accident is your fault?
If it is your fault, then you will be expected to pay for repair costs to both your car and theirs, even if they are uninsured. Your third-party insurance should cover the repairs to the other person's vehicle, but not your own. So, unless you have comprehensive cover, you will have to fork out to repair your car.
However, they can still be prosecuted for not having legal insurance and the police have the power to seize their vehicle. 
What to do if I'm in an accident with an uninsured driver?
If your car's been hit by an uninsured driver, there are a few things you can do at the time of the incident to make it easier to deal with your claim:
Get other driver's details: Ask for the name and address of the other driver and make a note (or take a photo) of the registration number, make and model of their vehicle

If you can't get details: The other driver should give you their insurance details. If they don't, you can use the askMID Roadside service, or report them to the police for refusing to give their insurance information

Hit and run: If the driver of the other vehicle doesn't stop, then try and get their vehicle registration. If possible, get a photo of the vehicle. If there were any witnesses to the incident, ask them for their contact details as they may be able to help the police or your lawyers in any later investigation

Photograph: If you can take photos or videos of the scene and location, this could be helpful as evidence later on in your claim

Contact your insurer: You'll need to get in touch with your car insurance provider to tell them about the accident as soon as you can. If you don't, your policy could be invalidated
Should I report an accident with an uninsured driver to the police?
You should always report road accidents to the police, no matter how small – the Road Traffic Act says that motorists should report any accidents where people, animals or property are damaged or injured. 
This should be done within 24 hours of the incident occurring, and you'll need to give the date and time of the incident, and details of the other vehicle(s) involved.
If there are 'reasonable grounds' to requests a drivers' contact details and they do not do so, this will be an offence.
How do I know if I've been hit by an uninsured driver?
If you have an accident, you can instantly check and confirm the insurance details of the other parties involved using the askMID service on your smartphone. There's a small charge to use this service.
If the other vehicle is on the database, you'll be able to see the insurance details, so you can check that they match with what you've been provided and use them when making your claim. If there are no details, then the driver is probably uninsured.
You could also ring your insurance provider from the roadside, and they should be able to check if the other driver is insured for you.
Who pays for the damage caused by an uninsured driver? 
The MIB compensates for damage and personal injury, as long as the innocent driver has got legal insurance at the time of the accident. It doesn't matter what level of insurance the innocent party has – be it comprehensive, third party fire and theft, or just third party – you can still receive help.
The Motor Insurers' Bureau (MIB) was created in 1946, to compensate those who are victims of uninsured, negligent and untraced drivers. It is a not-for-profit organisation funded by all UK motor insurers through policy premiums. It is thought that between £15-30 of each driver's premium contributes to this fund.
What if the other driver can't be traced?
If you're hit by a driver and they cannot be traced or found, having fully comprehensive cover will help as you should still be able to make a claim on your own policy. However, as with any uninsured driver, you'll need to go through the Motor Insurance Bureau if you have third-party, fire and theft cover.
You'll be able to submit an application online, and you'll need to provide as much evident as possible to back up your claim – this can include:
Witnesses

Camera footage, from a CCTV or dashcam 

Photos you've taken of the damage – debris belonging to another car, or tyre marks on the road can all help 
What is the penalty for driving without insurance?
As well as being liable for the cost of an accident and any costs associated to the resulting claim.
You could also: 
Get a Fixed Penalty of £300

Have your vehicle seized

Face a court prosecution, with the possibility of an unlimited fine and being disqualified from driving

Incur a £150 fee to release your car and have the correct insurance in place to get it back

Be subject to a higher insurance premium if caught driving uninsured

Have 6 penalty points added to your license
Compare cheap car insurance quotes
Comparing car insurance quotes with MoneySuperMarket is a quick and easy way to find affordable cover. All you need to do is tell us a little about yourself, the car you're insuring and your driving history, and we'll put together a list of quotes tailored to your needs.
You can then check which policies offer you the right level of cover to protect against the costs of uninsured driver incidents.