Does a dash cam reduce car insurance?
Video footage from a dash cam can help prove you weren't at fault in an accident. But how much will you have to spend on a dash cam and will your insurer give you a discount for fitting one?
What is a dash cam? 
A dash cam is a camera which is fitted inside a vehicle and records what is happening on the road. Only a small number of car manufacturers offer dash cams so you're likely to need an aftermarket one.  
The most common type is a forward-facing camera, which you usually mount behind the rear view mirror. Alternatively, you could opt for a mirror dash cam which simply clips over the rear view mirror (and can double up as a reversing camera) or even use an app to turn your smartphone into a dash cam.  
Some dash cams are both front and rear facing or you can buy a separate rear-facing camera, which may be mounted to the centre of the rear window or externally on the rear of the car.  
Whichever option you go for, it's important to make sure it doesn't block your view of the road. Dash cams are legal on UK roads but if it's poorly fitted or it distracts you while you're driving you could get in trouble with the police. If you're using your smartphone it needs to be mounted or in a cradle.  
The footage from the dash cam is stored on a memory card (usually a microSD card) and you can then transfer the footage to your computer. The dash cam will have a certain memory card size which it can take and usually the oldest footage will automatically be overwritten once the card is full.  
Some dash cams have the ability to send the data to a cloud server, where it is stored securely instead.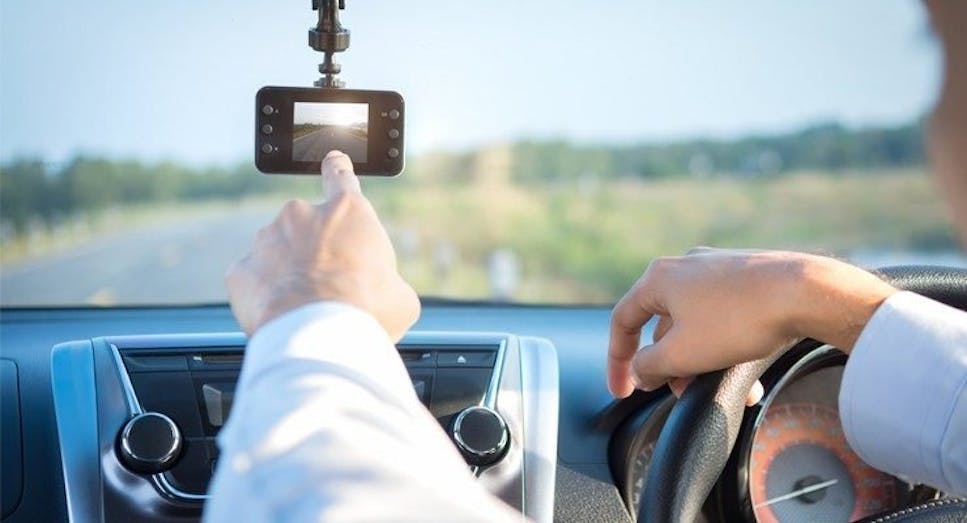 What are the insurance benefits of dash cams? 
One of the many insurance benefits of having a dash cam in your car is that it may provide vital evidence that you were not at fault in an incident rather than a 50/50 (or 'knock-for-knock') decision. This can save you money and protect your no-claims discount.  
Providing dash cam evidence can also speed up how long it takes to settle a claim.  
Dash cam footage can also help if you are a victim of fraud. For example, a false claim in relation to the number of passengers in the other vehicle or a 'cash for crash' incident where fraudsters deliberately stage or cause an accident.  
The latest crash for cash scam involves mopeds being deliberately driven at oncoming traffic. Around 2,250 people in London have been a victim of the scam in the past two years. 
Some dash cams are even able to detect motion while your car is parked. This means that if another car hits yours or a thief breaks into your car, recording will be triggered.  
However, dash cams themselves can attract thieves if they are on display.  
You should also bear in mind that video footage needs to be good enough quality and show the car's registration to be used as evidence in court.   
Do insurers give a discount for a dash cam? 
There are some insurers that offer discounts for dashcams but it isn't standard. To see whether you are eligible for a discount you will first need to inform your provider that you have fitted a dashcam to your vehicle.
If you are applying for a policy directly through a provider's website, they may have an option in their application form under 'modifications' for you to mention your dashcam. If this option isn't available or if you take out your policy through MoneySuperMarket, you would need to contact the relevant brand directly.
How much does a dash cam cost? 
Dash cams vary in price from free apps for Android and Apple iOS devices to high-tech models costing more than £300. For a budget model expect to pay about £40-£50.  
The difference in price is usually down to the quality of the recording and the features included such as Wi-Fi connectivity, Amazon Alexa integration, and an emergency SOS service.   
As well as the cost of the device itself, you might want to factor in having the dash cam professionally installed, although there are online guides available on hardwiring a dash cam.  
How do I send dash cam footage to an insurance company? 
Usually, when you make a claim your insurer will ask if you have dash cam footage and provide you with a link to a secure website where you can upload the footage.  
You can also use the National Dash Cam Safety Portal, a website set up by dash cam provider Nextbase, which allows you to upload footage (regardless of the device used) directly to the relevant police force.  
Dash cams are just one kind of technology which can reduce the cost of insurance. You may also want to consider black box car insurance.  
Sources 
National Dash Cam Safety Portal: https://nextbase.co.uk/national-dash-cam-safety-portal/ 
Crash for cash moped scams: https://insurancefraudbureau.org/media-centre/ifb-news/2023/crash-for-cash-moped-scams-what-you-need-to-know-about-the-reckless-two-wheel-con-thats-on-the-rise