Compare travel insurance for Croatia
Croatia is full of stunning natural scenery, historical hotspots and cultural must-sees – enjoy your holiday with peace of mind when you take out travel insurance
Why do I need travel insurance for Croatia?
Travel insurance is an essential part of any holiday, as it offers wallet-saving protection should things go wrong with your trip. With a decent travel insurance policy you'll be protected if you lose your belongings, become ill or injured or have to cancel your holiday – and you'll be able to enjoy Croatia's stunning scenery and cultural hotspots without any worries.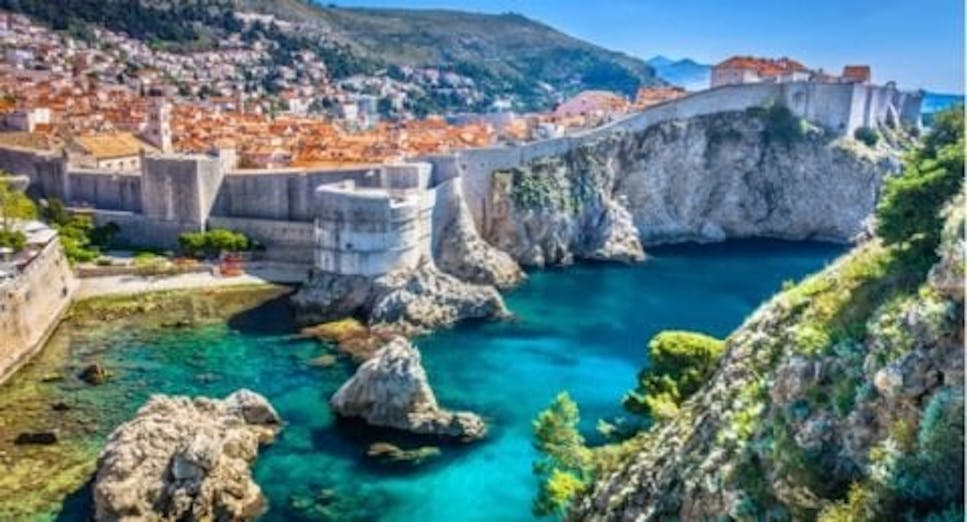 What should my travel insurance policy for Croatia include?
When you take out your travel policy for Croatia, it should ideally include cover for the following:
Cancellation or curtailment: This means if you need to cancel your holiday or end it early, you'll be able to claim for the cost of pre-booked flights, accommodation and excursions

Delayed and missed departures: So you'll be protected if you miss your flights because of circumstances outside of your control – for example, if your car breaks down or extreme weather means you can't get to the airport

Travel abandonment: Travel abandonment cover comes in useful if you have to give up on trying to get to your holiday destination due to unusual circumstances

Baggage and belongings: With baggage cover you'll be covered for the cost of replacing items if they're lost, damaged or stolen – however keep an eye out for value limits on single items

Passport: Covering your passport means if it gets lost or stolen you'll be reimbursed for at least part of the cost of replacing it. You'll also be able to claim for any extra flights or accommodation you've had to book as a result

Personal liability: Personal liability cover protects you against legal costs if you injure someone else, or if someone's possessions are lost or damaged and it's your fault

Medical expenses: Travel insurance for medical treatment is crucial. The European Health Insurance Card (EHIC) can still be used in EU countries even though Britain is no longer part of the EU. The EHIC will be phased out as the old cards expire and it is being replaced with the Global Health Insurance Card (GHIC) which can be used in the EU in the same way as the EHIC. But it only covers emergency treatment in state-run hospitals in the EU, so travel insurance is a good idea for extra piece on mind.

Repatriation: Repatriation cover means you'll be able to claim for the cost of bringing you back to the UK, for example if you become ill and need to receive treatment at home
Croatia travel insurance: exclusions and things to watch out for
Travel insurance can protect you against a range of things that can go wrong on holiday, but be mindful of things that might not be covered:
Pre-existing conditions: You'll need a specialised travel insurance policy to cover you for pre-existing medical conditions, such as diabetes – if you become ill as a result of your pre-existing condition without having declared it beforehand you won't be able to claim for treatment costs

Alcohol and drugs: If you're under the influence of alcohol or drugs while abroad and you injure yourself or someone else, or lose your possessions, your insurer won't pay out for treatment, replacement or personal liability costs

Risky sports/activities: Certain activities, such as adventure, water or winter sports, carry higher risk of injury and involve expensive equipment – so you'll generally need a specialised policy to provide the right cover

Civil unrest, terrorism and natural disasters: Civil unrest, terrorism and natural disasters – like the Icelandic volcano eruption in 2010 – can cause havoc for your travel plans, and unforeseen circumstances such as these won't always be immediately covered by your insurer. Additionally if you're travelling to a destination the UK government have already advised against visiting you might not be able to find cover at all
Will my EHIC/GHIC cover me in Croatia?
Yes, the European Health Insurance Card and new GHIC entitles you to the same standard of healthcare that citizens of participating EU countries receive, either for free or at a subsidised cost. This is still the case even though Britain has left the EU.
Top travel tips for Croatia
Croatia is a country full of natural and historical beauty – check out our top tips below to make sure you enjoy your stay to the fullest.
1. Getting around
The easiest way to get around the country is by car. Croatia's roads are in great condition, and they give you a convenient way to explore the country – some of the smaller villages are well worth the detours.
You can bring your own car or hire one locally – you'll need a valid driver's licence, but you may also be asked to show your passport or another form of ID, so keep that handy too.
Uber also started running in Croatia in 2015, offering a cheap taxi option in most of the country's tourist locations including Zagreb, Dubrovnik and Split – though keep in mind prices will be higher during the tourism season.
You might also consider Croatia's bus network, which will help you get around most of the country – with the exception of Istria and the multiple islands. The buses are clean and modern, and service is frequent – but keep in mind you might be charged extra if you have a bicycle or extra baggage. You also won't be able to take unplanned detours this way – so if you have a strict schedule the bus can be a good option, but for general exploring cars are the best bet.
If you're planning on island hopping, jump on a ferry – in some cases this is the only way to get around. You'll be able to take your car with you if you want to explore the islands you visit, but this will cost extra.
2. Paying for things
Croatia is part of the EU, and many places in the country do accept the Euro as payment, but it isn't their main currency. You'll be better placed if you swap your pounds for the local Kuna (Kn) – if you do use Euros, you'll likely get your change in Kuna, often with less favourable exchange rates.
If you're looking to withdraw money while in Croatia look for ATM machines belonging to official banks – they'll normally be nearby the branches themselves. These are cheaper than the alternative, which is to use Euronet or Auro Domus cash machines – which are more frequent around tourist spots but also more expensive to use.
ATMs in general are quite common in Croatia, as many places – particularly small restaurants and bars – will prefer cash payments. However shops and eateries that accept credit cards will have a sticker at the entrance or near the till – and even if they don't, it won't hurt to ask if you can pay by plastic.
One thing to remember is that if asked whether you'd like to pay in the local or your own currency, always pick local – it'll end up cheaper most times.
3. Eating and drinking
Lunch has traditionally been the main meal of the day in Croatia, but the nine-to-five workday means this isn't always the case through the week. On weekends though, lunch is generally a bigger affair.
The kind of cuisine you'll get varies by region, and as you might expect the Dalmatian coast offers up a lot of Mediterranean-influenced food. This includes fish, seafood and green vegetables, but you won't be without meat either – chicken and lamb are common, pork not so much.
Along the coast to Istria you'll fine the cuisine is similar in that there is a Mediterranean touch – the homemade pasta known as fuzi is a standout – but here it's mixed in with continental cooking. The region is especially known for its truffles, making many of their local dishes unique to Istria.
Zagreb is closer to central European cuisine, offering many meat dishes served alongside cabbage, potatoes and other root vegetables. Slavonia, unlike many other parts of Croatia, offers more in the way of pork-based dishes.
When it comes to drinking in Croatia, let's start light – the tap water is generally safe to drink, but bottled water can be quite expensive. Cafes are generally open through the day, often closing around midnight, serving up tea, coffee and, in some cases, alcohol drinks as well.
Speaking of alcoholic drinks, beer, wine and spirits are all big in Croatia – though beer has only recently come into the spotlight thanks to a number of microbreweries popping up. The craft beer scene is exciting, with a range of options for you to try, but if you'd prefer to stick to lager you'll want to try the two most popular beers in Karlovacko and Ozujsko.
Croatia's local wines are also a treat, and there are plenty of varieties produced by the country's numerous wineries – many of which are family-run. Brandy fans can rejoice too, as you'll find a range of flavours including honey, herb, cherry and walnut.
4. Things to see and do
Croatia boasts a huge variety of attractions to suit all tastes, whether you're looking for stunning natural scenery, cultural hotspots or a bouncing club scene.
Nature
Despite being a relatively small country, Croatia is home to eight national parks exhibiting some of Europe's most jaw-dropping natural sights. In fact almost a tenth of Croatia is protected territory.
Amongst some of the most notable are:
Plitvice Lakes National Park: Almost certainly Croatia's most well-known natural hotspot, the Plitvice Lakes National Park is a sight to behold. With waterfalls and lakes aplenty and swathes of stunning forest, it's a must-see for nature lovers

Paklenica National Park: Paklenica National Park is one for the adventurers, with over 100 miles of trails to hike and over 300 rock-climbing spots of varying degrees of difficulty

Brijuni National Park: Brijuni is a group of 14 picturesque islands home to an array of Mediterranean flora, a wild game reserve and Croatia's first ever golf course
Beaches
You won't find many sandy beaches in Croatia, as most are stony, but that doesn't stop them from being great places to relax and soak up the sun. There are plenty to choose from – some set against backdrops of buzzing bars and cafes, and others so serene you'll hear waves and waves only.
Zlatni Rat is probably the most notable, a long stretch of golden pebbles poking out into the Adriatic sea. It's a major tourist spot, so expect big crowds if you do visit, but it's worth the trip just for the incredible view of the Vidova Gora mountain. The beach is also good for a range of watersports, including surfing, windsurfing and scuba diving – just remember to take out the right travel insurance.
If you're looking for something quieter, Spiaza beach in Susak offers sand, sun and a shallow shoreline as well as pure tranquillity. There are no roads on the island, and no nightclubs by the beach – it's truly a spot for seclusion.
History and culture
Croatia isn't short of manmade history either, with eight of the 10 UNESCO World Heritage sites in the country holding cultural importance (Plitvice Lakes National Park and the Ancient and Primeval Beech Forests complete Croatia's UNESCO set) – and all eight are located on the coast.
The old city of Dubrovnik is one of them, designated as a UNSECO World Heritage site in 1979. Named the 'Pearl of the Adriatic' by English poet Lord Byron, the site is host to a collection of magnificently preserved churches, monasteries, palaces and fountains from eras gone by.
It's also a must for Game of Thrones fans, as this is where most of the series' King's Landing scenes were shot – and there are even more filming locations dotted around the country.
You might also be tempted by the Cathedral of St. James, located in Sibenik. It took over a hundred years to build, especially noticeable in the unique blend of Gothic and Renaissance art and architecture, and the sheer detail of decoration makes this worth the visit – keep an eye out for the 71 sculptured faces adorning the church's frieze.
Nightlife
Nightlife in Croatia is a tale of two halves. During the winter months you'll find the most active club scene in cities like Zagreb and Split, but as summer rolls in the islands burst into life. There are spots to suit all tastes – pub crawls, cocktail bars, discos and raves to name a few, and music ranging from jazz and soul to rock and electronica.
5. General advice
Here are a few important tips to keep in mind for your trip to Croatia
Avoid July and August if you don't like crowds, as these are generally the peak months for tourism in the country

Bring cash, and a way to withdraw cash, as not all places accept debit or credit cards – and stick to the local currency

Don't pin your hopes on public transport if you're visiting the islands – renting a car or bringing your own will make it easier to see as much as possible

Bring padded blankets and water shoes for Croatia's rocky beaches – and beware of sea urchins

Use sun-tan lotion and insect repellent – you'll certainly need it
Compare travel insurance policies for Croatia
Comparing travel insurance policies with MoneySuperMarket is a quick and easy way to find affordable cover for your holiday. It's important to shop around for cover, as you may find different insurers charge different amounts for the same level of protection.
We'll just ask you a few questions about you and your holiday, including where you're travelling to, for how long and what cover you'll need for the trip. You'll be able to compare policies from leading providers by the overall cost as well as what you'll be covered for – once you've found the right deal just click through to the provider to finalise your purchase.