Find out how much pet insurance costs
There are a lot of different details that can affect the cost of a pet insurance policy. To get the best deal, it's important to know where these added costs to pet insurance comer from and how you can avoid some of them.
Why get pet insurance? 
Pet insurance is a valuable protection that can help you cover the cost of healthcare for your pet. If your pet needs emergency treatment, a pet insurance policy can cover some of the upfront cost of vet appointments and treatment. With this financial help, you can put your pet's health first and you don't have to worry about being thrown for a loop by sudden, expensive fees.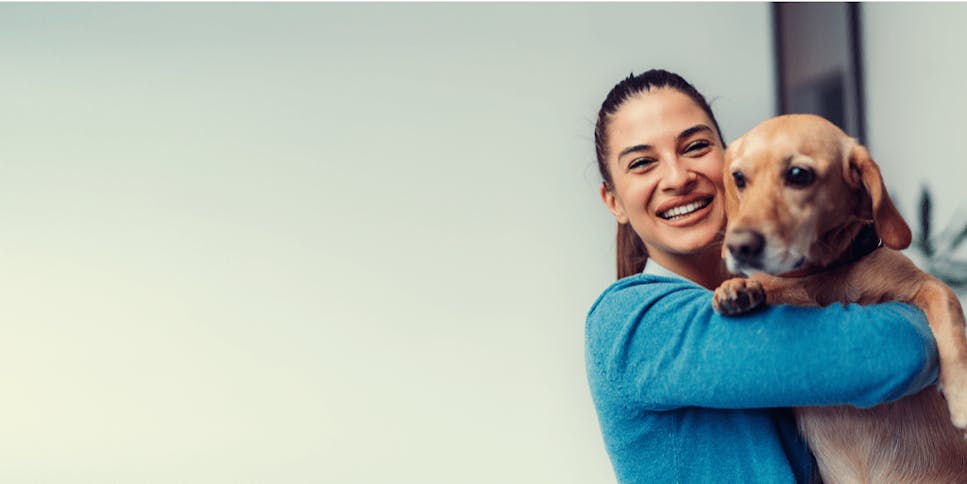 What affects the cost of Pet insurance?
Pet insurance won't cost the same for everyone. Your personal details and details about your pet will affect the cost of a policy. Most providers will use the following criteria to determine the cost of your policy:  
Your location 

Your pet's species and breed 

Your pet's age 

Cover level 

Your pet's medical history 
All of these different details will have an effect on your vet bills, and so they will also have an effect in your insurance. For example, the cost of veterinary treatment is different across the UK, so if you live in a location where vet fees are quite high, you can expect to pay a little more for your pet insurance.  
How to get cheaper pet insurance
There are a couple of ways you can make pet insurance cheaper for you. The first way is to buy pet insurance earlier. Kitten insurance and puppy insurance tends to be cheaper than pet insurance for cats or dogs, and the cost continues to increase the older your pet gets. 
The cost of pet insurance can also be affected by your excess. Most providers will ask that you cover a portion of your vet fees, but you have the choice whether to increase or decrease the amount. By choosing to cover more of your vet bills, you can reduce the cost of insurance. 
How much is dog insurance?
The average cost of dog insurance is around £34.47 a month*, however the cost of pet insurance to cover a dog can greatly vary in cost. This is mostly due to different dog breeds having very different health needs.  
* based on 2022 MoneySuperMarket pet insurance data  
Cost of dog insurance by breed
Certain dog breeds are more likely to have health problems than others, such as large breeds that tend to suffer from joint problems, or flat-faced breeds that can often have breathing issues. Because of this, providers will charge you differently for pet insurance depending on the breed of your pet.
| Dog Breed | Average Monthly Premium * |
| --- | --- |
| Cocker Spaniel | £27.47 |
| Cockerpoo | £21.36 |
| Staffordshire Bull Terrier | £29.72 |
| French Bulldog | £36.62 |
The same can be said of other types of pets, with certain breeds increasing the cost of pet insurance due to common health problems. 
*based on 2022 MoneySuperMarket pet insurance data 
How much is cat insurance?
The average cost of cat insurance is around £24.43 per month*. When it comes to pet insurance for cats, age and health are what really affect the cost of your policy, as well as your cat's medical and behavioural history.  
| Cat Breed | Average Monthly Premium * |
| --- | --- |
| Bengal | £26.41 |
| Maine Coon | £22.51 |
| British Shorthair | £29.90 |
| Ragdoll | £23.13 |
| Persian | £23.05 |
So, to save money on pet insurance, consider taking out your policy when your cat is a kitten to get the best deal.  
*based on 2022 MoneySuperMarket pet insurance data  
Cost of insuring older cat and dogs
Insuring older dogs or older cats is more expensive than insuring puppies or kittens. This is because older pets are more likely to experience health problems and so need more frequent visits to the vet. Older pets are also more likely to have pre-existing conditions, which can have a real impact on what policies are available to you.   
Cost of insuring other pets
Pets other than cats or dogs may not be covered by a standard pet insurance policy. Instead, pet insurance for these animals comes from specialist insurers, which can make cover more expensive. These specialist providers, however, adjust the pet insurance offerings to match the needs of the animal you want to insure.   
What does it cost to insure a horse?
Horse insurance is typically more expensive than pet insurance for dogs or cats. This is because pet insurance for a horse also works quite differently from standard pet insurance, working more like a life insurance for your horse rather than cover vet bills as standard. Vet bill cover comes as an optional extra for most possibilities, alongside quite a few cover options to build your policy.  
What does it cost to insure a rabbit?
Rabbit insurance is usually cheaper than cat or dog insurance, but there are also fewer options out there. Not many providers offer insurance for rabbits, and those that do don't have many options to customise policies. Similar to standard pet insurance, you location can change the cost of your policy. To some degree, your rabbit's breed can change the cost of insurance as well due to some breeds having more health issues than others.  
How can I cut the cost of pet insurance?
There are a few ways you can affect the cost of pet insurance yourself to make it more affordable.  
Reduce your cover
Rather than choosing a comprehensive lifetime policy, consider choosing a slightly reduced cover type, such as time limited or maximum benefit. The cheapest cover type you can get is accident only, however this will only cover the cost of accidental injuries. That means you might miss out on important cover for illnesses or other serious conditions that aren't accident related.   
Increase your excess
You can reduce the cost of your policy by volunteering to pay part of your vet fees. Every policy comes with a standard excess, but by choosing to cover more of your vet fees you can make your policy cheaper.  
Have your pet chipped/vaccinated/spayed/neutered
Providers are likely to reduce the cost of cover if you prioritise your pet's health needs. By keeping up with your pet's vaccinations, having your pet microchipped, and having them neutered/spayed you reduce the likelihood of your pet suffering from certain health problems in the future.   
Pay annually
Paying for your policy annually rather than monthly poses less of a risk for the provider, so policies may work out cheaper.  
Shop for deals
Rather than auto renewing your policy, it pays off to shop around. There is lots of choice out there, and you never know when there's a good deal to be found. To make the task easier, you can use our pet insurance comparison tool and get current quotes for policies tailored to the needs of you and your pet.   
Is it worth claiming on pet insurance?
Making a claim on your pet insurance may result in your provider increasing your premiums and taking out a new policy may cost more as well. However, that doesn't mean you should avoid claiming on your pet insurance. For people that might struggle to afford the cost of treatment right away, pet insurance is worth it.   Outside of routine treatments and check-ups, it's worth it to use your pet insurance to cover those big vet bills that can come out of nowhere. Some insurance providers may also pay the vet directly, so you don't have to worry about upfront costs for your pet's treatments. With this protection at hand, you don't need to think twice about whether it's worth the cost to give your beloved pet the best possible healthcare.   
Looking for Pet insurance?
One of the easiest ways to find out what pet insurance will cost for you and your pet is to compare policies. Our service is quick and easy to use and will give you current quotes from some of the top UK pet insurance providers with the best deals front and centre. Browse at your leisure with no need to commit until you find a policy for a price that's right for you.
Ready to save on your pet insurance? Or need to know more before you get a quote? We're here to help.