Find affordable cover for your classic motorcycle
Have you got a treasured classic motorcycle? Here's why your insurance might be cheaper than you think
What is classic motorcycle insurance?
Classic motorcycle insurance covers you and your classic motorcycle so you'll be insured to take it for a ride. Whether you're touring the countryside on your classic bike or just taking it out for the odd Sunday drive, you'll need a classic motorcycle insurance policy if it's over a certain age.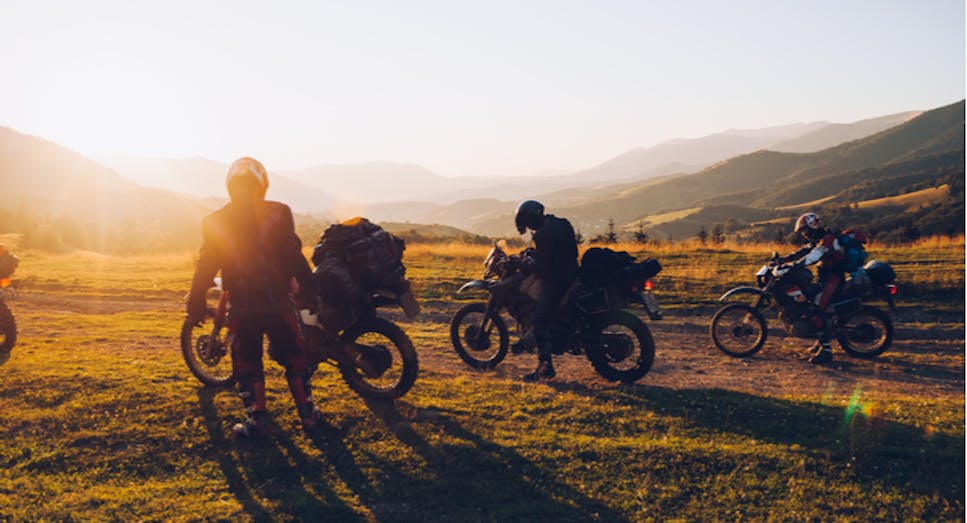 What is a classic motorcycle?
Motorbikes become classics once they reach a certain age, however the specific guidelines of what makes a motorbike a 'classic' varies between insurers.
Some insurers define a classic motorbike as any over 15 years old, while others extend the criteria to 20, 30, or even 40 years. You might also be able to find policies for modern classic bikes, which are slightly younger, and future classic bikes, which covers bikes that are being maintained with a view to earning 'classic' status.
Do I need insurance for my classic motorcycle?
If you intend on driving a vehicle, whether it's a motorcycle, car, or van, it's a legal requirement to have at least third-party cover. However a more comprehensive policy will give you a better level of cover. Any vehicle must have insurance unless it you take out a statutory off-road notice (SORN).
Is classic motorcycle insurance different to standard motorcycle cover?
Yes – because classic bikes are usually better looked-after and ridden less frequently. Often only taken out for an occasional ride during summer months, doing fewer miles means the risk of being involved in an accident is lower.
Insurance for classic bikes also means deciding an agreed value. Various insurers will value them differently, so it's important to make sure your bike is covered for its entire worth.
There can also be age restrictions for classic motorcycles – some insurers require a minimum age of 25, whilst some are happy to cover anyone over the age of 21 with a full category A motorbike licence.
What does classic motorcycle insurance cover?
The level of coverage you'll get from your classic motorbike insurance will firstly depend on the type of policy you take out. As with all auto insurance you'll be able to choose from:
Third-party: This is the minimum legal requirement for drivers of all vehicles, and it'll cover you for any damage you do to a third party, their property or their vehicle

Third-party, fire and theft: Third-party, fire and theft policies include everything in third-party insurance, but you'll also be covered for claims if your classic bike is stolen or damaged by fire

Fully comprehensive: The highest level of insurance available, fully comprehensive policies cover all of the above, as well as any other damage done to you or your classic motorcycle
What policy features can you get with classic motorcycle insurance?
When you insure your classic motorcycle, your policy may have some of the following features as standard – while others you'll need to add on as an extra if you need them:
Accessories cover: This will cover you if your accessories, such as helmets or leathers, are damaged, lost, or stolen

Breakdown cover: With breakdown cover you'll get roadside assistance if your classic bike breaks down

European cover: You'll be insured to take your classic bike across the pond

Multi-bike cover: You'll be able to add more than one bike to your policy, which can often be cheaper than taking out separate cover for each

Additional driver cover: This insurers you for letting others ride your classic motorcycle

Pillion cover: Pillion cover lets you ride your motorcycle with passengers

Modifications cover: If you've modified your motorcycle in some way you might need an extra policy to cover you

Lock and key cover: This helps you with any costs relating to losing your keys

Wrong fuel cover: You'll be covered for repair costs if you accidentally use the wrong fuel

Event cover: This is a special level of coverage for when you take your classic motorcycle to events and trade shows
Keep in mind that adding extras to your policy if they aren't already included is likely to increase your premiums.
What information do I need to get a quote?
There are a few details you'll need in order to run a quote for your classic motorbike, including:
Information about your bike, such as the make, model, registration number and its manufacture date

The value of your bike

The date you bought it

Any modifications made to the bike, including any non-approved parts

Any security measures you have taken out

Details on how long you have held your licence and, if applicable, any information on a no-claims-bonus you may have

Any convictions you – and additional riders if you have any – have on your licence
How much does it cost to insure a classic motorcycle?
Classic motorcycles are usually cheaper to insure than standard models as owners tend to be more careful with their bikes and maintain them to a high degree, which means they're unlikely to be used for everyday driving. It's also less likely for a classic bike to be stolen as they are easily tracked, meaning they are much harder to sell on.
Across 2019, the average cost of covering a classic motorcycle was £163 a year, compared to over £200 for roadsters, over £250 for sport tourers, and almost £300 for adventure bikes.*
However there are also other factors that influence your premiums, such as:
Your age: As a rule of thumb, insurers give higher premiums to younger or less experienced riders. Some may even have a minimum age limit on their policy, usually 25 years old

Your location: You're usually more likely to claim for theft or vandalism if you're in an area with higher crime rates, so insurers will often raise your premiums as a result

Your job: some jobs are deemed as higher risk than others and can impact on the price of your insurance

Your motorcycle: Bigger and more powerful classic motorcycles – those in higher insurance groups – are at a higher risk of being involved in an accident. Any modifications you make to your bike can also impact on the cost of your insurance. Modifications also include any non-approved parts, this includes any parts that aren't original or made by original equipment manufacturers, so you need to tell your insurers if you use any when replacing parts

Your driving and claims history: Riders with a history of driving convictions or who have penalty points will expect to see higher premiums
*According to data collected by VastVisibility between January 2019 and January 2020, accurate as of April 2020
How can I lower the cost of insurance for my classic motorcycle?
There are a few different ways to lower the price of your insurance premiums:
Choose fully comprehensive cover: As with any motor insurance, fully comprehensive cover not only offers the most protection, but it also costs less than the alternatives

Add security: By adding an immobiliser or tracking system, you'll reduce the likelihood of your bike being stolen. If possible you should keep your classic bike in a locked garage with a ground anchor as well as other preventative measures – some insurers may insist on this before offering cover

Lower your mileage: The fewer miles you ride, the lower the risk of being involved in an accident. Try to be as accurate as possible when you tell your insurer how many miles you're likely to do – you'll be charged extra if you over-estimate, but under-estimating could leave you without valid cover

Consider seasonal use: If you only use your bike during the summer months when the weather is better, it could be worth declaring your bike as off the road and getting a statutory off-road notification (SORN). This will mean you only need to insure your bike for the months of the year that you will use it

Avoid making any modifications: These can make your motorbike harder to repair and replace, which will make your premiums more expensive

Pay annually: If you pay in one lump sum, you won't be charged interest on monthly instalments

Additional riders: Adding a more experienced rider can bring your premiums down, however, it's important to make sure you're upfront about who the main driver is. It's a fraudulent offence to lie about the main rider of the bike, which is known as fronting

Consider your usage: Some riders will only use their bikes for a Sunday ride, whilst others may be using them for their daily commute. If you're unlikely to use your bike during rush hour, this will likely lower the cost
Do I need to get an MOT for my classic motorcycle?
If your motorbike is over 40 years old it is eligible for an MOT exemption, however, they do still need to be road legal and maintained to a level where they would still pass an MOT.
Compare motorbike insurance quotes
MoneySuperMarket don't offer a comparison service specifically for classic motorcycles, however you can compare motorbike insurance policies with us and our partner, VastVisibility, to see if a standard insurer will cover your ride. If you can't find a suitable policy, you may have to contact a specialist insurer.