Find affordable cover for your moped
Mopeds are a convenient way to get around and a great introduction to the world of biking – here's how you can insure yours
What is moped insurance?
Moped insurance covers you for driving your moped – most motorbikes with engine sizes lower than 50cc – on UK roads. It technically falls under motorcycle cover, so you'll be able to cover your moped when you go through our motorbike insurance journey.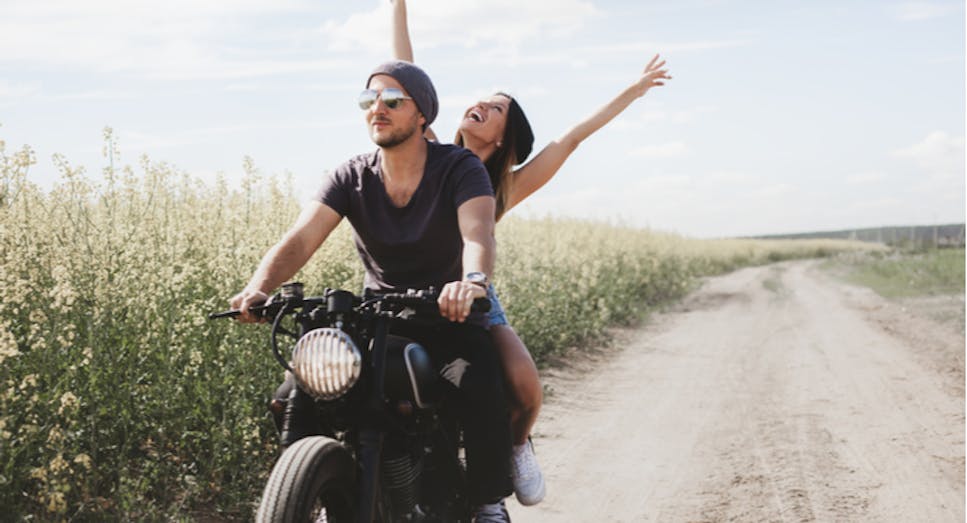 Do I need moped insurance?
If you're a licenced holder of any vehicle you must have at least a third-party insurance policy in place – this goes for cars, vans, motorcycles, scooters and mopeds. This is as a result of the continuous insurance enforcement rules brought in by the government to reduce the number of uninsured drivers on the road.
What's the difference between a moped and a scooter?
You may sometimes hear the terms 'moped' and 'scooter' used interchangeably, and there are similarities – for example, both mopeds and scooters usually have step-through frames. But it's only legally classed as a moped if the engine is under 50cc, and they normally reach top speeds of around 25-40mph – therefore you aren't allowed to take your moped on motorways.
Mopeds used to also come with pedals – hence the name mo- (motor) and -ped (pedal) – but modern mopeds instead have ignition buttons. Their wheels are larger than scooter wheels but in overall size they're generally smaller.
What does moped insurance cover?
The cover you'll get with your moped insurance depends on the type of policy you choose and the extras you add on to it. Moped insurance policy types work the same way as for most vehicles, so you'll get one of the following:
Third-party only: Third-party insurance is the legal minimum level of cover you can take out. It covers damage done to other people (the third party), their vehicle or their property, but offers no protection for your moped

Third-party, fire and theft: Third-party, fire and theft adds cover for your moped if it's stolen or damaged by fire

Fully comprehensive: A fully comprehensive insurance policy includes all of the above, as well as covering the cost of any other damage to your moped
What policy features can I get with moped insurance?
Insurers offer certain features for motorcycle insurance policies, some of which are included as standard and others that will cost extra to add on. You should consider whether you really need them as they'll likely increase your premiums – most providers will offer:
Pillion cover, allowing you to ride with passengers

Cover for your helmet and leathers if they're lost, damaged or stolen

Breakdown cover to help you get moving if your moped breaks down

Cover for multiple bikes on one policy

Cover for modified bikes

Cover for riding with a sidecar

Cover for riding your moped abroad

Personal liability cover if you're responsible for an accident on the road

Personal accident cover, which pays out if you're injured or killed on the road

Cover for lost keys and topping up your moped with the wrong fuel
How much does moped insurance cost?
The premiums you'll pay to insure your moped will depend on a number of different factors, including:
Your age: Insurers see young or inexperienced riders as a higher risk of being involved in a road accident, and as such they charge higher premiums

Your policy: As with any kind of motor insurance, you'll find that fully comprehensive cover is the cheapest option. Over 2019, fully comprehensive motorcycle insurance policies sold for an average of £243 in annual premiums – compared to £323 for third-party only cover*

Your moped: Motorcycle insurers, like car insurers, sort their vehicles into insurance groups based on factors such as their size and speed. Bikes in lower insurance groups are generally safer due to their smaller build or less powerful engines, therefore cost less to cover.

Your moped's modifications: If you've modified your moped you may find your premiums go up due to the increased cost of repairs or spare parts required

Your excess: Your excess payment is what you initially contribute towards the cost of a claim when you make it, before your insurer pays out the rest. Volunteering a higher excess fee tells insurers you won't bother making small or frivolous claims as the payment acts as a deterrent – in return they'll reward you with lower premiums

Your payments: You'll have the option of paying your premiums either monthly or annually – and while monthly payments can seem like a good way to spread the sum, you will usually end up paying more for cover

Your mileage: The less time you spend on the road, the less likely you are to be involved in a road accident – so insurers are likely to charge less for cover if you're not spending a lot of time on the road. However you should be honest when you take out insurance, as lying about things like your mileage might see your cover voided
*According to data collected by VastVisibility between January 2019 and January 2020, accurate as of April 2020
Are mopeds cheaper to insure?
Due to their smaller build and less powerful engines, mopeds are often seen as a less-expensive alternative to full motorbikes. They can also be cheaper to insure – over 2019, the average cost of insuring a moped with fully comprehensive cover was £261 per year, compared to almost £300 for an adventure motorcycle and £429 for a cruiser.*
*According to data collected by VastVisibility between January 2019 and January 2020, accurate as of April 2020
How do I qualify to ride a moped?
Unlike scooters and larger motorbikes, you're legally allowed to ride a moped from when you're 16-years-old – as long as the engine size is under 50cc. You'll also need to:
Complete your CBT (compulsory basic training): Upon doing this you'll be able to ride any moped or scooter (if you're old enough), but you'll have to display L plates

Register with the DVLA: You should get your registration paperwork when you buy your bike, but if not you must register it with the DVLA yourself before riding

Pay road tax: Fortunately bikes with engines under 150cc are in the lowest road tax bracket

Take out insurance: As mentioned above, you must have at least third-party cover in place to ride your moped on UK roads
Compare moped insurance quotes
Finding affordable cover for your moped is easier when you compare policies with MoneySuperMarket and our preferred partner, VastVisibility. Just tell us a little about yourself, your motorbike and the cover you need, and we'll search the market for a list of quotes tailored to you.
You'll be able to sort deals by their overall annual and monthly premiums, the level of cover you'll get and the excess payment required for you to make a claim. Once you've found the policy you want, just click through to the provider to finalise your purchase.
As with any kind of insurance, bear in mind that the cheapest option isn't always the most suitable – you should aim for a balance between cost and cover to ensure you have the right protection in place for you and your motorcycle.