Find contents insurance quotes for shared housing
Contents insurance can be trickier to work out if you live in shared housing – here's what you need to know
Looking for home insurance?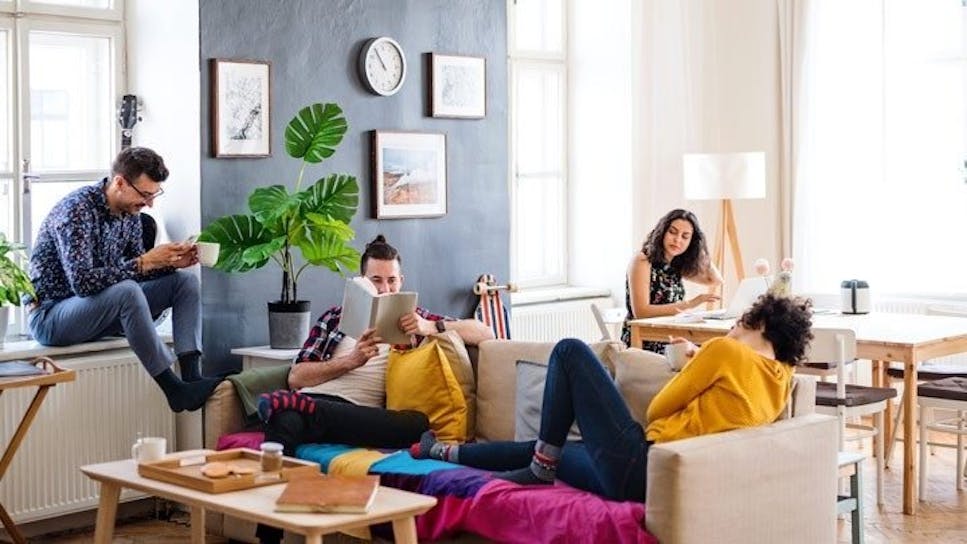 What is shared home contents insurance?
Shared home contents insurance covers the value of your home contents if you live in a house-share or university accommodation.
Do I need contents insurance if I live in a shared house?
Yes. Whether you live along, with family, or share with other, it's always important to consider financial protection for your belongings through contents insurance.
However, the type of contents insurance you need if you share housing will depend on the nature of your shared living arrangements, and in some instances cover might already be in place.
For students: If you're a student moving into your university's halls of residence, you might already be covered by its halls of residence insurance. This covers you for contents in communal locations, like kitchens and common rooms, as well as your own room.
However, not every university offers this as standard – you might have to pay extra for the cover, or it might not be in place at all. This type of cover also won't apply if you're sharing private housing rather than living in halls of residence.
In addition, you might also be covered by your parents' existing home insurance policy, which can sometimes include extended protection for contents taken to university. Check whether this insures contents taken out of your room though because you want to know if you're covered for a damaged laptop during a lecture seminar, for example.
If you're not already covered, a shared housing contents policy can help you get the insurance you need for your belongings. You might also want to consider a policy designed specifically with students in mind. Our guide to cheaper student home insurance should help.
For professionals in shared housing: If you're a professional living in shared housing, a lodger, or staff such as an au pair or nanny, you won't benefit from policies aimed at students.
You might also find it harder to take out a standard renters' contents policy because the risk of theft, loss and damage will be higher.
One option would be for the whole household to take out a collective contents policy. However, one claim by one tenant would affect everyone else's claim history – meaning it could be harder or more expensive to find cover in the future.
Alternatively, a shared housing contents insurance policy covers just your room and your belongings, so you can keep your claims history as clean as possible.
What does shared housing contents insurance cover?
A shared housing contents insurance policy should cover much of the same as a standard contents policy. The key difference is that it only applies to you and your contents, rather than the whole property. This means you should be insured for loss or damage caused by:
What belongings can I cover with a shared housing contents policy?
Just as with a standard contents policy, you'll be able to find cover for the following if they are lost, damaged or stolen:
The most commonly insured possessions on home insurance policies are laptops, tablets and notebooks – averaging a value of £1,000. This was followed by jewellery, bicycles, watches and other computing equipment.
According to MoneySuperMarket data collected between July and December 2020, accurate as of January 2021
Is anything excluded from shared housing contents insurance?
In most cases, the same exclusions that apply to a standard contents insurance policy should also apply here, including:
Wear and tear: Any belongings that are damaged through general ageing or wear and tear won't be covered

No forced entry: If there is no sign of forced entry – for example if burglars accessed the property through unlocked doors or windows – you also won't be able to claim

Unoccupied property: If the property was left empty for longer than a certain period of time and you didn't have unoccupied property cover in place, your policy will likely be void

High-value items: You might need a specialist policy for items that exceed a certain value as they won't be included under the standard level of cover
What else should I look out for with shared home contents insurance?
The main things to look out for when you take out contents insurance for shared housing are:
Room locks: Some shared housing contents insurance policies will only cover you if your room has a lock – they might even have demands on which types of locks are approved for use

Out-of-room cover: You might not be able to claim for loss, damage or theft if the item in question was in a communal area or taken outside the property. For students, this could mean transit between lectures, halls of residence and your family home

Faulty equipment: If you're living on a university campus you might use a communal fridge, freezer or washing machine. If these break down resulting in damaged clothing or lost food you might not always be covered

It's always a good idea to check with insurers beforehand to make sure all eventualities are covered.
How much does shared home contents insurance cost?
A contents insurance policy when you share a property with others might be more expensive than it would if you lived alone or with family. This is because your living arrangements in a shared household are usually different – for example, you might:
Live with strangers: Your housemates might not all respect your privacy or ownership, so the risk of incidents occurring is likely to be higher

Share communal items: Using appliances provided by your landlord is one thing, but splitting the cost of a TV between housemates might lead to arguments – especially if someone breaks it

Share communal areas: Leaving personal possessions in communal areas such as a laptop or phone might seem natural if you live in a social household, but insurers aren't fond of this risk
These can all contribute to higher insurance premiums, but on the flip side if you're only insuring your own possessions then you might not need as much cover in the first place.
How much cover will I need if I share a home?
If you're living in a shared household and you only want to insure your own contents, you should have a calculated estimate for how much your things are worth. The good news is it won't take as long to calculate the value of your possessions in just one room.
Try to avoid over or underestimating:
Overestimating can seem like a safe option as you know you'll be able to claim for what you need if it comes to it – but you'll be over-paying on your premiums

Underestimating means you might not be able to make a claim at all if something goes wrong, which could leave you well out of pocket if you need to pay for major repairs or replacements
How can I reduce the cost of shared home contents insurance?
While renting means you might not be able to make too many changes to the property, you can still take steps towards keeping your premiums low and possessions safe:
1.    Improve your security: Keeping prized possessions in a locked safe, setting burglar alarms and always locking your room door will show insurers you take security seriously – and in return they'll reduce the cost of cover
2.    Install fire alarms: While it's your landlord's responsibility to ensure smoke and carbon monoxide detectors are working on the first day of tenancy, from then on it's up to you to test the alarms regularly to make sure they still work. If they don't and you need to claim for fire damage, your insurer might not pay out
3.    Insulate pipes: If your water pipes are insulated it's less likely they'll leak or burst, reducing the likelihood of you having to claim for escaped water damaging your contents
4.    Insure what you need: You can avoid paying over the odds for insurance by carefully calculating the value of your contents and only taking out the amount of cover you'll definitely need
5.    Pay more excess: Volunteering a higher excess fee can demonstrate to insurers that you'll only claim when it's really worth paying the extra amount – so they'll cut your premiums
6.    Pay annually: Paying your premiums in monthly instalments helps you spread the cost, but in return for the staggered payments insurers generally charge a little extra. Paying a lump sum every year means you'll pay less overall
Compare home insurance quotes
Comparing home insurance quotes with MoneySuperMarket is the easiest way to find affordable cover for your home. Just tell us a little about yourself, the property and the estimated value of your contents. Remember to mention that you share your home with others and we'll put a list of quotes together tailored to your requirements.
You'll be able to compare deals by their overall monthly and annual cost, the level of cover you get and the excess you'll need to pay to make a claim. Once you've found the one you want, just click through to the provider to finalise your purchase.
As with all insurance products, you should be careful of choosing a policy purely based on the cost. It's better to aim for a balance between price and cover so you know you're getting the right deal, without risking over- or under-insuring yourself.
Looking for home insurance?