What are some of the best first cars for cheap insurance?
Comfort, safety, and affordability should be your main priorities when looking for a car, but it helps to know some of the other costs involved in buying a first car - like car insurance.
The immediate cost of buying your first car is probably the most important thing on your mind when you're shopping, but what about long-term costs? The cost of car insurance isn't something to scoff at, especially when the cost of car insurance has gone up so much in recent years.
As a new driver, it's unavoidable that your car insurance will be on the expensive side when you first start driving, but it doesn't have to cost an arm and a leg. You can actually reduce the cost of your car insurance just by doing a little bit of research. Lucky for you, we've done some research of our own to help you get started.
What are the cheapest cars to insure for new drivers in 2023?
Using real quotes from MoneySuperMarket users, we've put together a list of cars with some of the cheapest car insurance quotes for new drivers in 2023*.
1. Toyota Aygo Platinum
Car insurance group: 3
Average monthly premium: £757.21
The Toyota Aygo Platinum is a small, reliable first car that's ideal for city driving. The Toyota Aygo won first place as the most reliable small car in the What Car? 2022 reliability survey, which goes some way to explain why its enhanced model, the platinum, has some of the cheapest car insurance premiums. The Aygo Platinum has all the great features of the award-winning Aygo with a little bit extra as well.
One of the benefits of Toyota vehicles that make them easy to insure is Toyota's warranty policy, which is to extend the original 3 year warranty by 12 months/ 10,000 miles with every qualifying service. Toyota manufacturing warranties can be extended up to 10 years or 100,000 miles, which gives owners great incentive to keep up with servicing and keep their car in top condition.
2. Fiat 500 Pop
Car insurance group: 7
Average monthly premium: £771.65
The Pop is the cheaper version of the Fiat 500, which is part of the reason why it's cheaper to insure. The Fiat 500 generally has a decent number of customisation options, but the Pop has fewer luxuries that come as standard, which makes it easier to cut the fat and save on cost if you're looking for something on the cheaper side.
However, that isn't to say that other 500 models are that much more expensive to insure. In fact, the Fiat 500 lounge, which is the luxury model, has average premiums of only £875.65, which is still among some of the cheapest car insurance premiums these days.
3. Hyundai i10 ACTIVE
Car insurance group: 12
Average premium: £833.15
Being an affordable city car, car insurance for the Hyundai i10 is bound to be cheaper than its pricier counterparts, but the 5-year warranty that comes as standard helps make it extra appealing to insurance providers.
The Hyundai i10 generally has premiums on the cheaper side, but it's the ACTIVE model that came out on top with the cheapest car insurance quotes for our customers. But the ACTIVE isn't the only Hyundai i10 model to make it in our list of cheapest car insurance quotes. The i10 SE and i10 Classic aren't too far behind it, with average premiums of £837.09 and £849.19 in 2023.
4. Peugeot 107 Urban
Car insurance group: 3
Average premium: £852.09
The Peugeot 107 is a supermini – a compact hatchback that can go the distance. Its low insurance group rating is due to a number of features, including its affordable price, simple controls, and low repair costs as Peugeot tend to offer good value for parts and servicing.
The Peugeot 207 is also one of the cheapest cars to insure this year, but it's the 107's reduced power that make it the preferred choice for insurance providers.
5. Citroen C1 VTR
Car insurance group: 3
Average premium: £858.04
The Citroen C1 is in one of the lowest insurance groups mostly due to its reliability and low servicing costs. In 2023, the Citroen C1 ranked 8th alongside the Skoda Citigo in the What Car? survey for most reliable small used car. While it's not the flashiest choice for a first car, it's a good first car if you're looking for something dependable around the city.
All the Citroen C1 models are in the lowest numbers when it comes to insurance group, but it's the VTR that took the title of cheapest premiums for MoneySuperMarket users in 2023. Car insurance for the C1 Vibe isn't that much more expensive, though, with customers seeing premiums averaging £903.56.
6. Vauxhall Corsa Energy
Car insurance group: 3
Average premium: £874.68
The Vauxhall Corsa Energy is a cheap car to buy and repair, so insurance premiums will normally be cheap as well. It's an affordable, safe car that's a popular choice for a first car.
The Vauxhall Corsa received a 4 star rating from the European New Car Assessment Programme in 2014 and 2019, making it one of the safest cars to drive and therefore a great choice for new drivers. The Corsa Energy is a mid-level trim for the Corsa but still comes with all the great features you expect, like cruise control and tyre pressure monitoring system.
7. Suzuki Alto SZ3
Car insurance group: 4
Average premium: £888.15
The Suzuki Alto is a great low maintenance car for new drivers that prefer function over form. It's on the cheaper side, which gives you cheap insurance, but that also means that it lacks some of the fancy tech and extras you might get from other cars that cost it bit more.
The SZ3 was the cheapest version to insure according to our own data, although the SZ3 is the budget version. This makes it extra cheap to insure but it also comes with a few drawbacks, such as having only 2 airbags instead of six like the SZ4.
*Based on sold fully comprehensive car insurance policies with more than 500 enquiries, from January 2023 to July 2023, with one driver who has held their licence for less than 1 year.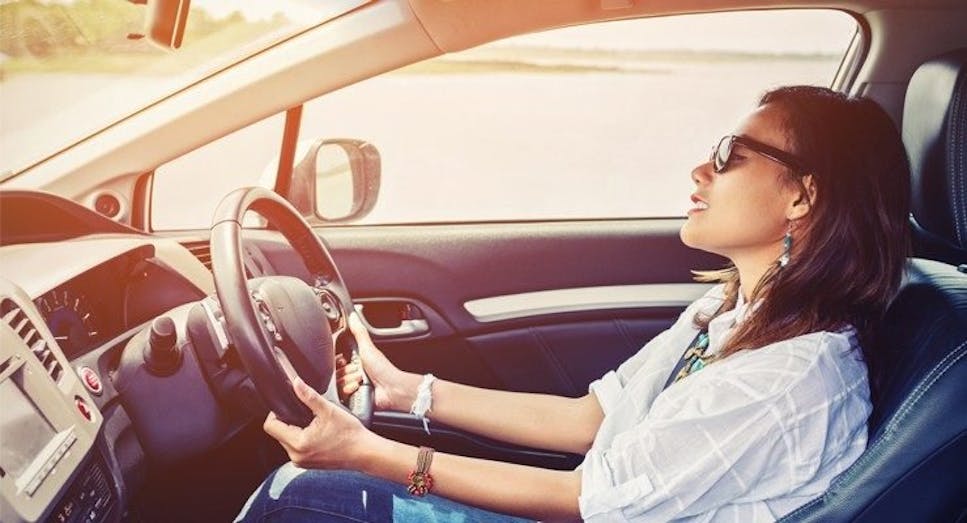 What do car insurance groups mean?
Car insurance groups are one way for insurers to decide on the price of your premiums. Each group represents a different level of 'risk' for insurance providers, taking into consideration the vehicles value, repair costs, performance, security, and more. There are 50 groups in total and the lower the group number your car is, the cheaper your insurance will be.
You can find out more about the different car insurance groups in our guide 'Car Insurance Groups Explained'.
The groups in our list above are determined based on a brand-new vehicle. Older vehicles or vehicles that have been modified may end up in a different group than when they were first purchased. So, if you are buying a second-hand car, it's worthwhile to do a bit of extra digging to learn its history if you want a better idea of how much your insurance will cost.
If you're shopping for a car, you can use our useful 'Car Insurance Group Checker' to quickly find out the group of your car, which will help you work out how expensive your car insurance might be. All you need to do is enter your vehicle registration or the make and model for quick results.
Why is car insurance more expensive for new drivers?
The cost of car insurance is heavily dependent on risk – specifically, the risk of damage and how much it's going to cost your insurer to get your car repaired. New drivers who don't have much experience on the road are more likely to get into an accident than drivers with years of practice, so their car insurance tends to be more expensive. The same can be said about younger drivers.
As you get older, though, and you get more experience driving, your car insurance premiums will go down. So, higher car insurance premiums aren't going to last forever. You also have a better chance of lowering your premiums by keeping an eye on what other providers can offer. When it's time to renew, it can pay off to take a little time out to compare quotes for other policies and see for yourself if you can get a better deal elsewhere.
How can new drivers save on insurance and cut the cost of their insurance?
It's unavoidable that new drivers will pay more for their car insurance, but there are a few things you can do to reduce the cost.
Increase your excess
Increasing your excess is the fastest, simplest way of reducing your car insurance premiums. However, that increase may come back to bite you when you need to make a claim and have to pay more to cover expenses before you insurance kicks in. The key is finding the right balance between cost and cover
Pay annually
Paying annually for your policy instead of monthly can shave a few pounds off the cost of your insurance. This is because you pose less of a risk for your insurer to fall behind on payments.
Keep your car safe
You may be surprised to know that you can reduce the cost of your insurance simply by changing where you park it. Your car is less likely to be stolen or vandalised if it's parked off the road at night, with the ideal place to store it being a locked garage. The more you do to keep you car safe, the more likely your premiums will be reduced. You can also go the extra mile by adding security enhancing devices to your car, such as a tracker, alarm, or immobiliser.
Shop around
It's easy to get comfortable with your car insurance policy once you've finished the difficult job of finding one. Not many people think about shopping for new policies when it's time to renew, but that's where you can save more than you think. Keep an eye on the market and compare quotes to get the best possible deal on your car insurance.
If you're interested in find out more ways to save money on your car insurance, check out our car insurance money saving tips.