What you need to know about breakdown cover and how it works
No one wants to be stranded by the roadside with a broken down vehicle – here's how breakdown cover works and can help you when your car's playing up.
What is breakdown cover?
Breakdown cover is a type of policy that can help you out if your vehicle breaks down. For example when your car battery dies or your tyres puncture, breakdown cover can provide assistance so you and your vehicle won't be left stranded on the roadside.
It's worth noting that while breakdown cover can be bought as a policy on its own, some insurers include breakdown cover as an optional extra with car insurance – some even offer it as a standard inclusion. It's always best to shop around and compare your options to be sure you're getting the best deal possible.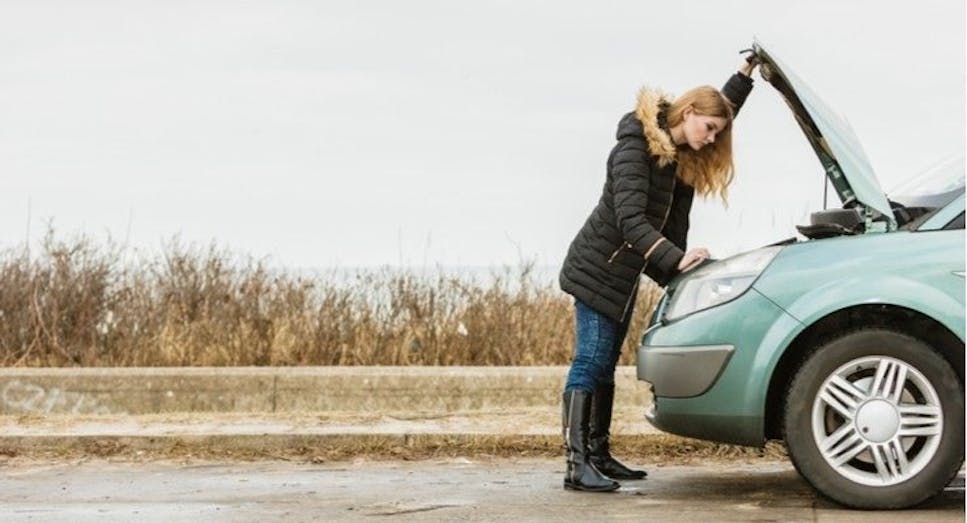 What types of breakdown cover are there?
You can take out different types of breakdown cover:
Personal breakdown cover or vehicle
Personal: With personal breakdown you'll be covered in any vehicle as long as it meets the requirements stated in your policy. You'll be able to claim whether you were driving or a passenger, and depending on the provider and policy type the cover might also include people at the same address – though there may be a limit on how many
Vehicle breakdown cover
Vehicle breakdown cover lets you claim for a specific vehicle, be it a car, van, or motorcycle, and you might be able to include a number of vehicles in this policy up to a certain amount
Traditional breakdown cover
Traditional breakdown cover is when you pay a certain amount, usually annually, and in return you normally get 24/7 cover for everything included in your policy. This would include callouts – sometimes up to a certain amount a year – as well as roadside and garage repairs, plus towing services
Insurance breakdown cover
If you break down you would pay up front for such things as callouts, repairs, and recovery, before claiming the costs back from your breakdown cover provider
What's included in breakdown cover?
Breakdown coverage can vary depending on the level you take out and the provider, however, policies can include:
Roadside assistance or local cover: A basic level of breakdown cover, this is when your provider sends out a mechanic and recovery vehicle to try and repair your vehicle roadside. If they can't repair it, they'll normally tow it to a nearby garage

Vehicle recovery or national cover: With vehicle recovery as part of your breakdown cover you'll be able to choose any location for you and your vehicle to be towed to if your vehicle can't be fixed

At-home breakdown: At-home breakdown cover means you'll be able to get a call out if your car is broken down at home, or sometimes within a short distance of your home. For example, if you haven't driven your car in a while, the next time you try to start it up you might find that it has a flat battery – at-home breakdown cover can help you get going again

Onward travel: With onward travel cover as part of your breakdown deal you'll be provided with more options for getting to your destination. Depending on the provider and level of cover you take out, this may include courtesy vehicles, overnight accommodation, or alternative public travel arrangements
Optional extras
Aside from the basic levels of cover, you can also take out extra policies such as:
Key replacement: standard breakdown cover might not be enough if your keys are lost, damaged, or stolen

Battery replacement: you may also need an extra level of cover so your provider will change your car battery if it runs out

Tyre replacement: and if your tyre punctures and goes flat you could also take out a policy to ensure your provider will replace it for you

Wrong fuel: you could need an additional policy if you've used the wrong fuel for your car and it breaks down as a result

Family and multi-car: if your household has multiple cars or drivers it could be cheaper and more convenient to put them all on the same policy, rather than taking out individual breakdown cover for each. Normally all the vehicles and/or people should be registered to a single address, however some policies might also cover children away at university

Special vehicles: if you've got a caravan or trailer attached to your vehicle, you might need a special policy in order for these to be included in your breakdown cover. Likewise if you own a van or motorbike these may not be included in a standard breakdown policy

European breakdown cover: if you break down on mainland Europe then standard breakdown cover probably won't be enough to help you, therefore it might be an idea to take out European cover – even if it's for a single-trip holiday
Common exclusions with breakdown cover
It's worth noting that there are some instances where your breakdown cover provider won't be able to help you, as your policy might not include:
Breaking down on private land: if you break down on privately owned land, your policy may not cover this. Or your provider may charge extra for their assistance

Breaking down with pets and animals:  travelling with pets might not be a big problem, though you may have to let your policy provider know in advance in order for them to transport the animal(s). However, livestock is likely to be a different issue – it's possible to take out separate cover for livestock or horse trailers, so it's worth looking into that if you think you'll need it

Breaking down as a result of a road accident: if you get into an accident that results in your car breaking down, your provider might not be able to help you. Even if they can tow your car, they may have to wait for the emergency services to give the okay first

Breaking down due to lack of basic maintenance: as the driver, it's up to you to ensure your vehicle is kept in working order. If you break down as a result of improper maintenance, such as unchanged engine oil or topping up with the wrong fuel, this might not be automatically covered

Breaking down abroad: even if you have the highest level of breakdown cover possible, if it only applies in the UK then you'll need an extra policy for when you're driving abroad
How much does breakdown cover cost?
The type and level of cover you take out – local cover is often the cheapest and most basic level available, and will almost certainly cost less than a policy that includes onward travel or at-home cover. Whether you choose personal or vehicle cover can also influence the premium cost

Any extras you add to your breakdown policy – adding extra cover such as wrong fuel or key replacement may also make your breakdown cover more expensive

The number of vehicles on the policy – having multiple vehicles on your policy is likely to increase the cost of your policy, though it may be cheaper than taking out separate policies for each car

The type of vehicle you have – cars, vans, and motorcycles can require different types of repair as well taking different lengths of time to conduct the repairs. The type of vehicle you choose might have a bearing on your premium quote – for example, it costs an average of £39.92 to get breakdown cover for a van, compared to £37.60 for a car.

Your vehicle's make, model, and age – different makes and models can also have varying repair costs, especially as modern vehicles will often have more complicated and technical features. Older cars can also be more expensive to repair, due to the availability of parts.
Breaking down without breakdown cover
If you break down without having breakdown cover in place, you shouldn't panic as you still have options. Some providers offer instant breakdown cover – however not all do – while some might have an extra charge for callouts within the first 24-48 hours, and others may not help at all.
Some providers will also provide a breakdown service even if don't have cover, though keep in mind that this will probably cost a sum.
Compare breakdown cover
The easiest way to find a better deal on your breakdown cover is by shopping around, and when you compare your options on MoneySuperMarket and our preferred partner Comparison Creator, you'll get to browse through the best deals available to you. All you need to do is fill in a few details about yourself, your vehicle, and your breakdown history and you'll get a list of quotes tailored to your requirements.
Then you can sort and compare the quotes by the price of cover – normally per year – as well as the policies included in the deal, and the number of call outs you'll get each year. Once you've picked your policy, just click through to the provider's site and you can finalise the deal.