What vet bills does my pet insurance cover?
There's no doubt that pets can be expensive. You can pay thousands of pounds for a pedigree dog or cat. You then have to budget for food, kennels, catteries and various pet accessories. And what about vet's bills?
Here in the UK, we love our pets and do our best to keep them safe and sound. According to ABI, more pets are covered by pet insurance than ever before – but it's important to understand what your policy does and doesn't cover.
Veterinary bills can cost hundreds or thousands of pounds, and although you'll usually be able to claim for some vet fees on your pet insurance, not all procedures will be included. Read on to find out which vet fee costs are likely to be covered.
What vet fees does my pet insurance cover?
When you take out a pet insurance policy, some features are likely to come as standard. This can include vet fees/medical treatments cover – however, there are exceptions to what pet insurers will pay out for.
While you will be able to claim for some vet fees, other procedures won't be covered. This means you have to pay for them out of your own pocket, so it's important to check the small print when taking out a policy.
Data collected by The Insurance Emporium* showed us the most common vet bill claims paid out for cats and dogs. You can see the three most common claims and the average cost of the claim in the tables below.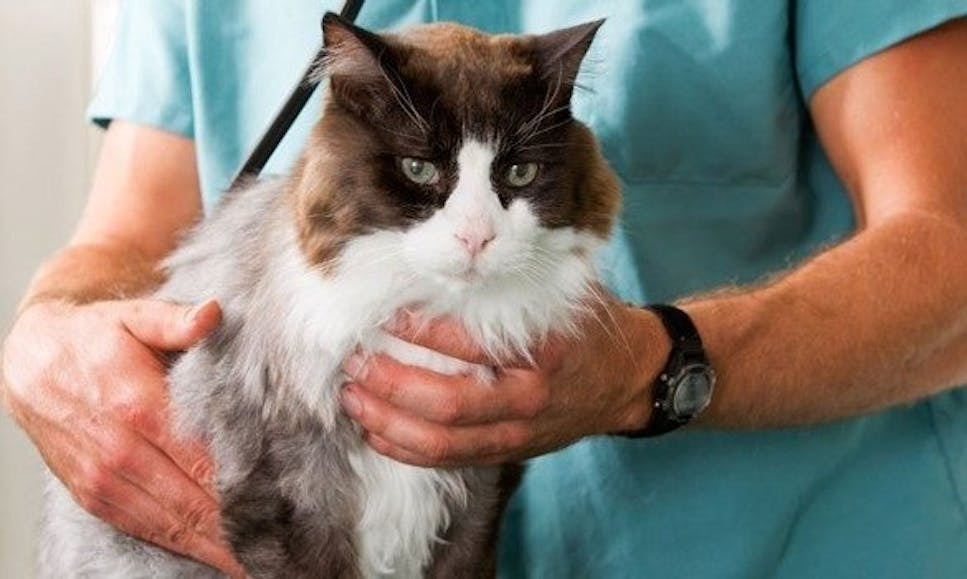 Cats
| Vet bill claim | Average cost of claim |
| --- | --- |
| Veterinary Fees Disease-Endocrine & Exocrine Disorders | £337.35 |
| Veterinary Fees Disease-Urinary System | £580.40 |
| Veterinary Fees Disease-Growths, Cysts & Tumours | £755.08 |
Treatment for Growths, Cysts & Tumours are both the third most common and the most expensive for cats, with the average claim costing £755.08 The most common claim for Endocrine and Exocrine (Pancreas) Disorders is the cheapest.
Dogs
| Vet bill claim | Average cost of claim |
| --- | --- |
| Veterinary Fees Disease-Growths, Cysts & Tumours | £831.97 |
| Veterinary Fees Disease-Digestive System | £730.98 |
| Veterinary Fees Disease-Legs | £726.47 |
The most expensive claim for dogs was for those with tendon and ligament issues, costing £1363.22. Skin disease was the cheapest claim at £320.39.
*Data accurate as of September 2020
How much do vet appointments cost?
Vet fees are unregulated, meaning vet costs vary depending on things like location, pet and practice. It's no secret that vet bills can be costly but because the fees are unregulated, you can shop around to find the best value.
A vet appointment usually costs about £60, which would normally cover a consultation and diagnosis. But if your pet needs a specific treatment or to see a specialist practitioner, costs are likely to be much higher.
Medical treatment costs for poorly animals varies widely. Dogs are usually more expensive that cats, and you can expect a big bill if you have an exotic pet that falls ill. The type of illness and injury will also affect the vet's fees, with ongoing chronic conditions (such as arthritis and diabetes) tending to cost more than a simple infection.
What vet fees are not covered by pet insurance?
The following conditions likely won't be covered by your pet insurance policy:
Pre-existing medical conditions – if your pet suffers from a pre-existing medical condition, you can get specialist cover

Vaccinations

Routine check-ups and treatments - like flea, worm and tick treatments and claw clipping

Neutering (castrating or spaying your pet)

Dental treatment – most policies won't include dental treatment although some do, so check the small print

Breeding or pregnancy complications
Always be honest on your application form, as failure to disclose any relevant information could end up in a refusal by the insurer to pay for a claim. It is also a condition of most pet plans that your pet should be well looked after and up to date with all its vaccinations.
Should I get pet insurance?
Pet insurance can help protect your pet against unexpected vet fees, should they get ill or be injured. Although your animal may be fit and healthy now, you can see that vet fees can really add up.
Here's some things to think about if you're unsure whether to insure your pet:
Policy cost: The more comprehensive the cover, the more you will pay. But if you choose to pay for less cover, the more vet bills you may have to pay in the future if your pet has any problems

Policy type: Pet insurance can vary in protection, so make sure you pick the right policy to keep your pet safe

Excess: The level of excess is the amount of any claim you need to pay out of your own pocket. Usually the higher the excess the lower the premium, but make sure you can afford to pay the excess you agree to

Maximum cover: Ensure you know the maximum amount of cover your policy provides towards vets' fees

Risk: Think about the risk of your pet falling ill – an older pet can cost more to insure and has a higher chance of needing medical attention. Some animals can be more vulnerable to hereditary conditions and chronic illnesses than your policy may not cover
Compare pet insurance
You can compare pet insurance premiums using MoneySupermarket's free, independent comparison service. It's quick and easy, saving you time and money.
Ready to save on your pet insurance? Or need to know more before you get a quote? We're here to help.