Find out more about pet insurance costs
For many of us, our pet is part of the family but how much does it cost to keep your fluffy friend safe?
How much is pet insurance?
The cost of pet insurance depends on a number of factors related to the pet you're insuring and the type of cover you want to take out. Read on to discover all you need to know about pet insurance costs.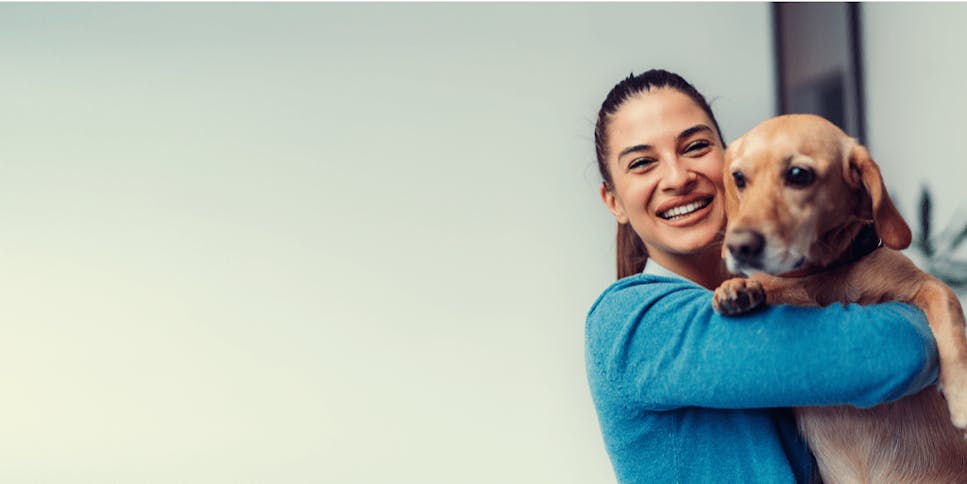 What affects the price of pet insurance?
Policy type: There are four types of pet insurance to choose from: accident only, time limited, per condition and lifetime

Type of animal: The cost of cover is largely determined by the type of animal you want to insure. Premiums for horses can be pricey and dogs are generally more expensive to insure than cats

Breed of animal: Certain breeds of dogs or cats are known to have more health problems than other breeds, so the pet insurance company calculates this factor into the premium you'll pay to insure your pet. Pedigree animals are usually more expensive to insure than cross breeds, for example

Age of animal: The older your pet is when you purchase pet insurance, the higher the premium will be – as older pets generally have more health problems than younger pets
Data collected by Stickee, June 2020
Pre-existing conditions: Pre-existing conditions aren't usually covered by pet insurance and if they are, they are likely to be more expensive and more restrictive than a standard plan

Location: Where you live affects the premium you will pay to insure your pet. This is because location affects the costs vets face like wages and rent to pay. For example, the average annual premium to insure a dog in Greater London is £586, compared to £420 in the West Midlands and £385 in the North East.*
*Data collected by Stickee, June 2020
How can I reduce the cost of my pet insurance?
If you agree to a higher excess, you should be rewarded with a lower premium. Just make sure you can afford the excess in the event of a claim
Taking good care of your pet will reduce the chance of them needing treatment by your local vet, which in turn will mean your premium is less likely to rise
Consider spaying or neutering your pet
Neutering or spaying your pet can potentially lower your premiums because it reduces the chance of your pet developing certain conditions, and also makes them less likely to stray
Some insurers offer a discount for micro-chipped pets because they are easier to locate if they are lost or stolen
Insurers often offer a discount of between 5% and 10% if you insure more than one pet
Some pet insurance companies charge more if you want to spread the cost of cover over monthly instalments. It can therefore work out cheaper to pay for your policy upfront
Compare pet insurance quotes
Comparing pet insurance polices with MoneySuperMarket is a quick and simple way to find affordable cover. Just tell us about yourself, the pet you want to insure and the type of cover you need, and we'll search the market for a list of quotes tailored to you.
You'll be able to compare policies by the cost and type of cover as well any vet fee limits and the excess you'll need to pay to make a claim. Once you've found the deal you want, just click through to the provider to finalise your purchase.
As with any insurance policy the cheapest isn't always the best – we recommend aiming for a policy that offers the right level of cover for the best price. This way you'll have the protection you need and won't be overpaying.
Ready to save on your pet insurance? Or need to know more before you get a quote? We're here to help.