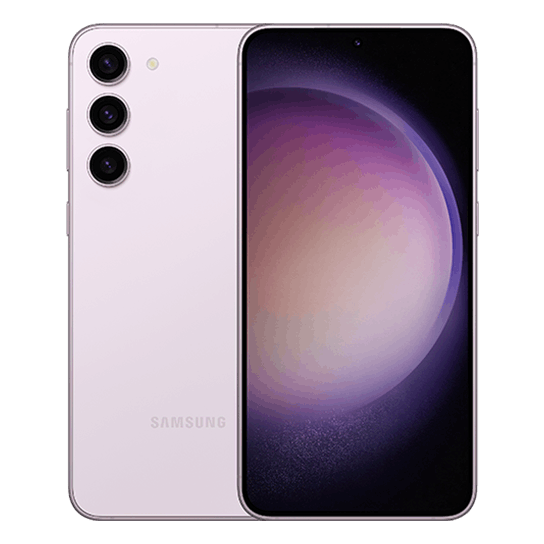 The middle child of Samsung's S23 range, the Galaxy S23 Plus takes everything the standard S23 has to offer and puts it in a larger-than-life frame. Read our full review on everything this phone has to offer.
Our Samsung Galaxy S23 Plus review in summary
With its sizeable 6.6-inch display, the Galaxy S23 Plus is one for those who want a large screen for ease of viewing. And whether that's watching videos, mobile gaming, reading news or scrolling through social media, you'll enjoy making the most of the stunning display.
Other than size and battery life, the Galaxy S23 Plus is largely the same as its smaller sibling, the Galaxy S23. That's not a bad thing, though. You'll be getting an all-new powerful chip, impressive camera system, and a host of other great features.
The Samsung Galaxy S23 Plus
6.6-inch Dynamic AMOLED 2X, 120Hz, HDR10+ display
Dimensions: 157.8 x 76.2 x 7.6 mm
Weight: 196g
Three rear cameras: 50MP wide, 10MP telephoto and 12MP ultrawide
12MP front camera
Snapdragon 8 Gen 2 chipset
8GB RAM
Storage options: 256G, 512GB
5G-enabled
Operating system: Android 13
Though not wildly different from the previous year's Galaxy S22 Plus, this year's Galaxy S23 Plus has some improvements under the hood.
Like the rest of the S23 range (which includes the standard Samsung Galaxy S23 and the Galaxy S23 Ultra), it features the latest Qualcomm Snapdragon 8 Gen 2 chip. As well as being generally faster and more powerful, the advantages of this new processor can be clearly seen in some key features of the S23 Plus: namely a longer-lasting battery life, and better low-light photography.
Camera
The Galaxy S23 Plus has the same rear camera system as the standard S23 – which, in turn, has kept the same camera hardware found on the previous Galaxy S22.
It sports three lenses: a 50MP f/1.8 wide lens, a 12MP f/2.2 ultra wide lens, and a 10MP f/2.4 telephoto lens with 3x optical zoom.
While it lacks the outstanding features of the Ultra model (100x zoom and a triple-figure megapixel sensor, anyone?), it's still a highly versatile camera system. Casual snappers and keen photographers alike will be able to produce consistently excellent shots in a variety of situations.
Colours are vivid and vibrant – if anything, as is the case with Samsung's smartphone photography, photos can appear a little oversaturated. Nevertheless, they look great on screen, and you'll be eager to share them on social media.
Image processing and computational photography capabilities are better than ever, thanks to the Galaxy S23 Plus' improved software and powerful processor. This is particularly evident in its low-light and night-time photography, which is clearer and more detailed than before.
Moreover, the Galaxy S23 Plus sports some impressive zoom functionality: 3x optical zoom, as well as AI-assisted space zoom that goes up to an amazing 30x. This puts it leagues ahead of other smartphones on the market – though the Galaxy S23 Ultra's 100x zoom reigns supreme.
Design
Although the Galaxy S23 doesn't stray far from the design of the Galaxy S22, Samsung has refined it to create a more streamlined look.
Like the Galaxy S series from the past couple of years, it has the same flat edge-to-edge glass screen, brushed glass back and curved aluminium wraparound frame. It's also essentially the same size and weight as last year's Plus model, and it feels reassuringly sturdy in hand.
The main difference is that this year, Samsung has removed the metal contour cut camera module found on the S22 and S21 models. Now, each camera lens is embedded in the body of the phone. This brings it more in line with the S23 Ultra's design, and it's an undeniably cleaner, sleeker look.
The front and back are both made from the latest Gorilla Glass Victus 2, which ensures it's tough and durable. And it's IP68-rated for maximum protection against dust, as well as water resistance (to a depth of 1.5m for up to 30 minutes).
Overall, the Galaxy S23 Plus has been given a subtle yet striking design refresh. Most importantly, it looks and feels like a premium handset.
You can choose from four colours: Green, Cream, Phantom Black and Lavender. There are also two colours exclusive to the Samsung.com website: Lime and Graphite.
Display
Samsung is one of the top manufacturers of screens, and this is clearly demonstrated by the Galaxy S23 Plus' stunning display.
Like the Galaxy S22 Plus, the Galaxy S23 Plus has a large 6.6-inch AMOLED 2X Infinity-O FHD+ display. Contrast is excellent, colours are vibrant, and the screen can go up to 1,750 nits of brightness (that's very bright indeed). Plus, the dynamic refresh rate of 48Hz-120Hz makes for smooth and responsive scrolling.
1080p resolution doesn't sound that fancy on paper, but in practice, you'll likely find that HD resolution is perfectly good for watching videos.
Of course, the bigger screen size is the main difference between the S23 Plus and its smaller counterpart. If you prefer larger screens, there's no question about it – the S23 Plus is well worth considering.
Operating system and performance
Along with the rest of the S23 range, the Galaxy S23 Plus features Qualcomm's newest chip, the Snapdragon 8 Gen 2.
It's much more powerful than the previous generation's Snapdragon 8 Gen 1 chipset. You'll be able to see this in its day-to-day performance, which is faster and smoother than before. Gaming is snappier than ever, and you'll be able to multi-task with ease.
Moreover, the new chip brings some extra efficiency measures – which, when coupled with a bigger battery capacity, means an improved battery life.
It's also worth mentioning that this is the first time there isn't a location-based difference in chips. Previously, handsets sold outside the US were powered by the inferior Samsung Exynos chip. Now, all Galaxy S23 Plus devices feature the same Snapdragon processor, regardless of region – which is welcome news to UK customers.
It ships with Android 13, Google's latest operating system, as well as a new version of One UI (One UI 5.1). It's set to receive four major OS upgrades and five years of security patches after launch, meaning that Samsung will support the Galaxy S23 until at least 2028. So, you'll be able hang onto your device for years to come.
The Galaxy S23 Plus is available in two storage options: 256GB and 512GB.
Battery life
Due to its size, the Galaxy S23 Plus packs a hefty 4,700mAh battery in its frame. As a result, it has a much longer-lasting battery life than its smaller sibling, and can comfortably last a day and a half on a single charge (or even two days of light usage).
True, on paper, it seems like only an incremental improvement on the S22 Plus' 4,500mAh cell. However, while the S22 models were criticised for their weak battery life, the S23 and S23 Plus seem to have smoothed out this problem. This is largely down to the new chipset and power efficiency measures working in tandem with the new battery – all of which help boost battery life.
It supports 45W charging, and you'll be able to charge your phone from 0 to 100% in just under 60 minutes. 15W wireless charging is supported, too.
Samsung Galaxy S23 Plus's deals and incentives
At the time of writing, the Galaxy S23 Plus is one of Samsung's latest releases. So, many retailers will be offering deals and incentives to tempt new customers.
Of course, you might prefer to buy direct from Samsung (and get a cheap SIM-only deal to go with it). But if you can't stomach the entire cost upfront, you may be better off seeking out a good value contract from a network or third party retailer.
Samsung Galaxy S23 Plus pricing
The Galaxy S23 was officially unveiled at Samsung's Unpacked event on 1 February 2023, with the handset available for sale on 17 February.
Prices at launch were £1,049 for the 256GB model, and £1,149 for the 512GB version. If you'd prefer to spread that cost over the course of a pay-monthly contract, visit our Galaxy S23 Plus deals page to see what's on offer.
Samsung Galaxy S23 Plus review: Verdict
True, Samsung doesn't reinvent the wheel with the Galaxy S23 Plus. But then, it doesn't need to. By refining some key areas, such as the processor and battery life, Samsung has created a premium flagship phone that's reliable, powerful, and a failsafe choice for people seeking a good-quality Android handset.
However, it does sit in that awkward position between its smaller S23 counterpart and the top-end S23 Ultra. Other than its bigger size (and therefore bigger battery), the Galaxy S23 Plus is the same as the standard S23 model, and it lacks most of the advanced features of the S23 Ultra. So, you'll be paying a fair bit more for that larger form factor.
Nevertheless, if you prefer bigger displays for your viewing pleasure, or you want battery life that'll comfortably last well into the next day, the Galaxy S23 Plus is may be the one for you.
Pros and cons of choosing Samsung Galaxy S23 Plus in 2023
Pros
Stunning 6.6-inch screen
Powerful new processor
Improved battery life
Cons
Quite a bit more expensive than the standard Galaxy S23, despite most of the specs and features being the same
Not a massive upgrade from the Galaxy S22 Plus
Lacks the "wow-factor" of the Galaxy S23 Ultra
How does Samsung Galaxy S23 Plus compare against other Samsung phones?
The Galaxy S23 Plus was released alongside the Galaxy S23 and Galaxy S23 Ultra.
If you're happy to splurge on a top-of-the-range handset, the Galaxy S23 Ultra is in a league of its own. You'll be blown away by its premium build, eminently useful S Pen stylus, and outstanding camera system.
As for the Galaxy S23, the only major difference is the size. So, it's up to you whether you like having more screen real estate to play with, or if you prefer a smaller device that's easier to use in one hand.
Meanwhile, you might be debating between getting the new Galaxy S23 Plus, or saving some money by getting the previous year's Galaxy S22 Plus. The newer model has a few advantages that may be worth the extra cost: namely, a new chip and better battery life.
Having said that, if you already own the S22 Plus, the upgrades may be too incremental to warrant an upgrade – especially as the S22 Plus is still a very capable phone.