Insurance for engagement and wedding rings
They can be some of your most precious and valuable possessions, so vow to make sure your engagement and wedding ring are covered should they be lost, damaged or stolen.
Looking for home insurance?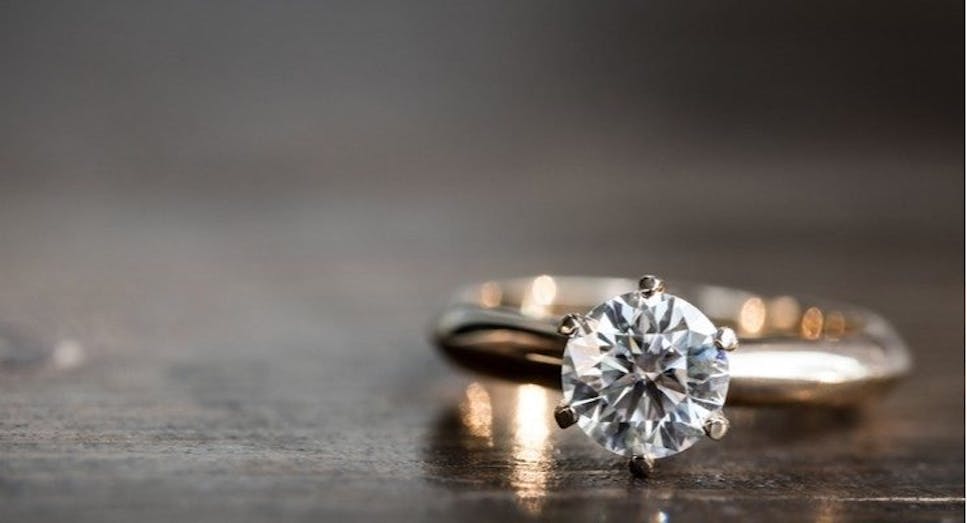 Does my home contents insurance cover my engagement ring or wedding ring?
It depends on how much the rings are worth. Most insurance companies set a limit on the amount you can claim for a single item – usually around £1,000.
If your wedding or engagement ring exceeds this amount, you may have to list it separately on your contents insurance to make sure it's covered.
It can also matter where the rings are damaged, lost or stolen, as your policy may only pay out for events within the home.
Given rings are made for wearing, there's a high chance you'll be out and about when something happens – so you'll need personal possessions insurance for this.
But make sure what, where and how much you're being specifically covered for is clear when you take out the policy.
How can I make sure my engagement or wedding ring is properly covered?
Because rings can be worth a four-figure sum, check your contents insurance to see the maximum pay-out provided for each item and the total amount of cover.
It will vary from insurer to insurer, and if the worth of your wedding or engagement ring exceeds this, you should contact your insurer and list the item separately.
Also check for any exclusions, such as not being insured for the item outside of the home.
You may find that paying a little extra for specialist jewellery insurance as part of your contents insurance will give you better cover and peace of mind for your wedding or engagement ring.
What happens if I under-insure my engagement and wedding rings?
If your engagement or wedding ring is damaged, lost or stolen and you don't have enough cover in place you could find yourself unable to afford the repairs or cost of a replacement.
Similarly, if you list your ring for more than it's worth then you will be over-insured and paying too much in premiums. Getting a professional valuation of the ring is advisable to make sure you set the right level of cover from the outset.
How can I find out how much my engagement or wedding ring is worth?
A specialist jeweller can give you a professional and up-to-date valuation so you can work out how much cover you need.
You'll be provided with a formal document and photographs that describe each item of jewellery, including details of the size, colour, cut and clarity of any precious metal and stones.
You should also consider what type of replacement you want should your rings be lost or stolen. If the item has dropped in market value since purchase, then it would be worth discussing new-for-old cover.
The National Association of Jewellers (NAJ) suggests revaluing items every few years to help ensure that the value is current, especially because the price of precious stones and metals can fluctuate.
How can I cover my engagement and wedding rings outside the home?
You are likely to be wearing your engagement or wedding ring out and about, so if it is a listed item on your home contents insurance policy make sure that the cover extends to when you are outside the home.
Policies differ and if your policy does not include coverage away from the home as standard, you are likely to be able to add it to the terms for a small rise in premiums. If you're unsure, contact the insurer direct to check.
Alternatively, you can look to take out specialist jewellery insurance or personal possessions insurance to cover the ring when you set foot outside your front door.
Will my engagement and wedding rings be covered if I go abroad?
Whether your rings are insured overseas depends on what kind of insurance you have and the specific terms of your policy.
Engagement and wedding rings could be covered under your home contents insurance or travel insurance policies, or you might need dedicated cover such as personal possessions insurance.
In all cases, you should check for any limits or exclusions. These are likely to include maximum values for single items where you will need to list your rings separately, or times limit on your stay, such as cover for up to 60 days of travel.
If you're going away for a long time, you might also want to consider dedicated jewellery insurance from a specialist provider.
Can I insure my engagement ring if it is an antique?
Yes, you can insure an antique or vintage ring and it's a good idea to make sure cover is in place. Receiving a professional valuation can help you insure it for the correct amount, and because there's a chance that the ring may change in value over time, it's worth getting it revalued periodically.
Is specialist ring insurance better than home insurance?
Specialist ring insurance might be preferable to home insurance, particularly if your ring is highly valuable.
If the ring exceeds your insurers' single-item value limit, you may be unable to claim on your standard policy, and a specialist jewellery insurance policy will have higher limits or possibly none at all.
A specialist policy for your engagement or wedding ring can also offer more comprehensive protection including accidental damage and out of home cover wherever you are in the world.
It also means that any no claims discount on your home contents insurance will be unaffected if you make a claim.
How can I cut the cost of insuring my wedding and engagement rings?
There are several steps you can take to reduce the cost of cover for your rings. These include:
Shop around and compare quotes from leading insurers

Build your no claims discount by avoiding making a claim if you can

Volunteer a higher excess and insurers may offer lower premiums
Compare insurance for your engagement or wedding rings
Finding cheaper insurance is quick and easy with MoneySuperMarket. We'll compare prices from our leading panel of insurers, and you'll get a quote within minutes.
You can then compare the cost of the premiums and the terms of the insurance before making your final choice and clicking through to the provider to purchase the cover.