How to work out the value of a property online
When looking to buy or sell a home, the first thing to understand is how much the property is worth. Thankfully, there are plenty of free online tools that can help carry out useful house valuations.
If you're looking to buy or sell a home, you'll want to get the most accurate assessment of how much that property is worth.

Until recently, sellers would traditionally rely on the insight of local estate agents to set an asking price. However, there is now a wealth of data available online to help inform us too.

Here, we look at some of the ways you can estimate the value of a property or get free house valuations.
Find the value of nearby properties
A good starting point to get an idea of how much your property might be worth is to find out how much has been paid for similar local properties. Official statistics can be found at the Land Registry in England and Wales and the Registers of Scotland.
Virtually, every property that is sold is listed. It only takes around three months for the data to appear after the sale has been completed.
The Land Registry also doesn't list much detail other than the property price. This is where online property portals, such as Rightmove, Zoopla, and OnTheMarket, come in handy.
With all three, you can just enter a postcode or street name in the House Prices (Rightmove, Zoopla) or Sold Prices (OnTheMarket) sections. This way, you can find out which properties have sold, when, and for how much.
Rightmove lists the average price of sold properties in any given area, breaking down the average price per property type. It will tell you how much prices have risen or fallen in the past five years.
If properties have previously been listed, you'll also be able to see archived images, a floor plan, and a Google Street View of the property.
Zoopla works in a similar way. It provides the average sold price and the number of properties that have been purchased over a set period, which you can toggle. It also tells you how much prices have changed and allows you to filter by property type.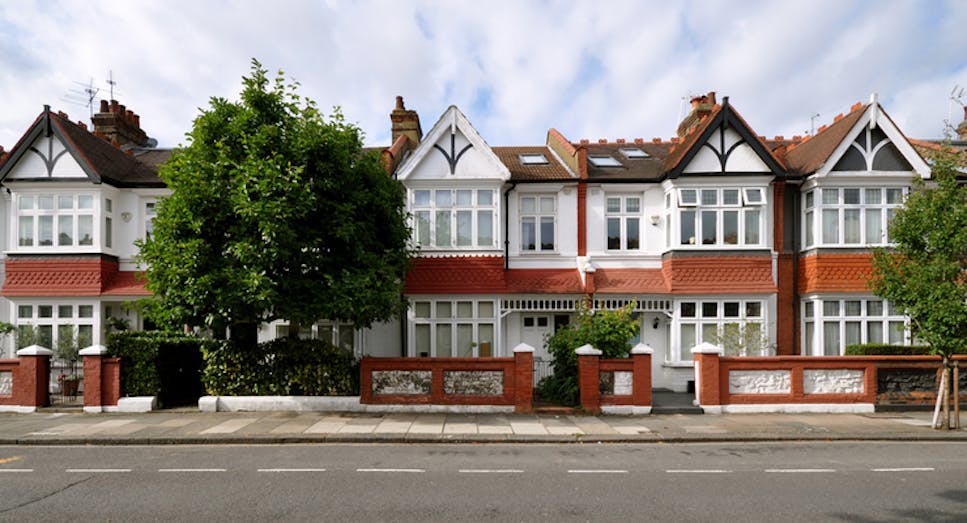 Look at market trends
Property prices shift over time, with some areas increasing in popularity and others declining. While past performance isn't guaranteed to continue, looking at house price trends can provide valuable insight.
There is a trio of well-established monthly indices to turn to. While there are unlikely to be big discrepancies between them, they are based on different data sets, meaning they will produce different results:
Land Registry publishes a monthly house price index and you can also search its website by date, property type, region or local authority.

Halifax's monthly house price index dates back to January 1983 and as well as prices, it also provides commentary and trends on new instructions and enquiries. Unlike Land Registry, its data is based on mortgage approvals and not completed sales.

Nationwide's house price index provides monthly and quarterly reports for national and regional house price data. Similar to Halifax, Nationwide's index is based on mortgage data only, and not Buy to Let or cash purchases.
Get free house valuations
Several sites provide free house valuations. However, these should only be used as a guide, as they are unlikely to take into account all factors, such as the state of the property, modifications, and recent renovations.
If there haven't been many recent sales in the area, the valuation may not be as accurate. This is because there is less information on which to base it.
View heatmaps
Heatmaps are a quick visual aid, giving you a snapshot of house valuations in different locations. Usually, the redder the map, the higher the price.
Zoopla uses its Zed-Index, which is based on its Zoopla Estimates. Mouseprice also has a similar tool.
Check out asking prices
If you don't want to rely on estimates, you could see what prices current for-sale properties are being listed for.
Here, the advantage is that there should be up-to-date details about the individual properties listed, including recent pictures.
The vast majority of properties for sale in the UK are listed on one of the three main property portals: Rightmove, Zoopla, and OnTheMarket. This way, there is no shortage to assess.
Viewing what's available in your area will give you a guide to pricing. But remember that a home will be listed for what the owner wants to get for it, not necessarily what it's actually worth.
Zoopla's price history for a property provides additional information. In fact, it shows how much a property was previously listed for, whether it sold or not.
The Chrome web browser add-on, Property Log, works in a similar way. It analyses Rightmove and shows which sellers have altered the price on their listings.
Once Property Log is installed, any price alterations will automatically appear when you do a search on Rightmove.
Other ways to help with your property search
As well as getting as accurate a valuation as possible for a property you want to buy or sell, there are a number of ways to improve your property search. In fact, there are steps you can take to increase your chances of viewing it first and finding out more about the local area. Here are a few of them:
Contact your local estate agents: If you build a rapport with your local agents, then they may notify you when they receive a new instruction. This will give you a head-start even before the property is uploaded to the web.

House price alerts: Portals such as Zoopla, Rightmove, and OnTheMarket all allow you to create property alerts. These will tell you when a property comes on to the market in your price range in your area. Mouseprice also allows you to track a property and receive an email when it's bought, sold, or the seller cuts the price.

Broadband coverage: Find out the broadband speed and coverage of the local area in advance to check whether you will receive a reliable service. Use our Broadband Speed test to test the connection in seconds and read our guide on Broadband Speed to learn more.

Healthcare: A search on NHS Choices will tell you how far away the nearest GP, pharmacy, dentist, optician, or hospital is.

Schools: Rightmove has a School Checker option to help you find out which schools are nearby for each property. It will also show you their Ofsted rating and admissions criteria.

Crime: Police.uk maps reported crimes by street in England and Wales. These include burglary, violence and anti-social behaviour.
Cut down your bills
Once you've found your dream home, you'll want to keep the running costs as low as possible.
With MoneySuperMarket, you can compare deals for your mortgage, home insurance, gas and electricity, and home broadband.
How else can I check the value of my property?
As mentioned, online house valuations provide you with an estimated value of how much your property is worth. But if you're serious about selling your home, you may want to consider booking an appointment with a local estate agent.

In fact, local estate agents will be able to give you a more accurate picture of your property's value, as they are likely to have in-depth knowledge of your area.
What will my house be worth in a few years' time?
This is a very tricky question to answer. In fact, the truth is that it isn't possible to say with certainty what your home will be worth in a few years' time. There are many factors that will have a significant impact on your property's value, from market rates to house renovations and refurbishments.

However, by using some of the sites and online tools mentioned above, you should still be able to keep track of market trends and price predictions over the coming months.
Can I estimate the value of my home contents?
Yes, you can. The best way to do so is to go from room to room and write down a list of all your belongings. Then, figure out how much each possession would be worth and add the cost of all objects to get an overall estimate.

When it comes to more precious items, such as jewellery and art pieces, it may be wise to get an updated valuation from a professional. This way, you can gain a better, more precise idea of the value of your home contents on the whole.
Compare mortgages with MoneySuperMarket
Using a mortgage comparison tool can help you get a good idea of the kind of mortgage deals available. When you enter your information into MoneySuperMarket's mortgage comparison tool, you'll be able to compare example mortgage quotes from different providers.
Just tell us a bit about yourself, your financial situation, and your plans. We'll help you scour the market in search of the mortgage deal that is right for your pockets and requirements. Then, feel free to use our mortgage calculators to find out how much each deal would cost you overall.