Compare insurance quotes for a home with a thatched roof
If your home has a thatched roof, you may need to turn to a specialist insurer to get the cover you need
Many of us dream of owning a chocolate-box thatched cottage, but this kind of property isn't easy to insure. In fact, you will need to find a specialist insurance firm. Here's what you need to know.
What is thatched roof home insurance?
Thatched roof home insurance is a product that specifically covers the unique risks that go along with living in a thatched cottage – including increased danger of fire, and the special skills it takes to replace.
Lots of insurers don't provide thatched property insurance at all, because they see these homes as higher risk of insurance claims. That's because these types of homes are considered non-standard and are more likely to suffer significant damage in the event of a fire, in comparison with properties that have a normal tiled roof. Mainstream insurers which do offer cover for this kind of property usually charge high premiums.
The good news is that there are several specialist providers offering thatched roof insurance which often charge lower premiums. As they are specialists, they can often provide homeowners with valuable information about maintenance for a thatched roof, as well as fire safety tips.
According to data from the Thatch Advice Centre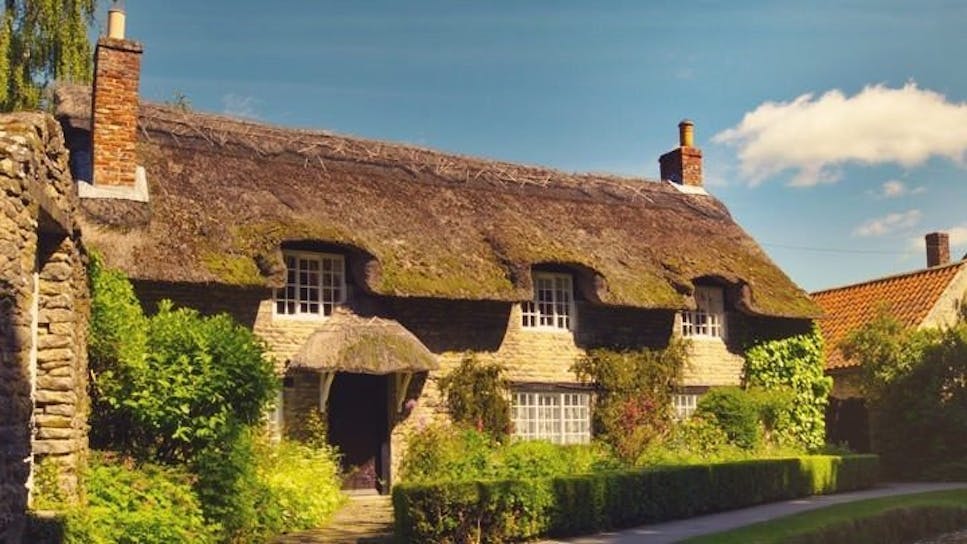 Do thatched homes cost more to insure?
Thatched properties are built using specialist techniques and materials, which is why insurance costs are typically higher than they would be for a tiled property.
The amount of buildings insurance you need is based on how much it would cost you to rebuild your property if it was completely destroyed, rather than its market value – which includes the value of the land it sits on.
If your thatched property is damaged, it will usually have to be repaired using the method with which it was originally constructed. If a thatched property catches fire, the damage is often substantial as the material helps fire spread very quickly.
Lots of thatched properties are also listed buildings, which means they are of special architectural or historic interest. This will again bump up the cost of premiums.
Make sure you get specialist advice about the actual rebuild cost of your thatched property before buying cover, so you can be certain you don't end up under or over-insured.
"Living in a thatched cottage is a dream for many yet the reality of these beautiful homes is that there is a higher risk of making an insurance claim. However, there are many specialist insurers that work with thatched properties, and they can also offer advice on what you need to do to maintain the work and to reduce the risk of making a claim." - Rebecca Goodman, Journalist
How can I protect my thatched home from fire?
You may be able to reduce the cost of premiums for your thatched property by ensuring you are properly protected against fire. Here's how:
Make sure you check your chimney regularly and have it swept at least twice a year.

Install smoke detectors throughout your property, including in the roof space, so that you will be alerted straight away if a fire has started

If possible, use a fire-resistant barrier to separate the roof void from the thatch and spray the thatch with a fire-retardant coating to reduce the risk of fire. This might result in a discount in premiums, and may actually be a requirement for some insurers
How can I reduce the cost of thatched home insurance premiums?
If you find that premiums are much higher than you expected, you might be able to reduce the cost of cover by raising the voluntary excess on your policy.
The excess is the portion of any claim you must pay yourself. Home insurance policies usually come with a mandatory excess and a voluntary excess.
The mandatory excess is set by the insurer and can't be changed, but you can usually opt to pay a higher voluntary excess. The higher you set this, the lower your premiums will be, but remember not to set it so high that you wouldn't be able to afford to make a claim.
Where can I compare quotes for thatched cottage insurance?
You can compare quotes from several different insurers which offer thatched roof home insurance with MoneySuperMarket.
Bear in mind that certain insurers may insist on certain safety measures before they will provide cover. They might also send out someone to survey your property to get a true assessment of the risks involved. This will help them set an accurate price.