Do I need plumbing and drainage cover?
A blocked drain or burst pipe is never welcome and can be costly to put right if you don't have insurance. But does your buildings insurance cover it or is it worth taking out a specialist policy for added protection? Our guide takes a look
What is plumbing and drainage cover?
Plumbing and drainage cover is insurance to protect all the pipes and plumbing in your home, as well as your baths, sinks, toilets, and drains. It's also sometimes known as home emergency cover or home assistance cover.
With plumbing and drainage cover, if there's a leak or blockage in any of your pipes or drains, your insurance will pay out so you can call out an emergency plumber to fix the problem.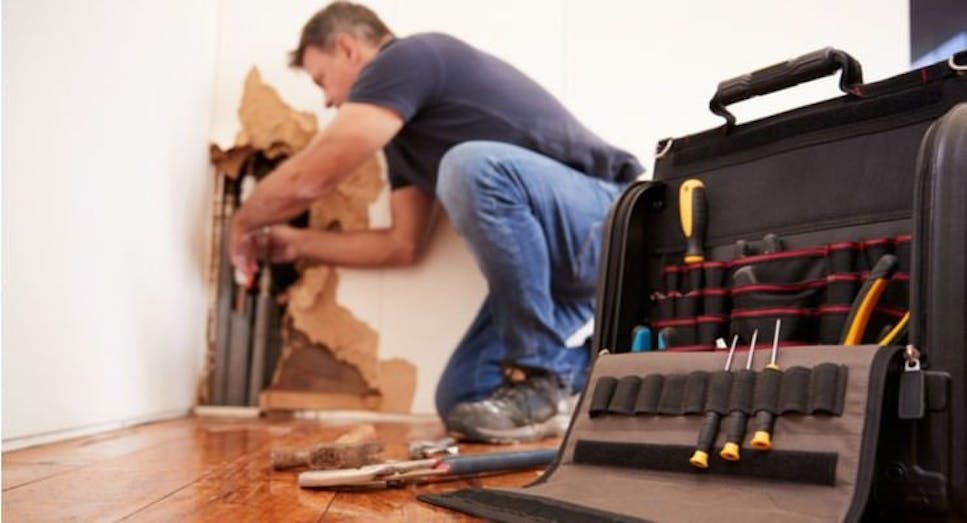 Does my home insurance cover plumbing and drainage problems?
You might think problems with your pipes or drains should already be included in your home insurance – but that's not always the case. Home insurance will pay out if a pipe bursts and causes serious damage to your home or your belongings – but it doesn't always include the cost of fixing a bunged-up drain or a blockage to your water supply.
To see if plumbing and drainage is covered in your home insurance, it's worth checking your policy documents – they should tell you exactly what is and isn't included.
If your insurance doesn't include plumbing and drainage, you might want to consider including it as an optional add-on, if available. If not, you can always buy a standalone plumbing and drainage policy. These tend to give you the maximum possible protection – just be aware that they're a little pricier.
What does plumbing and drainage insurance cover?
Every provider is different, but a good plumbing and drainage insurance policy should cover you for a whole range of different problems. Look out for these common issues:
Leaking pipes or dripping taps

Blocked drains or waste pipes

Blockages in your sink or toilet

Issues with the water supply pipes

Leaks or blockages in your radiators
If you opt for a more comprehensive policy, though, you can get cover for even more potential problems. These can include:
Repairs to your gas boiler or central heating system

Service or checkups for your boiler

Mending your roof or gutters

Fixing any problems with your gas or electricity supply

Plus extras like home security and pest control
What might plumbing and drainage insurance not cover?
Your plumbing and drainage insurance covers a lot – but there might be a few exclusions in your policy you'll need to be aware of. Remember to read your policy documents carefully so you know exactly what you'll be getting.
Day-to-day maintenance, rather than emergency repairs

Showers – including shower heads, pipes, and pumps

Damage caused by the buildup of limescale on your taps or fixtures

Any problems caused by poor worksmanship if you hire a non-approved plumber

Pipes or drains that aren't part of your property, or which you share with neighbours
Any issue has to be considered an emergency for your insurance to pay out. So if a blockage means a toilet can't be used, it might not qualify if you have more than one loo in the house.
Many insurers also set a limit on how much they'll pay out per year or for any individual issue – so if your insurance will only cover you for £500 and you need £700 worth of repairs, you'll have to bear some of the cost yourself.
Is plumbing and drainage cover worth it?
Getting extra plumbing and drainage cover could be a great idea – or it might not be worth it. It all depends on your circumstances.
The best way to see whether it's worth getting plumbing and drainage cover is to check your existing policy. There's a chance your home insurance already has all the cover you need. If it doesn't, you could get an add-on – or you could switch to better home insurance. When you compare home insurance with MoneySuperMarket, it's easy to see exactly what's included in your deal, so you could upgrade your cover while paying less every month.
Plumbing and drainage cover is important if you live in an older house where the pipes are more likely to be blocked. If you've had to spend money on repairs before, you might want to think about getting insurance to cover any costs in the future. But if your boiler is brand-new and covered by a manufacturer's warranty, getting extra insurance might not be necessary.
Will I lose my no claims bonus if I make a plumbing and drainage claim?
Luckily, plenty of insurers will let you claim on your plumbing and drainage cover without losing the no claims bonus on your main home insurance.
If you've managed to go a while without claiming on your home insurance, you can get a great discount on your premiums. This can save you a lot of money – and because claims on plumbing and drainage cover tend to be much smaller than ordinary home insurance claims, there are insurers that will pay out on your plumbing while letting you keep your discount.
Just remember that every insurer has slightly different rules, so check your policy before you make a claim. For a small plumbing job, it might not be worth it if they won't let you keep the bonus.
What if I'm a tenant or letting my property?
If you're a tenant and not a homeowner, you shouldn't have to worry about plumbing and drainage cover – it's your landlord's responsibility to make sure all the pipes and drains are in good working order. You should still get contents cover, though – this pays out if your belongings are damaged by a blocked drain or leaky pipe.
But if you're a homeowner or landlord that lets out your property, plumbing and draining insurance for landlords is essential. When you let out a house, it's up to you to make sure everything is working as it should, which means you could be liable for the cost of emergency plumbing if something goes wrong. Because you're not always around to check up on the pipes and drains, getting cover is an important way of protecting your bottom line.
Compare home insurance with MoneySuperMarket
If you think you might need plumbing and drainage cover, the best way to supercharge your home insurance is by comparing quotes online. With MoneySuperMarket, it couldn't be easier to find a great new deal on home insurance that gives you all the protection you need.
Simply answer a few quick questions about yourself and your house, and we'll show you a list of quotes tailored to your requirements. You can compare your quotes by price and the level of protection they offer, and it's easy to find out exactly what is and isn't included. Once you've found a deal you like, we'll send you straight to the provider's page to get your insurance set up. It's fast, easy, and free – try it today, and see how much you could save.