REVEALED..The Biggest Financial Red Flags When Dating
Are you preparing for a first date or, perhaps, have just entered into a new relationship? While the first flushes of romance are exciting, there are always red flags to be aware of - especially when it comes to finances.

Financial incompatibility can be a huge strain on a new relationship or even a first date. Do they have the same goals as you? Are they careless with their money? Do they flash their wealth?
MoneySuperMarket asked three questions to 3,000 adults to reveal what the red flags are when it comes to first dates and even in a new relationship.
Flaunting expensive items and wealth is the BIGGEST red flag on first dates for almost half of Brits surveyed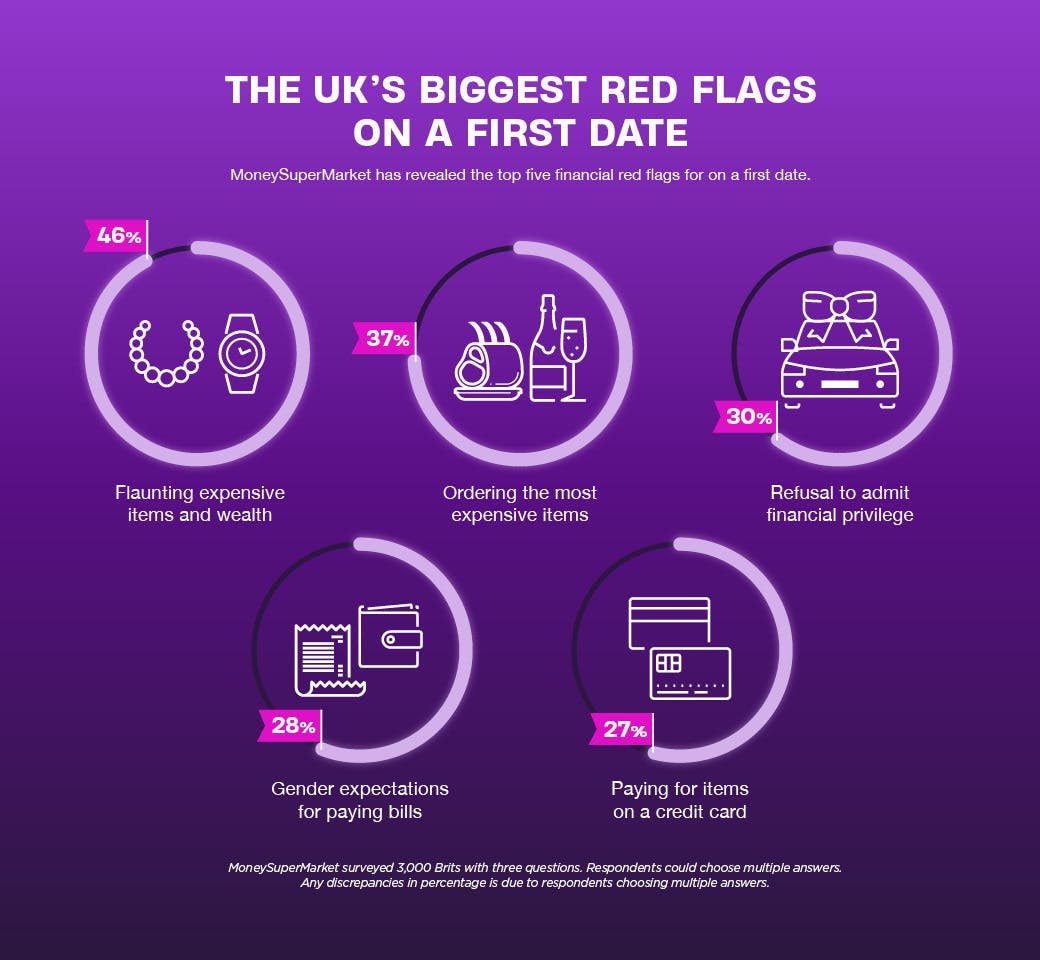 When it comes to first dates, a staggering 46% stated that flaunting expensive items and wealth is their biggest no-no, suggesting Brits are less trusting and interested in those who 'flash the cash'.
Likewise, over a third (37%) said the second biggest red flag when meeting someone for the first time is when they order the most expensive items off a menu.
According to the survey, using a credit card is the least likely red flag on a first date
On the other hand, credit cards are actually seen to be fairly positive by those surveyed, with only 27% stating they saw them as a red flag.  
In fact, credit cards can actually be a sign of understanding how to manage your money. A credit card, if used correctly, can help build your credit score and ensure your rating is healthy which makes it easier to secure a loan or even get a mortgage. So, the results suggest that, overall, Brits could perceive a credit card as a sign of good financial management.
Younger adults surveyed tended to be the most unsure on credit cards. But only 34% did state they did see regular use of a credit card as a red flag on a first date.
However, what's most concerning is that only 28% of younger people said they see 'buy now pay later' as an issue if someone used the service within the first three months of a new relationship.
This is particularly concerning as Buy Now Pay Later (BNPL) schemes are currently not regulated by the Financial Conduct Authority (FCA). Whereas credit cards provide some consumer protection on purchases over £100 under section 75 of the consumer credit act.
In fact, reports1 have suggested that those with two BNPL loans are less likely to be able to make credit repayments.
But, unlike BNPL, responsible use of credit cards can not only help you manage your money better, but also improve your score. This means that future financial goals, such as buying a house or car, are more achievable.
30% surveyed said refusing to admit financial privilege is a dealbreaker on a first date
Financial privilege can refer to a number of things. For instance, family (bank of mum and dad, or other relatives) financing your lifestyle and getting you to a certain place in your life without any personal restrictions. And, it turns out, that's a red flag for nearly a third (30%) of Brits surveyed, particularly if the person doesn't own up to their financial privilege.
Refusing to admit your financial privilege was the third biggest red flags for those surveyed.
MoneySuperMarket also surveyed people living in Britain as to whether these financial red flags change when actually in a new relationship (of three months).  
Over half (52%) say attempts to look wealthier during the first few months of a relationship are big red flags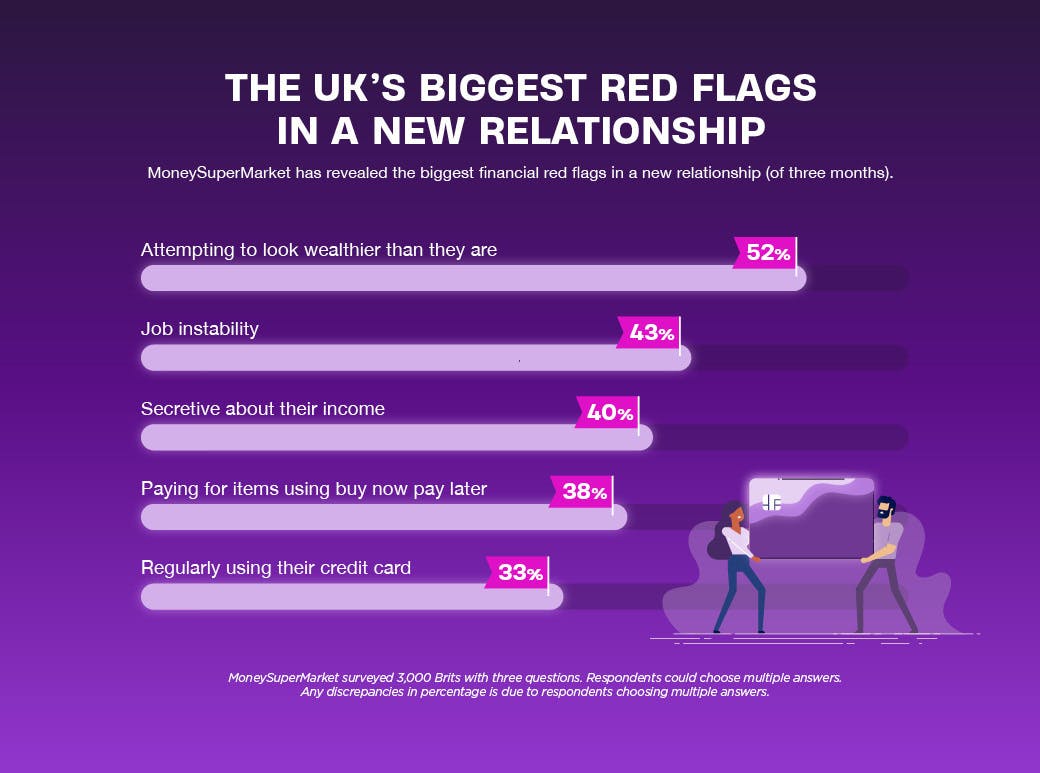 Not only do the Brits surveyed find that shows of wealth are dealbreakers on a first date, but they find it an even bigger turn-off when actually in a new relationship of three months. A massive 52% said that 'attempts to look wealthier than they are' is something they consider a financial red flag.
Secrets about money and income also start to become an issue when in a relationship but are less so when on a first date.
40% said being secretive about income is one of the biggest financial issues in a new relationship
When it comes to a new relationship, almost half (40%) said that keeping secrets about your income is an issue.
But, when studies1 have revealed that talking about money is a 'taboo subject' for Brits - and they would rather talk about their sex life - it's easy to see why people might be keeping their income secret.
What encourages people to 'swipe right' on dating apps?
While these financial red flags are issues when dating and in a new relationship, what is it about money that actually appeals to people when it comes to looking for a new partner?
Over a third of Brits would swipe right (match with a partner) for people on dating apps if they were a homeowner
When it comes to encouraging Brits to match with someone or swipe right on dating apps, being a homeowner attracts the most people. 37% of those surveyed said they would match with someone if they mentioned owning their own home in their bio.
Coming a close second to this was a 'well-paid job', with more than a quarter (27%) stating that would encourage them to swipe for someone on a dating app. 
Surprisingly, 20% stated they would match with someone if they saw signs of an affluent lifestyle on their dating profile. But this becomes the biggest financial red flag identified when they flaunt that lifestyle on a first date.
Brits also stated that someone having their own car is enough to make them swipe right.
If you are entering the dating world, you might be wondering how to broach the topic of money with a new partner. With that in mind, MoneySuperMarket are sharing their tips.
5 ways to talk about money when dating
While you might not want to go into the details of how much you take home after tax each month, it's good to be open and honest about some instances of money.
1.    Don't be scared to ask about splitting the bill
If you are dating, be upfront about who is paying and what you can afford. You shouldn't feel the need to pay for something you are not able to afford. You can broach the subject lightly by suggesting how they would like to pay at the start of your meal, for instance. That way, you avoid any squabbles towards the end of the date about money.
2.    Listen and learn
You can learn a lot about someone on a first date, and even at the start of a new relationship, by listening to their values, hobbies and goals. Observe what their lifestyle is. Are they frugal? Or are they open about luxuries? Doing so will help you better understand them as a person and whether their goals align with yours.
3.    Share your values
Your values make you who you are. And a major part of any relationship is being honest about what you want from life. So, share your financial goals. Do you want to own your home? Buy a van and travel the world? You can then see just how compatible you really are.
4.    Don't pry early in the relationship
If you wouldn't ask a friend about their credit score, you might want to hold off on that topic on the first date. If they are not as open as you with regards to money, that doesn't mean that you can't continue to date. It might just take them more time to open up to the conversation. Instead, gradually get to know them and you'll learn more about their values when it comes to money along the way.
5.    Don't impose your own financial goals
While you might be confident and assured in your financial goals, it doesn't mean the person you are dating is or even has those same values. Let them open up about their own goals and see if they align. Everyone is different and, if we weren't, the world would be a very boring place.
Most importantly, do not let money become a taboo subject in your relationship. If you are unsure on where to start, we have even more advice on why you should be talking money with your partner.
Methodology
MoneySuperMarket surveyed 3,000 of the British public asking what their financial red flags are on first dates and within the first three months of a relationship. We also asked the British public what would make them swipe right on dating apps when it came to finances.
Three separate surveys were conducted and any discrepancies in percentage are due to multiple choice answers.
Survey data analysed January 2022.
1https://www.yorkshirepost.co.uk/business/consumer/the-buy-now-pay-later-sector-must-be-regulated-in-order-to-protect-vulnerable-consumers-says-stepchange-3518756
2https://www.independent.co.uk/news/science/talking-about-money-is-britain-s-last-taboo-10508902.html