Compare travel insurance for Cuba
Everything you need to know for a great Cuban getaway – and travel insurance to keep you protected from the unexpected.
With vibrant streets full of classic 50s cars, neon-lit signs, and antique radios and appliances, travelling to Cuba is like a romantic voyage into the past. But Cuba is changing – new rules have opened the country up to tourism like never before. You'll be able to experience all kinds of innovations, from new luxury beach resorts to fantastic new restaurants and bars.
Whether you're scuba diving off the coast, trekking along the revolutionary trails in the mountains, or just relaxing by the pool with a mojito, Cuba is the destination of a lifetime. Use our travel tips to help you make the most of your holiday. Just make sure you have travel insurance before you set off so you can enjoy your trip with peace of mind.
Do I need travel insurance for Cuba?
If you're planning a holiday in Cuba, it's essential to have travel insurance before you set off. If you can't prove that you're insured, you'll be refused entry into the country.
It's not just a legal requirement. Being insured means that you're protected against many common travel problems while on your trip. Travel insurance can cover you against illness, accidents, lost baggage, and theft while you're on your Cuban getaway.
Travel insurance also means you'll be able to reclaim your costs if you have to cancel or cut short your trip in an emergency.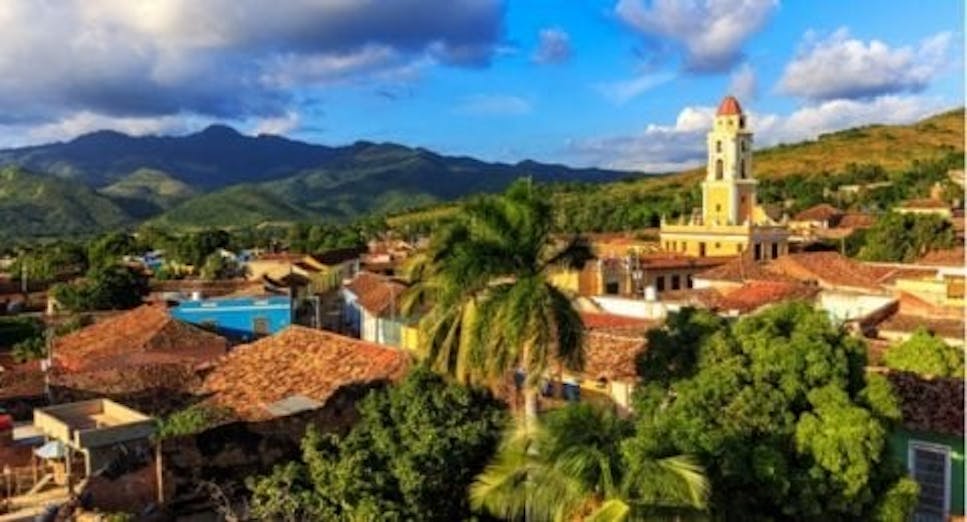 What type of travel insurance do I need for Cuba?
Because Cuba is in the Caribbean, it's not covered by an ordinary worldwide travel insurance policy. You will have to buy travel insurance that specifically covers the USA, Canada, Mexico, and the Caribbean. These tend to be a little more expensive.
However, there are many different types of insurance that might suit your holiday. When you find the best travel insurance deals through MoneySuperMarket, you'll be able to tailor your insurance to your needs. Some categories to look out for:
Single-trip insurance: If you only want to cover your trip to Cuba, select 

single-trip travel insurance and type in 'Cuba' as your destination

Annual multi-trip insurance: If you take two or more holidays a year, it might save money to buy an insurance policy for the entire year

Backpackers' insurance: If you're visiting Cuba as part of a backpacking holiday, you can find great deals on backpackers' insurance, which can cover you for longer trips or if you'll be visiting several different countries
What should my Cuba travel insurance include?
When you're choosing a travel insurance deal for your Cuban holiday, watch out for these important features your cover should include:
You should also keep an eye on your policy's excess. This is the amount you'll have to pay yourself towards any claim. A higher excess usually means your premium is cheaper. However, you should make sure it's an amount you'll be able to pay.
The full details of your insurance will be in your policy document, so make sure you read it in full before you choose a travel insurance deal.
What won't be covered in my Cuban travel insurance?
Some features may not be included in your insurance for your trip to Cuba. These are known as exclusions. Make sure to know what you can and can't claim for before you make your holiday plans.
Some insurance policies might not cover you for accidents or injuries you sustain during activities like scuba diving or jet-skiing. This may also include hiking or kicking around a football on the beach. MoneySuperMarket's insurance comparison tool allows you to quickly find out what activities will and won't be covered in any travel insurance policy. If you plan on enjoying any physical activities while on your Cuban getaway, check that they're included first

If you have a pre-existing medical condition, or you've had one in the past for which you've received advice or treatment, you may be charged a higher premium. If this is the case, it may help to take out a special policy for pre-existing conditions

You may not be covered for incidents related to civil unrest, war, or terrorism, so exercise caution

If you suffer an accident or injury that can be linked to you drinking too much or using illegal drugs, insurers are likely to refuse your claim
Can I get cover for adventurous activities and extreme sports in Cuba?
When you take out a travel insurance policy, make sure that you are covered for any activities you'll do when on holiday. Injuries or accidents that you sustain during activities such as scuba diving or jet skiing may not be covered by some insurance providers.
You may be able to get special policies from certain providers. When comparing travel insurance with MoneySuperMarket, select a policy that covers you for the activities you want to do.
When should my Cuba travel insurance policy start?
When you choose an insurance policy, make sure you're covered from the day you book your trip, not the day you actually leave. That way, you'll be covered in case you need to cancel your holiday before you set off.
Health and vaccinations
The quality of healthcare facilities in Cuba is very good, especially when compared with other developing countries. However, this does not always apply in more rural areas. Psychiatric care facilities are also limited and difficult for foreigners to access. If you need specialist care, you may require a medical evacuation.
Dengue fever, chikungunya virus, and the zika virus are present in Cuba. These are spread by mosquitoes, so it's important to bring insect repellent and take sensible steps to avoid being bitten. There have also been confirmed cases of cholera.
Before you travel to Cuba, you should make sure you're up to date with all your shots. The NHS advises travellers to Cuba to take a rabies and tetanus vaccine if you're not already immunised, and shots for hepatitis A and B for those travellers at the most risk.
Not all prescription medicines are available in Cuba, so you should make sure you take enough of any medications you require with you. The legal status of some medicines might be different in Cuba, so make sure you also take a prescription and a note from your doctor explaining your condition.
Cuba fact file
Travelling to Cuba: Key Information

Language

Spanish

Currency

 Peso (though there's a special currency tourists are asked to use)

Dialling code

 +53

Plug sockets

 Plug socket types A, B, C and L – adapter needed

Emergency services phone number

104 (ambulance), 106 (police) or 105 (fire)

Vaccinations:

See the National Travel Health Network for latest information

Embassy address and contact details

Telephone: +53 7214 2200

FCDO travel advice

 See UK gov website for latest information
Do I need a visa for Cuba?
When you go on holiday to Cuba, you must have a tourist card. Every member of your party, including children, will need a tourist card.
You need to apply for a tourist card before you arrive in Cuba. This can be done online or through your travel agent or tour operator.
A tourist card is only valid for 30 days, so if you want to stay longer, you will need to extend it during your visit. However, you can only renew your tourist card once and for a maximum of 30 days.
Top travel tips for Cuba
Cuba is full of beautiful sights and exciting things to do. Use our Cuban travel tips to help you make the most out of your holiday:
Convert your cash
Cuba has two currencies: the Cuban Peso (CUP) and the Cuban Convertible Peso (CUC). It's easy to tell the difference: Convertible Peso banknotes are printed with pictures of national monuments, while ordinary pesos are printed with portraits of Cuban heroes. The Convertible Peso is the currency used by tourists and foreigners, and it's likely to be the only currency you use on your trip. It's also not traded internationally, which means you'll have to wait until you've arrived in Cuba before you can change your money. Most businesses in Cuba only accept cash – so bring plenty.
Unplug
Don't expect to spend too much time online while you're in Cuba. While there are internet cafes, and Wi-Fi is available in some of the bigger hotels, internet access is still very limited in the country. Don't worry — you can still post all about your experiences when you get home.
Catch a carnival
Cuba's street celebrations are a feast for all the senses, with lively music and extravagant costumes. Head to Santiago in July for the country's most famous carnival. Almost everyone in town takes part, dancing the conga in dozens of local parades.
Jaw-dropping Viñales
Located in the west of the country, the scenery around Viñales might be some of the most beautiful on Earth. Huge limestone cliffs known as mogotes rise out of the flat lush valleys in a prehistoric landscape that was formed tens of millions of years ago.
Eat local
Cuba's reputation for bland, stodgy food is fast changing. A few years ago, new laws allowed private restaurants to open, and a whole new generation of Cuban chefs has emerged. Known as paladars, these small restaurants are sometimes located inside the chef's home. They offer fresh, innovative takes on Cuban cuisine – and they're pretty cheap too.
Sometimes a cigar is not just a cigar
Cuba is famous for its hand-rolled cigars, but if you're buying from a street vendor, it's good to tell the real thing from a fake. The best way is to look at the label: a genuine Cuban cigar will have an intricate design on the label, while the labels on fake cigars are often bland, faded, or smudged. You can also try holding it — the real thing should be firm and dense, while cheap fake cigars are usually squidgy. And remember: you can only bring 50 cigars back with you without paying import duty.
Hit the town
Bars and clubs in Cuba are great, but outside of the big cities, there aren't that many of them. Don't just wander into town expecting to find something. For a great night out, it pays to do some research in advance. Locals in Cuba are very friendly and will be sure to give you some tips. And once you're there, don't forget to sample some of the island's fantastic cocktails.
Casa Particulares
Cuba has its fair share of luxury hotels and beach resorts. However, for a more intimate experience, consider staying in a casa particular. It's like a Caribbean version of a homestay B&B. It's also cheaper and cosier than a hotel. Your host will also be able to give you the inside scoop on some of the island's hidden gems.
Stick to bottled water
Never drink tap water. Nor the ice, not even at your hotel – unless you know it's from a bottle. It's a sure fire way to end up using the medical cover you've bought.
Get the best price on travel insurance for Cuba
Travel insurance for Cuba is essential, but not all policies are the same. To find the cheapest Cuban travel insurance that meets all your needs, it's important to compare before you buy.
MoneySuperMarket's comparison tool asks you a few simple questions about you and your holiday: where you are going, how long for, and what you want your policy to cover. In just a couple of minutes, you can compare prices from a range of leading travel insurers.