Ten ways to bring your energy bills down (aside from switching)
Looking to save on gas and electricity? Here's some tips to help you keep a lid on costs
The UK energy crisis shows no sign of abating, with prices now at record levels.
A long cold winter has also meant that UK stocks were very low, while the war in Ukraine continues to cast a long shadow and put severe constraints on supplies.
Latterly, the long-term spike in wholesale prices has led to some suppliers temporarily stopping trying to get new customers until prices settle a little. Others have ceased trading altogether.
What does this mean for consumers?
Much higher energy bills, is the short answer. Although this has been mitigated somewhat by the introduction of the government's Energy Price Guarantee, which caps the average household's bill at £2,500 per year. The scheme will only, however, remain in force until April 2023.
Before the Energy Price Guarantee was announced, bills for customers on default tariffs were expected to hit £3,549 for the average household from October 2022.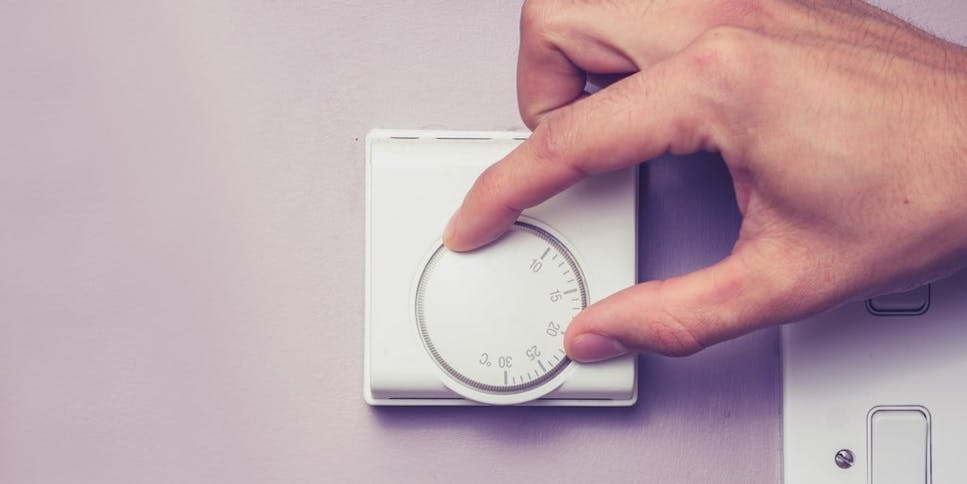 What's going on with switching?
In normal circumstances, switching is a good way to beat the price cap and save money.
However, in response to the crisis, suppliers have withdrawn tariffs for new customers, while those that may be available for existing customers are likely to be higher even than you would be paying on your current standard tariff.
As a consqeuence, we've taken the major decision to suspend switching altogether through MoneySuperMarket.
Right now, we'd recommend that when your fixed price tariff ends, you roll onto a standard variable tariff. At least then, you'll be protected by the Energy Price Guarantee.
We'd also recommend that you run a comparison and leave us your email. We'll then be sure to get in touch when there may be more options for you and you're once again able to save by switching.
What else can I do?
Aside from switching, there are lots of other simple ways to cut energy costs. Here we take a closer look.
1. Turn your thermostat down by one degree
A super easy way to save money is by notching your thermostat down by one degree. This could save you around £60 a year, according to the Energy Saving Trust. As a guide, you should aim for around 18°C. Anything higher will be more costly.
Consider upgrading to a 'smart' thermostat which can be controlled from your mobile to further reduce energy wastage. Smart meters can also help you save money by making you aware of how much energy you use.
2. Get insulated
Poorly-insulated roofs and walls can be a major cause of energy wastage.
According to the Energy Saving Trust, you could save up to £225 a year with cavity wall insulation. While loft insulation could be quite costly with an initial outlay of around £300, with savings of up to £150 a year on your bills up for grabs, you'll soon recoup this cost. (Actual costs and savings will depend on your property).
Double glazing – or triple glazing – can be another major outlay, but you will make savings in the longer term.
Equally, if you're looking for a cheaper way to help boost insulation, invest in soft furnishings, such as carpets, rugs and thick curtains.
3. Get yourself a jacket
While you're at it, buy a jacket for your hot water tank to make it more energy efficient, and put foam tubes around pipes to prevent heat from being lost. Foam pipes can be purchased and cut to size for just a few pounds per metre. You can also pick up a jacket for your tank pretty cheaply.
4. Stop draughts
Preventing heat from escaping through unwanted gaps is one of the cheapest – and most effective – ways to save energy and money. Get a brush to put inside your letterbox and draught excluders for the bottom of doors. Use stick-on draught-proofing strips around windows, and filler for the gaps in floorboards.
5. Replace an old boiler with an energy-efficient model
Upgrading a boiler won't come cheap – with new models often costing around £3,000 – but if you invest in an A-rated boiler, over time, you'll recoup the cost. This is also a great way to reduce your home's carbon emissions.
6. Get your boiler serviced regularly
Get into the habit of getting your boiler serviced annually – ideally before the winter season. A service can cost around £60 and will ensure your boiler is safe, energy-efficient, and working as it should be. Always get a Gas Safe engineer to carry out the service.
7. Switch off standby
Remembering to turn your appliances off standby could save you around £35 a year, according to the Energy Saving Trust. You can even buy a 'standby saver' which allows you to turn all your appliances off standby at once.
Be aware that some chargers, including certain older models, can still use electricity, even when they're not plugged into a device. Always unplug them. Don't keep charging devices once they've reached 100% or leave them charging overnight.
Note, though, that if you have any 'smart technologies, such as smart speakers and heating controls, these may need to be left switched on.
8. Buy energy-saving light-bulbs
The Government banned the sale of halogen bulbs from September, in a move which will mean a big cut to carbon emissions.
While this may have taken some people by surprise, you will soon reap the benefits through cheaper energy costs with efficient LED bulbs – which also have a longer life.
According to the Energy Saving Trust, if the average household replaced all their bulbs with LEDs, this could mean savings of up to £40 a year. Get into the habit of always turning lights off when you leave a room.
9. Take lots of little steps to be more energy efficient
Improving energy efficiency around your home doesn't need to cost the earth:
Put tin foil behind your radiator to help conserve energy by reflecting hot air back into the room. You should be able to pick up purpose-made foil for just a few pounds

Get a brush to put inside your letterbox to eliminate draughts, and buy draught excluders to put at the bottom of doors

Shift the position of your sofa and chairs, as if they are too close to a radiator, they will stop heating from circulating around the room

Remember to bleed radiators regularly to keep them working efficiently. Don't dry clothes on the radiator, as this will reduce the amount of heat released

Ditch the electric heater while you're working from home, and grab yourself a blanket and hot water bottle instead. Don't crank the heating up. Dig out your chunky jumpers and thick socks

Kettles are extremely wasteful, so only boil the amount of water you need when making a brew. Descale your kettle to make it work more efficiently and last longer

Wash clothes at 30 degrees instead of 40. Most washing powders perform well at lower temperatures, and this could help reduce your energy bills. Try reducing your washing machine use by one cycle a week

Use a low-flow showerhead to reduce the amount of water and energy you use. Make further savings by taking a shorter shower. Turn the tap off when shaving, washing your face, or brushing your teeth
10. Check out Government schemes
Finally, it's worth checking whether you are eligible for schemes such as the cold weather payment or warm home discount scheme, as if you qualify, these can help you save on your bills.