What are smart thermostats and how do they work?
Read our guide to find out more about smart thermostats
Smart thermostats are part of a range of smart home gadgets that can help you control your home's energy usage - here's how
What is a smart thermostat?
A smart thermostat is a type of thermostat that lets you control your home's heating remotely, via devices like smartphones and tablets.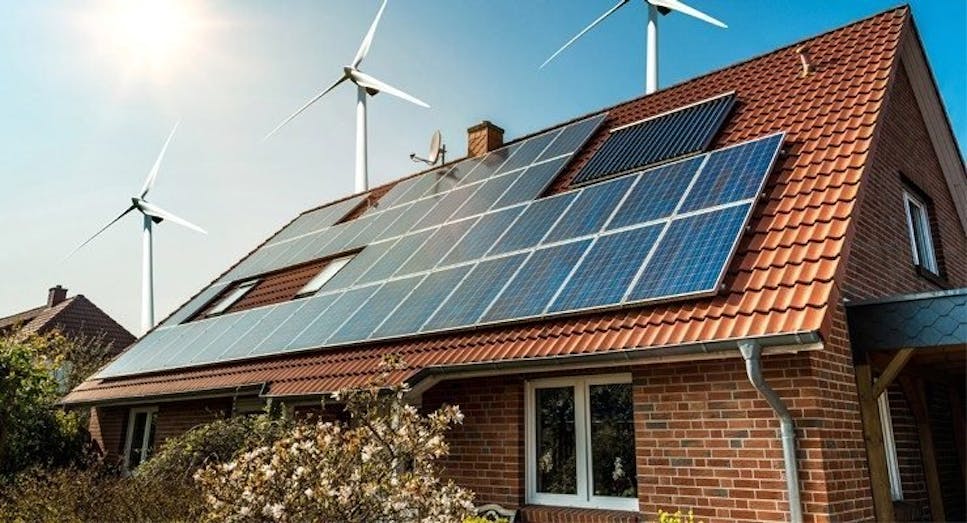 What can smart thermostats do?
Your smart thermostat's functionality will depend on the make and model you buy, and how much you're willing to spend. Some of the most useful features include:
Voice control: So you can command your central heating from the comfort of your sofa

Temperature alerts: To warn you if the temperature poses a threat to your water pipes

Zoned heating: Multi-room or multi-zone control, letting you heat different parts of your home independently.

Geo-fencing: Recognises when you've entered or left your home, and adjusts temperature accordingly

Link up with other smart technology: Such as Alexa, Google Home, or other devices to make your home truly smart

Learning capabilities: Some smart thermostats can learn how long it takes to heat each room in your home and then then check the weather report, to ensure optimal energy-efficient heating

Holiday mode: To keep your home just warm enough to prevent pipes freezing if you are away

Hot water settings: Allows you to control your hot water, but you might need additional kit for this functionality
What are the benefits of a smart thermostat?
Not only does a smart thermostat have the potential to save you money on your energy bills, but they are extremely convenient, allowing you to control your home's heating from wherever you are.
How much do smart thermostats cost?
Smart thermostats typically cost between £150 and £280, depending on the make and model. Most makers recommend getting them professionally installed – which usually costs an additional £50 to £100.
If you want zoned heating, smart thermostatic radiator valves will need to be fitted to each radiator to control them individually – these can be around £60 each.
What is the difference between smart thermostats and smart meters?
Smart thermostats may seem similar to smart meters, but they work quite differently:
A smart meter shows you information about your energy usage and costs, generally on a display inside your home

A smart thermostat lets you control your home's heating
Can smart thermostats help you save money?
Installing a smart thermostat could help you save money, but it will also depend on your energy habits.
If you leave and enter your house at different times every day, a smart thermostat could be a good option for you. The same goes if you or someone else often forgets to turn off the heating before you leave – you'll still be able to shut it down remotely from your phone or tablet.
If you have a set routine where you leave the house at the same time every day and return at the same time, it may not be as useful – you can already programme most thermostats to come on at specific times.
What if my internet goes down?
Smart thermostats use the internet to allow you to control you home's heating remotely. If your internet were to go down, don't worry, the heating will stay on and your smart thermostat system will usually continue to run your schedule.
You won't be able to control it via the app or online, but you can adjust it via the thermostat's manual controls if needed.
What are the best smart thermostats?
For information on the best smart thermostats on the market, read our handy smart thermostat guide.
Save by switching energy suppliers
Smart thermostats aren't the only way you can save money on your energy bills. 
Unprecedented price rises mean that cheap deals are hard to come by right now, but in most circumstances comparing energy tariffs on MoneySuperMarket can be a good way to see what options are available, so you can find the cheapest deal right for you.
All you need to do is tell us a little about yourself, your home, and your approximate energy usage – the more you can tell us about how much energy you use, the more accurate your quote will be.
Then we'll show you a list of energy tariffs tailored to your needs, and you can sort them by the overall price per month and year, as well as the yearly savings you could make by switching.
Once you've found the deal you want, just click through to the supplier to finalise your purchase.
Thanks to the Energy Switch Guarantee, you'll be swapped over to your new supplier hassle-free within 21 days – you won't be without gas or electricity at any point, and if there are any issues the supplier will work to resolve them as soon as possible.
Switch and save with Energy Monitor
Switching your energy supplier is quicker and easier with MoneySuperMarket's Energy Monitor. We'll let you know as soon as there's a cheaper tariff available for you, so you can effortlessly switch. 
Find out if you can save by running an energy price comparison now.