How to sort out your energy supply when you move to a new home
It's easy to arrange your energy supply when you move home. Our guide walks you through the process.
Moving home can be stressful, especially if you're a first-time buyer – but with some forward planning you can avoid a lot of the hassle and anxiety.
Your gas and electricity supply is a good example. There's lots you can do ahead of the move itself to make sure your bills are sorted and set up gas and electricity in your new home.
Before you move
Contact your supplier

, either to close your account or to ask whether you can transfer it to the new address. This might be worth considering if you are part way through a good fixed-term deal, especially if there are exit fees to pay for leaving early. Try to give it at least 48 hours' notice. Use online chat services, if available, to avoid lengthy waiting periods on the telephone. Our 

 will help you find the contact details for your supplier

Take a meter reading

 on your last day in the property, and keep a note of it. Your supplier may ask you to provide this, or it may organise a meter reading at the property

Give your new address 

to your existing supplier so it can send you a closing bill, refund any accumulated balance in your account, or manage the transfer of your current deal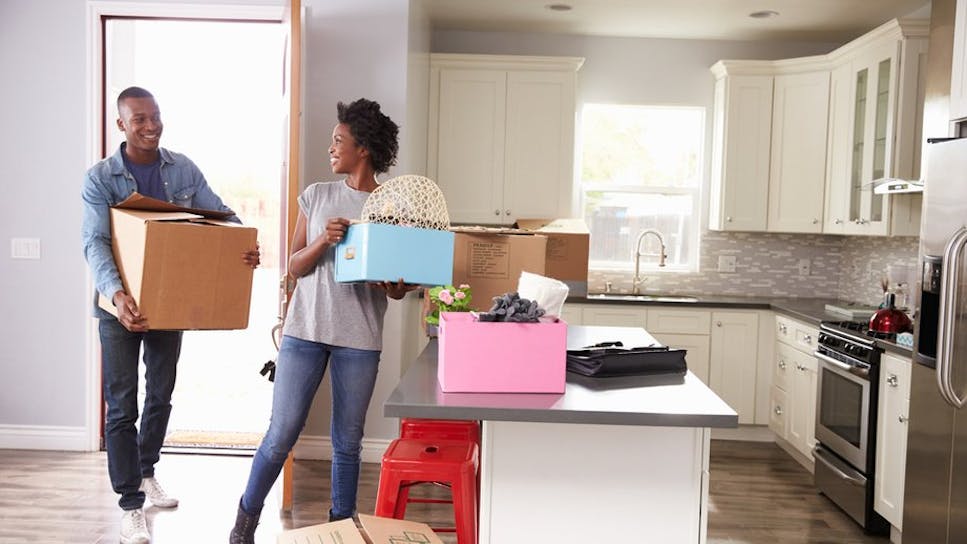 Moving day
Make a note of meter readings

 at your new address. If you haven't arranged to transfer your existing tariff, you will inherit a 'deemed' contract, which you will stay on until you switch
After you move
Settle the final bill

 for your old property when it arrives at your new address

Check your bank account for refunds:

 If your account is in credit, you should be refunded this sum automatically. The cash should either go into your current account, or it will be sent to you via a cheque in the post

If you owe money to your old supplier, 

this sum may be taken as a single direct debit payment. If you are more than £500 in debt, you will not be able to switch supplier – you'll either need to clear or reduce the debt ahead of your move or transfer your current deal to your new property. Give your supplier as much notice as possible of your moving plans

Consult the 

energy performance certificate

 you receive 

from the seller or your landlord – it will contain detailed advice on how to improve the energy efficiency of the property
If you don't know the supplier
The previous owner will usually leave details of their energy supplier at the property or with the estate agent - but don't panic if this isn't the case. You can find out who supplies the gas and electricity to your new home on the Ofgem website.
You are responsible for the energy supply to the property once you become the legal owner, so make sure you provide your details as soon as possible.
Switching suppliers
Whether you are moving into a new rental property or buying your first home, switching energy suppliers is quick and easy. Just compare energy tariffs and follow the steps below.
energy switchingSwitch with Energy Monitor
Switching your energy supplier is even quicker and easier with MoneySuperMarket's Energy Monitor. We'll let you know as soon as there's a cheaper tariff available for you, so you can effortlessly switch and save money on your energy bill.
What if your new home has a prepayment meter?
Hopefully, if there is a prepayment meter, the estate agent or landlord should be able to provide the key or card that is used to top up the meter, along with instructions on how to operate it.
Generally, prepayment meters are fitted in rented properties or for customers who have struggled to pay bills in the past.
However, it's unlikely you'll get the best tariff on a prepayment meter, so if you're buying the property, explore whether you can move to a standard credit meter. If you're renting, ask the landlord if you can switch to a standard credit meter, enabling you to pay bills every month or quarter.
Remember - you're not obliged to stay on the same tariff on your prepayment meter when you move in. Our energy channel can help you find the prepayment tariff that's best suited to your usage, which can reduce how much you pay.
Rented accommodation
When you move into a new rented property, you may need to supply meter readings to your landlord, as well as the supplier.
You're entitled to switch suppliers if you find a better deal elsewhere – you don't need your landlord's permission, unless their name is on the bill.
Read our guide for more tips and advice when moving home.
Gas and electricity quotes for first-time buyers
As a first-time buyer, there's a lot to think about when getting settled in your new home. And energy bills are somewhere near the top of that list – but thankfully, it's all quite straightforward. 
If the home you're moving into isn't brand new, setting up your gas and electricity follows the exact same process as any other move-in. Just follow the same steps as above. 
Setting up gas and electricity in a new home
On the other hand, if you're a first-time buyer moving into a new build in the UK – and you're the first to ever pay for its gas and electricity – here's what to do. 
Find out who the current energy supplier is.

 

Most likely, one has been connected as part of the build. You can find out by asking the developer, using the Find My Supplier service, or just looking out for a letter on the doormat to 'The Occupier'. 

Find your meter(s) and take a reading.

 

This will also show you whether your home has just electricity or gas as well. 

Get in touch with the supplier

 

and register yourself as the new owner. You may also need to ask to get the power switched on. Unless you choose a new one, you'll be put on the supplier's standard tariff. 

Compare your options

 

and see which supplier and tariff offers the best deal for you, using our comparison tool. 
Bear in mind that figures and estimates for a new build may not be as accurate as possible, since there's no precedent for that property.  
New house energy suppliers
Even if your home is brand new, you're free to choose whichever energy supplier you like. 
So long as you're connected to the National Grid, there are plenty of suppliers to choose from – whether you go for one of the Big Six, a smaller supplier, or one focused on green energy. 
Enter your info to compare all your options right now. 
Business premises
When you move into new business premises, you'll automatically be transferred onto a 'deemed' rate with the building's current suppliers. These are often expensive, so it's worth using this opportunity to negotiate a better energy deal.
To switch to a better business gas and electricity contract, give our energy experts a call on 0800 088 6986, and try to have the following information to hand:
A recent energy bill

Your business's registration information

Your MPAN and MPRN numbers from your bill or meter

Your current contract's end date

The date your switching window opens
To find out more, check out our Moving your business premises page.
FAQs
Who do I need to tell when I move house?
When you move into a new house or flat, the most important organisations to tell are:
Your utility providers (gas, electricity, and water)

Your phone/broadband/TV suppliers

Your bank or building society

Your employer

Your insurer(s)

Your pension provider(s)
You should also inform your GP of your change of address, as well as your children's schools, and any magazines or services to which you subscribe.
How do I get gas and electricity in my new house?
Unless you're buying a new-build property, the first step is to take meter readings to make sure you only pay for the energy you use – then find out which companies currently supply gas and electricity to your new home.You may well be able to save money by switching to another provider, so take five minutes to find the best deal. The company you're moving to will manage the switching process, which should only take a few weeks.
What happens to utilities when I move house?
When you move house, you need to contact your gas, electricity, and water suppliers to tell them you're moving out of your current property. You'll then be sent a final bill based on the final meter readings (remember to give your suppliers your new address so they can send this out).You can find out which companies you need to contact by checking your bills – or by asking your landlord.
When should I switch utilities when buying a house?
It's a good idea to let your existing utility suppliers know you're moving at least 48 hours before you leave your current home. They'll need your new address so they can send out your final bills, and will either ask you to take meter readings on the day you move out, or arrange to do their own.Either way, take a quick photo of your meter readings on moving day so you can check your final bills – and do the same at your new home. If you're a first-time buyer, it's worth knowing you don't have to stay with the same companies as the old owners, and you can apply to switch energy suppliers as soon as you move into your new home.
Can I change energy supplier as soon as I move into a new home?
You can apply to switch energy suppliers once you've signed the sale or rental contract on your new home. It's always recommended that you compare energy prices for a new property as the 'deemed contracts' providers offer to home movers rarely offer value for money. However, you'll usually have to pay at least one bill to the existing provider because switching takes about 21 days.
What do I need to cancel when moving house?
You have to cancel all your utility contracts when you move house, including:
Gas

Electricity

Water

Broadband

Landline
You also need to inform your local authority you'll no longer be liable for council tax on your old home, and pay the final bill. If you don't want to take your TV license with you to your new address, you'll have to cancel that too.
How long does it take to switch energy supplier?
Most UK energy providers are signed up to the Energy Switch Guarantee, under which they have 21 days to switch your supply. It might not even take this long, although most companies wait until the end of your 14-day cooling-off period to action the switch. This gives you the chance to change your mind if you want.
Does it cost money to switch utilities?
You don't have to pay to switch energy suppliers or set up an energy provider in your new home. In fact, switching should usually save you money – sometimes hundreds of pounds a year. The exception is when you're on a fixed-rate deal that has exit penalties if you switch away before the end of the term.