Get A Cheap Quote On Electric Motorbike Insurance
As fuel prices continue to soar and insurance premiums show no sign of dropping, many commuters and young motorists may well turn to alternative modes of transport, such as electric motorcycles, in order to cut travel costs.
What is an electric motorbike?
Electric motorbikes, scooters, or mopeds are basically the same as their petrol counterparts. The main difference, though, is that they are driven by an electric motor powered by a rechargeable battery as opposed to a combustion engine.
They are driven in the same way as motorbikes, and riders need to wear a helmet. They also have to tax the vehicle – although vehicle tax is usually free of charge – and must be covered by an electric moped insurance policy.
Anyone riding an electric bike will also need a provisional or full driving licence. If you obtained your licence after 1st February 2001, you will also need to complete a compulsory basic training course (CBT).
These electric mopeds, scooters, and motorbikes should not be confused with electric bicycles. These, in fact, are subject to the same road rules as pushbikes, in that helmets and insurance are not compulsory.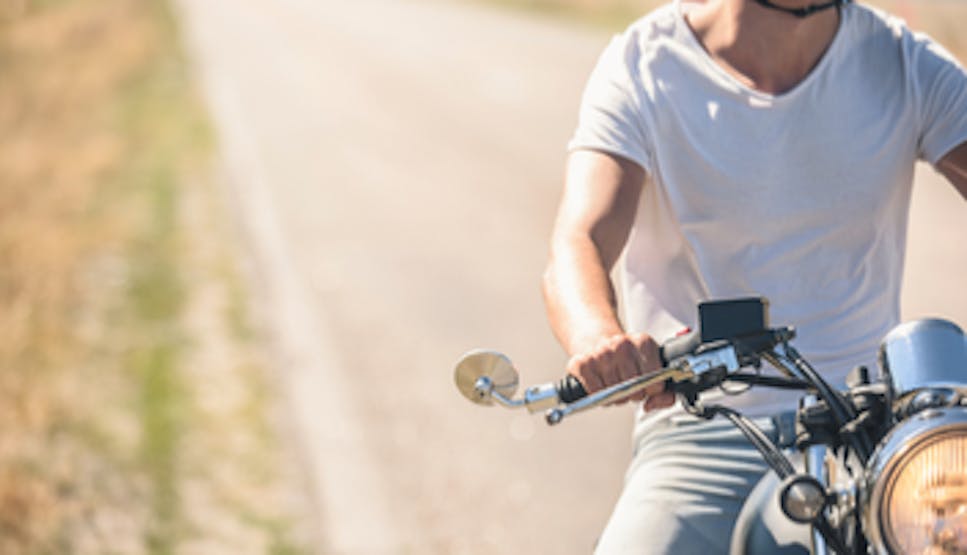 Why buy an electric moped?
The main advantage of riding an electric moped is that you cut out fuel and vehicle tax costs. Moreover, electric moped insurance premiums are usually very cheap, making them very economical vehicles to keep on the road.
They are also ideal for getting around town, as they are lighter than petrol versions. They can easily be maneuvered through traffic and can save the headache of finding somewhere to park.
However, because scooters usually only have a top speed of around 40mph and a range of 30-40 miles, they are not suitable for longer commutes.
Another good reason to get one is that they are environmentally friendly, as they emit no harmful emissions whatsoever.
Do I need electric moped insurance?
Yes, you do. Electric motorbikes and mopeds are just like their fuel-powered equivalents, meaning that you need insurance if you ride it on public roads.
If you are caught without the correct insurance, you will face very high fines and your driving licence could be suspended.
What types of electric moped insurance can I take out?
Electric moped insurance, like other types of motorbike insurance, tends to come in three different levels. This way, you can pick the one that best suits your needs and pockets.
Here are the standard options you can choose from:
Third-party only motorbike cover This is the minimum level of cover you can get to be able to legally drive on public roads. It will protect you against any damages caused to another vehicle or person in a road accident.

Third-party, fire, and theft As well as providing third-party cover, this policy protects you should your bike be stolen or damaged by fire.

Fully comprehensive motorcyle cover This is the highest level of protection you can take outmotorcycle electric moped, providing extensive cover for your bike in the event of an accident or unwanted mishap.
Is it cheaper to insure an electric moped?
How much you will pay for your electric moped insurance depends on a number of different factors. However, it's fair to say that you can expect to pay a bit more than usual to insure an electric bike.
One of the reasons for this is that electric mopeds, as well as electric vehicles in general, are quieter on the road compared to petrol-fueled cars and bikes. Therefore, insurers often deem electric mopeds as more high-risk, as their quiet nature could make them more prone to road accidents.
What's more, batteries are quite expensive, meaning that they could be costly to repair should something happen to your moped. Also, since there are fewer electric mopeds out and about, providers who insure electric bikes have less competition. In turn, this means that they can afford to offer less favourable deals.
Compare cheap electric motorbike insurance quotes
As with any type of vehicle insurance, it makes sense to shop around for the best deal. You should keep in mind, though, that just because a policy is cheap, that does not mean that it is value for money. So, you need to check that any cover suits your needs and circumstances.
At MoneySuperMarket we make it quick and easy to get a range of tailored quotes so you can choose our best deal for your exact needs. Just provide us with a few details about you, the bike you want to cover, and the type of policy and we'll match that to a range of policies from leading UK providers. Get cover today!