Can I get a loan without a credit check?
If you have bad credit you might be searching for a 'no-credit check loan'. Our guide covers what is involved in a loan application and what to consider...
Do no credit check loans exist?
If you don't have the best credit score or have been refused credit, you may be searching for a 'no credit check loan'. In fact, getting a loan in the UK is impossible without a full credit check. But there could still be options for you - even if you have a less than perfect credit score.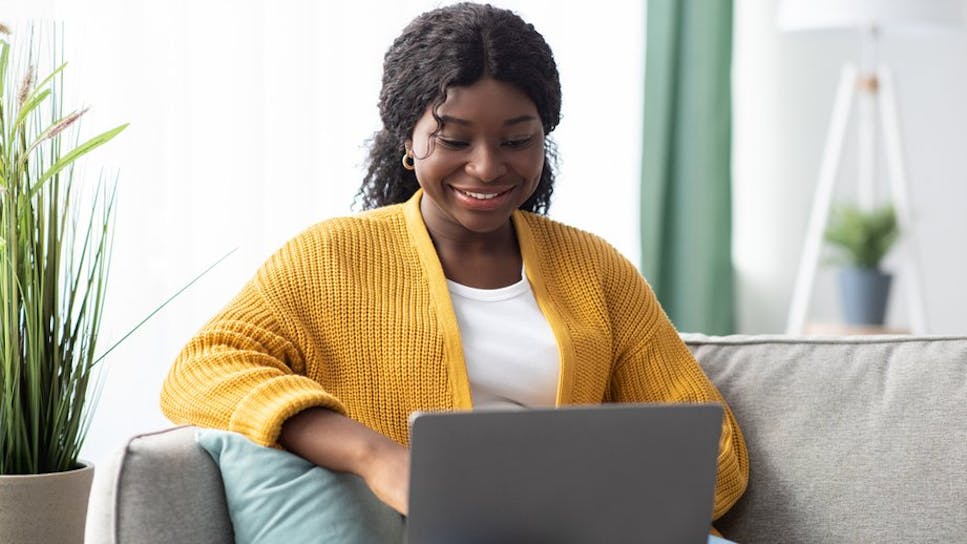 Can I get a quick loan without having my credit checked?
If you need money urgently and have a low credit score it is understandable you'll feel anxious about needing to apply for a loan.  You may be wondering if you can get a quick loan without having to undergo a credit check. But it doesn't matter whether you're getting an emergency loan, all legitimate and regulated loan providers in the UK will do a credit check on you when you apply.
Lenders aren't out to judge your money choices when it comes to credit checks – instead, they're looking to see how you've handled borrowing in the past to decide if you're a reliable borrower. This also safeguards you as a borrower because you don't want to take on more debt if it puts your finances at risk.
So, while credit checks may make it more difficult for you to be accepted for a loan if you have a bad credit history – they're there to help make sure you can afford to borrow and if it's the right time for you to do so. There are also specialist bad credit lenders out there who specifically work with people in complex financial situations.
Why do loan providers need to carry out a credit check?
In the UK, loan providers will carry out a credit check to assess how reliable you are as a borrower. They will look at what borrowing you have and how you've handled credit in the past.
In simple terms, a credit check is made up of the information the three credit reference agencies, Experian, Equifax and TransUnion, have on you. They don't care about how much you spend at the supermarket or the local cafe, but they will look at how much you've borrowed from lenders and how reliably you've paid it back.
Lenders use this information to decide your 'creditworthiness' before they offer you a loan. It also affects the rate of interest you'll be offered and the amount you'll pay back each month. You're more likely to be given a lower interest rate if you have a strong credit history.
Can I get a payday loan without a credit check?
In the UK, payday loans are regulated by the Financial Conduct Authority (FCA). The rules introduced by the FCA in 2014, meant that lenders must "adequately assess 'creditworthiness' and the affordability of the loan for the customer before it is issued."
This means that any payday lender or other FCA-regulated lender must always carry out a credit check on you before advancing you a loan.
In the same way, you'll also have a credit check for other short term loans provided by regulated lenders.
What are hard and soft credit checks?
A credit check is when lenders look at the information in your credit report. This shows the accounts you hold and your repayment history. Credit checks are used to assess how reliable you'll be at borrowing and repaying money based on your past behaviour. There are two types of credit checks:
Soft credit check  
Soft credit checks are when you check your credit report or if a lender checks to see what interest rates and products, you're eligible for. The most important thing about soft searches is that they aren't visible to companies, which means they won't affect your credit score or any future credit applications. When you compare credit cards and loans with MoneySuperMarket, a soft search will be done on your report as we're a credit broker not a lender.  
Hard credit check 
A hard credit check is a more rigorous search of your credit report than a soft credit check. With a hard credit check, there will be a complete search of your credit report. Every hard credit check is recorded on your credit report, so any company will be able to see that you've applied for credit.
Too many hard credit checks over a short period of time can impact your credit score for a number of months and can often make it harder to get approved for credit in the future.
Hard credit checks will be carried out when you apply for credit and by utility providers and mobile phone companies when you want to use their services.
Will my loan application be declined with bad credit?
While you may find it harder to find the right loan when you have bad credit, it doesn't mean you'll automatically be declined. There are lenders that specialise in loans for bad credit, but like all loans, there will be factors that affect your eligibility. You're also more likely to be offered higher interest rates on your loan and you won't be able to borrow as much.
We know that applying for a loan can feel stressful, particularly if you know you don't have a good credit score. It's hard to know if you'll be approved and your options are likely to be more limited. That's where we can help. Our loan eligibility checker will give you an idea of your chances of being accepted for different loans. And searching in this way won't impact your credit score as it's a soft search.
What are the easiest loans to get with bad credit?
Having bad credit doesn't always mean an instant 'no' to taking out a loan. But it's important to weigh up whether taking out a loan is a good idea financially, especially if you've struggled with credit in the past. Make sure you can afford to keep up with repayments, as missing payments could negatively impact your credit score.
There are loans for bad credit available which may suit you depending on how much money you need, including:
Guarantor loans: Guarantor loans can be a good option if you have bad credit, as they give the lender reassurance that the money will be paid back even if you default. This is because a guarantor, usually a family member or close friend with a good credit score, agrees to be responsible for paying the remainder of the loan if you can't pay it yourself. Guarantor loans often come with high interest rates.  

Secured loans: If you're struggling to be approved for a personal loan, a secured loan may work as an alternative. Secured loans use a valuable asset, like a car or your house, as security (known as 'collateral'). Secured loans typically come with lower interest rates than unsecured loans because the lender has the asset to claim if you default. The main risk for you is if you fail to keep up with repayments you could lose your possessions – and this could be your home.
What are the alternatives to getting a loan with bad credit?
If you're worried about applying for credit, especially if you've struggled with bad credit in the past, using our eligibility checker can help you decide whether taking out a loan is the right option for you – and searching in this way won't further harm your credit rating.
An alternative to mainstream credit and credit-builder products are credit unions - non-profit and social organisations that offer financial products to members who sign up. Each credit union's loans, savings and current accounts are only available to its members – often linked by a common interest like their job or where they live. Credit unions do offer loans to eligible borrowers, but they will usually lend smaller amounts than banks and traditional lenders.
If you're struggling with paying off debt, there are a number of debt charities, such as StepChange and Citizen's Advice, that can help you negotiate with creditors, set up a realistic repayment plan and get back on your feet.
How can I improve my credit score?
If your credit score isn't the best, don't despair – there are things you can do to improve your rating.
Here are some tips:
Register on the electoral roll: A small step that can help push up your credit score is registering to vote. The reason this gives your score a boost is that it serves as proof of your address to lenders who will check this when you apply for credit 

Pay your bills on time: Lenders judge your creditworthiness by how financially responsible you are. If you make your bill payments on time, this shows them that you can be trusted to borrow money 

Check for any errors: Small mistakes such as a misspelt address could affect your score. Check your credit file thoroughly and make sure to report any inaccuracies.
Other useful guides
Here at MoneySuperMarket, we have a range of guides to help you understand loans and credit.  
How to get a loan with a poor credit score 
Understanding how payday loans work 
Compare loans for bad credit with MoneySuperMarket
Compare loans with MoneySuperMarket and let us take the anxiety out of the process. We compare loans from a wide range of lenders across the market using a 'soft search', meaning your credit score won't be affected.
We'll show you your chance of being accepted and if you're pre-approved for a loan, you know that if you apply, you'll be accepted. The loan amount, duration and interest rate are all confirmed.
MoneySuperMarket is a credit broker – this means we'll show you products offered by lenders. We never take a fee from customers for this broking service. Instead, we are usually paid a fee by the lender – though the size of that payment doesn't affect how we show products to customers.