Can I get a loan if I'm retired or over 60?
Find out more about the pros and cons of borrowing in later life
It's not unusual to get to retirement and find that while you have assets tied up in property or a private pension, your day-to-day cashflow is more limited.  
For this reason you might think about taking out a loan to pay for a holiday, a new car or home improvements, for example. And if you've got a regular pension income and a good credit score this can be a good option.  
It's important to consider the pros and cons of borrowing at any age. Our guide covers the things you need to think about when deciding whether or not to take out a loan when you're in or near retirement.
Can I get a loan if I'm retired and living off a pension?
Yes it is possible to get a personal loan if you're retired and on a pension. Lenders will look at your income – including any pension income (work pensions, private pensions and State pension), rental income from investment property and any income from part time jobs, for example, and also your credit score, when making a decision about the affordability of the loan.  
That said, different lenders will have their own lending criteria and policies and some may not want to lend to older people, particularly for long-term loans, due to the higher risk the borrower might die, compared to a younger borrower.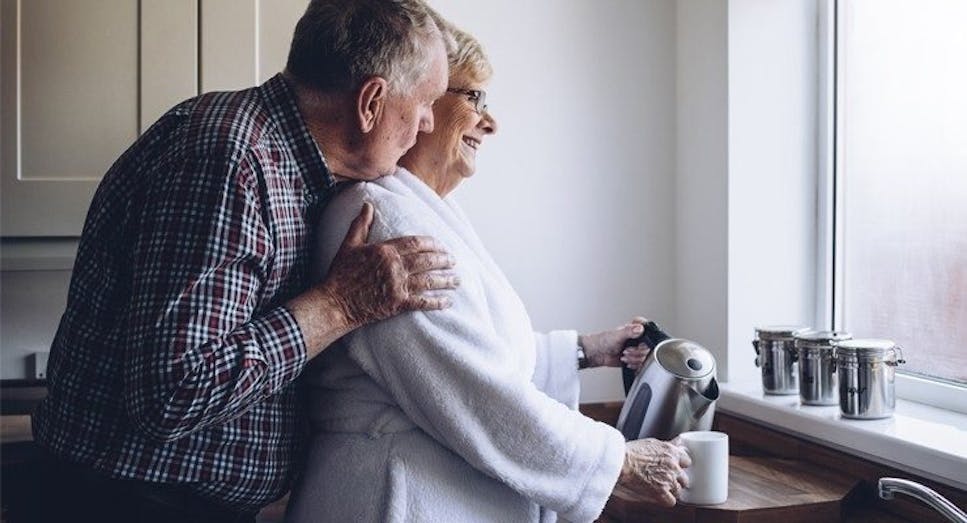 Is there a maximum age limit on personal loans?
Most lenders have a maximum age limit on their personal loans. For example, some providers may state that you must be 70 by the end of the loan. Some providers will lend to borrowers up to the age of 75 – but beyond this age is rare. Lenders will also tend to have a minimum pension income requirement to be eligible for their loans.   
While it is not impossible to get a loan over the age of 70, it may be more difficult and there may be less choice. This highlights the need to shop around and find deals from a range of providers – as different lenders will have their own lending criteria. 
What will lenders consider when I apply for a loan?
As with any loan application a lender will want to review your personal financial situation and credit score to get a full picture about whether or not you can afford the loan and the level of risk. Lenders are likely to want evidence of your income and they may ask about your outgoings and any other debt commitments. 
When you make a formal loan application the lender will carry out a 'hard' credit check to view your credit history. This shows how you've handled credit in the past.  
The lender may also want to know what you plan to use the loan for.  
When you search for a loan with MoneySuperMarket we use a 'soft' credit search. This means we can show you loans you may be eligible for and your chances of getting them without affecting your credit score. 
Can I get a mortgage if I'm over 60?
It can be harder to be accepted for a new mortgage  - or to extend the length of your home loan – once you're over the age of 60, but it is not impossible. Many lenders will have an upper age limit for mortgages. If the upper age limit is 75 and you are 62, for example, you'll have to commit to clearing the mortgage in 13 years.  
Some lenders don't have an upper age limit, but all providers will want to ensure the mortgage is affordable and will conduct a full financial check and credit check before advancing a loan. 
Should I get a loan if I'm a pensioner?
Whether or not you should borrow a loan in retirement depends on your personal and financial situation.  
Consider what the loan is for and if there might be an alternative – and less costly - way to get the money, either by saving up or asking family members to help out.  
If you decide to apply for a loan the lender will conduct an affordability assessment and credit check. It is a good idea to get a free copy of your credit file before you apply – and see if you can take any steps to bolster it and improve your chances of being accepted.  
Also consider how manageable the monthly repayments will be – looking at your income, outgoings and monthly budget. Our loan calculator can help you work out how much you might be able to afford to borrow. 
What are the pros and cons of a loan in retirement?
There are a number of reasons why you might borrow a loan as a pensioner, but there are also some risks to consider:  
Advantages  
Provides an injection of cash to pay for a holiday, car repairs or a new boiler, for example – where it would take too long to save up 

Repay in fixed monthly instalments so budgeting is easier 

No ability to extend the line of credit or borrow more, removing the risk of falling deeper into debt (as could happen with a credit card)  
Disadvantages 
Borrowing will cost more than saving up or using cash savings, because a loan will have added interest 

Debt and charges could build up and credit score is damaged if you miss repayments 

The loan will be taken out of your total estate if you die – reducing the amount you can pass on to beneficiaries   
What type of loan can I get in older age?
There's a broad range of loan types available. Lenders will have their own individual lending criteria, upper age limits and minimum income requirements. But among the borrowing routes you could consider, are the following: 
Mortgage 
Depending on how much you need to borrow, extending an existing mortgage could be one of the cheapest ways to borrow as mortgage rates tend to be lower than those on personal loans. Remember increasing your mortgage could significantly increase the monthly repayments. Interest rates are also rising so you may want to consider fixed rate mortgages to give you some budgeting security. 
Personal loan 
An unsecured personal loan will have a fixed interest rate – the rate you're offered will depend on your credit score, and how much you want to borrow. 
Secured loan 
Secured loans can sometimes be cheaper than unsecured loans, but you'll need to offer security (usually your home) against the loan. This means your home is at risk in the event you can't repay your loan. 
Debt consolidation loan 
Secured or unsecured, a debt consolidation loan enables you to bring together other, usually more expensive, debts on to one loan. This can make debts easier to keep track of – and bring monthly repayments down. 
Car finance 
If you're looking for money to fund a new or used car purchase you could consider different types of car finance, such as a personal contract plan or hire purchase contract. The amount and interest rate of your finance will depend on your credit rating and your income. 
Lifetime mortgage/equity release 
An equity release plan is a way of accessing the value in your property without having to sell your home and downsize. 
Equity release providers tend to offer two options – a lifetime mortgage or a home reversion. With both types of plan you can stay in your home until you die. But equity release plans have implications for your beneficiaries as it reduces the money you'll leave when you die. Always get expert independent financial advice and speak to loved ones. 
Is it risky getting a loan when you're older?
Borrowing – whether on an unsecured or secured loan – holds risk. If you fall behind with your repayments you could start to build up extra interest and penalty charges. Your credit rating is also likely to be damaged which could hurt your chances of getting credit in the future. 
If you have a secured loan and you can't repay your home could be at risk. It is important to be confident you can comfortably afford the repayments on your loan before you take it out to avoid any problems. 
How much can I borrow if I'm a pensioner?
How much you can borrow as a pensioner will depend on a range of factors including your age, your income and your credit rating. Generally the higher your credit score the better loan deals and interest rates you'll be offered – and if you have a large pension income you'll be able to borrow a bigger loan.  Never borrow more than you need and always be sure you can afford the repayments. 

Can I borrow against my pension?
A pension loan is a way of borrowing money against the value of assets in a pension fund – so effectively it's similar to a secured loan. Specialist companies offer these sorts of loans, but there are many pitfalls and costs involved so it's important to do your research, and ideally get independent financial advice. 



As an older person can I get a loan if I have bad credit?
It is likely to be more difficult to get a personal loan as a pensioner if you have bad credit, but it is not impossible. 
There are specialist lenders who can offer loans to borrowers who have struggled with debts in the past and have a low credit score.  
Searching for loans with us won't affect your credit score – as we use a 'soft' credit search. Get a copy of your credit file and make sure there are no errors that could be affecting your credit score. You can also see if there are any steps you can take to improve your score. 
What happens to my loan if I die?
If you die and your loan has not been repaid the debt will still need to be paid off. Usually the money is taken from your estate (your total cash and assets). If it is a joint loan the other loan holder must continue to pay the debt and remains liable for the loan.


What are the alternatives to loans for pensioners?
Depending on how much money you need and what it is for there may be more suitable alternatives than borrowing a loan. For example, if you have equity in a property but your pension income is small and day-to-day costs are a struggle, it may be worth considering downsizing to release some of the equity in your property. Consider talking to family members who may be able to help you out with particular costs.  
If you don't want to move house, but you own your property, equity release plans could be an option. But proceed with caution, speak to your family about this route and always get independent and expert financial advice.  
For smaller amounts of borrowing you could consider an authorised overdraft on your bank account, a credit card, or a credit union loan, as an alternative to a personal loan. Remember to weigh up the pros and cons and relative costs of each. 
Other useful guides
We have a range of helpful guides for those looking for a loan:    
 Secured Vs Unsecured Loans | Moneysupermarket  
What Are the Different Types of Loans? | MoneySuperMarket  
Loans For Bad Credit | MoneySuperMarket 
Compare loans with MoneySuperMarket
It's easy to compare loans with us. Just enter a few details such as how much you want to borrow and over what time frame, and we'll show you deals from across the market.  
Our eligibility checker tool also means we can also show you your chances of being accepted before you apply – that way you'll know where you stand. And searching won't affect your credit score. 
MoneySuperMarket is a credit broker – this means we'll show you products offered by lenders. We never take a fee from customers for this broking service. Instead we are usually paid a fee by the lenders – though the size of that payment doesn't affect how we show products to customers.