Compare cheap self build insurance quotes for when you're building your own home
You'll need either a non-standard or specialist home insurance policy for your home renovation or rebuild. You might also need a non-standard home insurance policy when your self-build home is finished
If you're planning your own grand design, you'll know that building your own dream home is exciting – but it's no easy task. You'll need to think about the design, the budget, the contractors, and the materials, as well as insurance.
There's a lot that can go wrong on a building site, and if you're trying to build your perfect home on a tight budget the last thing you want is any extra expenses. That's why self build insurance is so important: it makes sure you won't face huge costs if something unforeseen happens.
Luckily, you can find a great deal on cheap self build insurance when you compare quotes online.
What is self build insurance?
Self build insurance is a specialist home insurance policy that covers yourself and the home you're building while it's still under construction.
If you're building your own home, a normal home insurance policy won't be enough to cover you. Ordinary home insurance is designed to protect you against the risks that come with owning a property – but since a building site comes with extra risks, you'll need extra insurance to stay protected.
Self build home insurance will not only protect you against damage to your home while it's under construction – it should cover tools and equipment too, plus employer's and public liability. Some policies will also include a warranty that covers repairs to your home for years after it's been finished.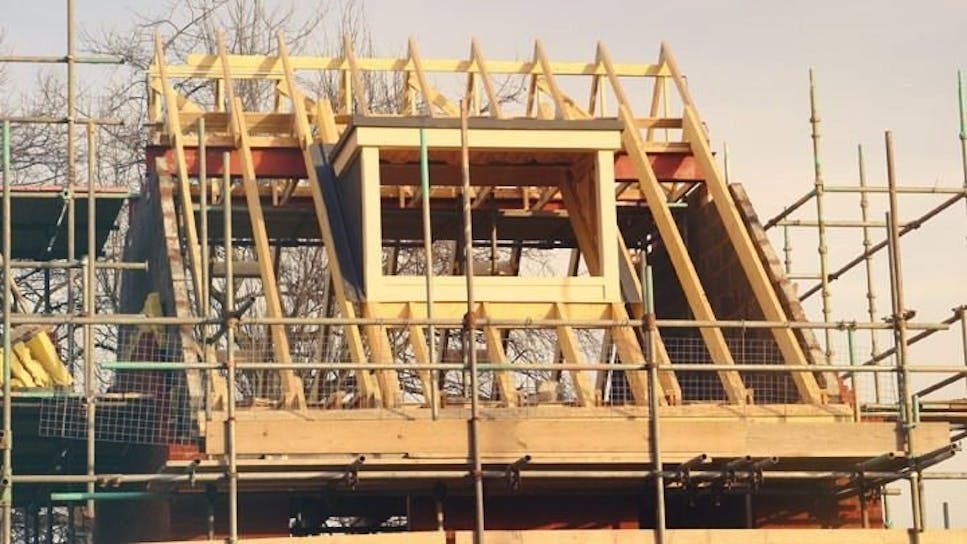 How does self build insurance work?
Self build insurance works differently to ordinary home insurance – you'll only need it as long as your home is still under construction. You can take out self build insurance as soon as you have the land, and it can last from three to 24 months, depending on how long you think it'll take to finish your new home.
If building takes a little longer than expected, that's fine – you can always extend your policy.
Self build insurance isn't offered by most ordinary home insurance providers, so you'll need to get a specialist insurer. It's easy to find self build insurance online – or your contractor might know a firm that could get you a great deal.
Do I need self build insurance?
If you're using a contractor, you might wonder if you need self build insurance yourself – after all, your contractor should have their own insurance policy already. But it's worth remembering that your contractor's insurance only protects them – and you'll still need extra insurance to protect yourself.
For instance, your contractor's insurance will only apply when they're on site. But if your new home is damaged by a storm, fire or flood during the night, self build insurance will pay out against any losses. Similarly, any tools or materials you've bought yourself will only be covered if you have your own insurance.
Buying self build insurance is an extra expense – but it's well worth it. Without insurance, there's always the chance that something could go wrong on your building site and wreck all your plans.
But once you're covered, you can go ahead and build your new home with peace of mind. In fact, if you're taking out a mortgage to help cover the costs of your self build, most lenders will insist that you get insured before they'll approve you.
Do I need self build insurance if I'm just renovating my home?
You might still need self build insurance even if you're not building a new home from scratch, but doing renovations or conversions – for instance, if you're adding an extension to your home, or converting the attic or basement.
Home renovations usually come with a big investment in tools and materials, so you'll want to make sure these are protected. Plus, if you're hiring any workers, they're considered to be employees – so you're legally required to have employer's liability insurance in place.
What does self build insurance cover?
A good self build insurance policy should fully cover you and your new home while it's being built. It should include just about everything that could go wrong until the building is complete. Some of the major things you'll want your self build insurance to cover include:
Damage to the building

Damage to tools, materials, and equipment

Damage to caravans, huts, and other temporary buildings

Theft

Employer's liability

Public liability

Non-negligence cover
Damage cover protects you against any damage to the building, the tools and materials, and any temporary buildings put up around the site. It's usually sold as contractors' all risks insurance. This protects everything from the structure of your new home to fixtures like power outlets, pipes, and lighting.
Liability insurance protects you in case anyone makes a legal claim against you while your house is under construction. Employer's liability covers you against any claims made by people working on your home – you're technically the employer of anyone you've directly hired to work on the site, so you're breaking the law unless you have employer's liability in place. Public liability covers you in case a member of the public is injured because of your building works, or if they damage someone's property.
Non-negligence cover – also known as JCT 21.2.1 insurance – keeps you protected against damage to surrounding properties near your new home. Under the Joint Contracts Tribunal, you can be held responsible if your works cause subsidence or vibrations that damage a nearby house. Non-negligence cover protects you against the cost of a potentially huge payout.
What else might I want my self build insurance to include?
There are plenty of other extras you might want to include in your self build insurance. Consider some of the following:
Personal accident protection: This covers you in case you're injured during the works. It'll cover any medical expenses, plus you could even get compensation for any money lost on the project while you're recovering

Completion of work to a high standard: This protects you in case your contractors don't do the job as well as you'd expect – and means you won't have to shell out extra to get it done again

A self-build warranty: A structural warranty covers the costs of any repairs you'll need to make once the house is finished, up to a full rebuild. These can last up to 10 years
How much does self build insurance cost?
Self build insurance doesn't cost too much when you compare it to the amount of protection it offers – a good policy could insure you for up to £10 million. The price of self build insurance will depend on what kind of house you're building, what materials you're using, and how risky the building site is.
It's easy to get a cheap deal when you compare online – and remember that spending a little money on cover can protect you from losing a lot more if anything goes wrong.
Insuring your self build once it's finished
When the work's over, you can finally move into your new home. You won't need self build insurance once the house has been completed, but it's important to stay protected with home insurance.
If your house is built with a standard construction, an ordinary home insurance policy should cover you, even if you built it yourself. But if your home has a non-standard design – for instance, a flat or thatched roof – you'll need a non-standard home insurance policy to keep it protected.