Home insurance for a new home
Moving home can be stressful. From buying and selling to packing up and transporting your belongings to an unfamiliar property, there is plenty that can go wrong – which is why it's a good idea to have the right home insurance in place
What home insurance do I need when moving to a new home?
When you move to a new home, you'll need the right home insurance in place – not just from when you get the keys and first step through the door, but from when you take ownership of the property. 
Buildings insurance that financially protects the structure of your home and contents insurance that covers your possessions are the main insurances to consider. If you're renting you shouldn't need buildings insurance, but might consider a contents or renters insurance policy.
There are other considerations, such as when your home insurance should be in place, whether it is a condition of getting a mortgage, and whether it will cover you for moving home.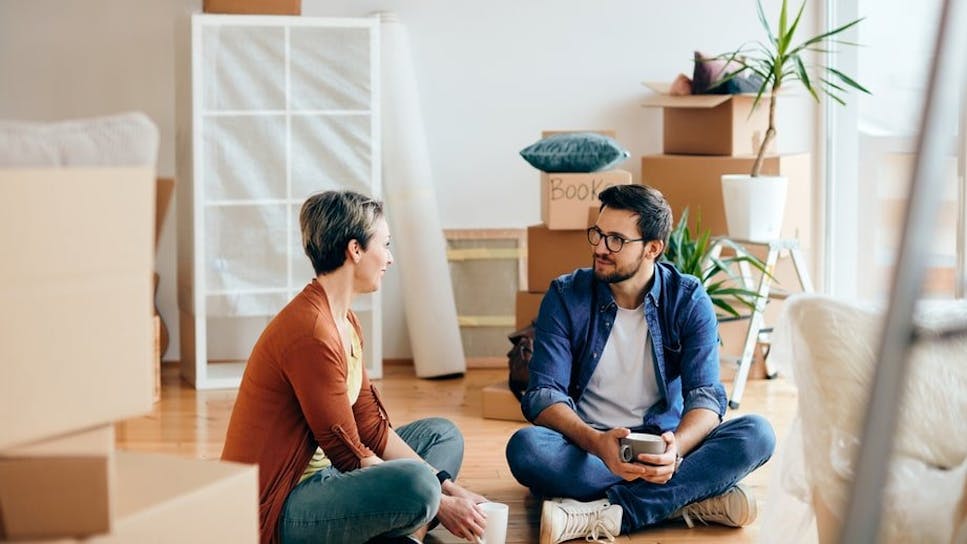 Will my existing home insurance policy cover me for my new home?
If you have an existing home insurance policy, your contents cover is likely to include removals as standard.
However, this is usually only if the process is handled by a professional removals company, with your belongings packed by professionals. 
If you're packing or transporting things yourself, you might not be able to claim for damage. Valuable items such as jewellery, and important documents may also not be covered as standard.
If 'goods in transit' are not covered by your contents insurance then it should be available as an optional extra. It's also worth checking with your removals company what insurance they have in place for breakages or theft from the vehicle.
Can I transfer my existing home insurance policy?
If you want to transfer your existing home insurance policy to your new property, you should let your insurer know well before the expected exchange date. 
Home insurance premiums take several factors into account, including the property itself and the local area, so expect the cost of cover to change once the policy is transferred.
If you're buying any new furniture or electrical goods for your new home, let your insurer know as this will impact the amount of cover required on your contents insurance policy. A good way to calculate how much contents cover you need is to go from room to room and tot up the values of the items.
Also check for a single item limit on your contents insurance, as an expensive possession may fall outside of this and need to be listed separately. You might also have to pay a fee to alter your existing home insurance policy, so it could be worth cancelling and then shopping around for a cheaper deal.
When should I arrange home insurance for my new home?
You should have buildings insurance in place for your new home on the day you exchange contracts with the seller, rather than the day you get the keys. This means you'll be covered as soon as you're legally responsible for the property. 
It's also worth considering if the property will stand empty for any length of time between purchase and moving in. 
Most home insurance policies specify you need to tell your insurer if the property will be unoccupied because it's seen to increase the risk of something going wrong – such as damage from a burst pipe or a break-in. Your insurer will advise whether you'll need additional cover.
When should I cancel home insurance for my old home?
If you're buying a fresh home insurance policy for your new home, the best time to cancel your old policy is when you're no longer legally responsible for it. i.e. when you exchange contracts with whomever is buying the property.
However, it's always sensible to ensure there is some overlap in case the deal to purchase your new home or sell your old home is delayed or falls through.
How much cover will I need?
To calculate the amount of cover you'll need for your home insurance, divide it into two costs:
Buildings insurance: The amount you'll need for your buildings insurance policy if you're the homeowner should be based on your new property's rebuild cost – the  amount it would cost to rebuild if it were to be destroyed. This is likely to be significantly lower than its market value and you can usually find it in your survey or mortgage lenders' valuation
Contents insurance: Your contents insurance cover amount should be calculated by reviewing the sum insured on your previous policy and factoring in anything you may have bought or sold, including new furniture or electrical goods for your new home
How to arrange home insurance for an exchange?
When you buy a house, it's normally your responsibility to arrange buildings cover from exchange to completion and beyond. If you don't, you may risk your mortgage not being approved.
Your conveyancer or solicitor should advise that you'll need buildings insurance in place from the moment contracts are exchanged and you're obliged to proceed with the purchase. Other than in specific circumstances, the seller is under no obligation to have cover in place after exchange. 
It's worth making sure your insurance provider is aware that your buildings cover will run from exchange, even if someone else will remain living in the property, because not all policies will allow this cover.
What other insurance might I need for moving to a new home?
There are other insurance policies worth considering when you move home, such as:
Mortgage payment protection insurance (MPPI). An income protection insurance, MPPI covers the cost of your mortgage repayments for a defined period if you lose your job or are unable to work through accident or sickness. 

Life insurance. Financial protection for your loved one should you die or become critically ill or injured so you can no longer work. It usually pays out as a lump sum to help you pay off any debts as well as giving your loved ones money to live off. It can also be arranged to provide a regular income for them. 
What is goods-in-transit insurance?
Goods-in-transit insurance will cover your belongings while they're being moved from one home to the next. 
It will likely be included in your existing contents insurance policy – and if not it may be available as an add-on – but it will almost certainly include the following conditions:
Your belongings must be carried out by a professional removal company

Any valuables and breakables must be packed away by the removal company
What is removals insurance?
Removals insurance policies are often supplied by removal companies themselves, rather than your home insurance cover – they may also call it 'goods-in-transit' insurance. 
This could be a good alternative because the policy won't make up part of your home insurance, so if you do need to make a claim it shouldn't affect your future home insurance premiums.
Can I insure my belongings if they're kept in storage?
If you're keeping your belongings in storage while you arrange your move, this may also be included in your contents home insurance policy – but as always check beforehand to make sure. 
If it's not standard, you should be able to add storage insurance as an extra, but it'll likely cost a little more. You can read more about insuring belongings in storage with our guide. Bear in mind that cover for items in storage will generally only last for a fixed period.
Can I get home insurance if I'm staying somewhere temporarily?
If you're temporarily staying somewhere between moves – such as a hotel or at a friend's place – and you're keeping belongings with you, check to see if your contents cover will apply. 
Certain items, like your phone or wallet, might be covered by an away-from-home policy as part of your home insurance, but this probably won't apply to bigger items such as TVs or furniture.
It's unlikely this will be covered under a storage policy as these often require the storage location to be officially licenced. It's best to check with your provider to see what you'll be insured for.
How do I insure my belongings if I'm moving abroad?
If you're moving overseas, you'll need insurance specifically designed to cover your goods during international shipping. 'Shipping' doesn't necessarily mean by sea, it includes transit by air and land too.
Many international removals companies will offer insurance as an add-on but you can also buy a separate policy. A good policy will cover your belongings while they are in transit, while they are being loaded and unloaded from each mode of transport, and if they are in storage at any point in the journey.
Insurance for a new build property
Some people moving into new build properties have reported difficulties taking out insurance as insurers don't recognise their postcode. The issue appears to stem from administrative delays getting new postcodes generated by the Royal Mail onto insurers' databases.
New postcodes 'go live' when the Royal Mail is informed mail can be delivered to the new address. This process is usually triggered by a phone call from the new property owner or house builder. How long postcodes take to show up on insurers' databases depends on how often they synchronise them with the Royal Mail.
To reduce your chances of having problems, start the process of registering your new address as early as possible.
Compare home insurance
Finding affordable cover for your new home is quick and easy when you compare home insurance quotes with MoneySuperMarket. 
Just give us a few details about yourself, your home and the contents you want to insure, and we'll put together a list of quotes tailored to your requirements.
You'll be able to compare deals by cost, the cover you'll get and the excess you'll need to pay to make a claim. Once you've found the one you want, just click through to the provider to finalise your purchase.
As with all insurance products, keep in mind the cheapest deal isn't always the best. We recommend balancing the cost of the policy with the cover you get, so you don't over-insure yourself and pay more than you need to, or under-insure yourself and get left without cover when you need it.