UK Energy Price Index
We've analysed more than six years of energy market data alongside millions of customer price quotes to understand what's influencing gas and electricity costs
What's happening to domestic energy prices?
The UK's domestic energy market remains firmly in the spotlight, with the forthcoming energy price cap the elephant in the room.
Just last week two of the Big Six suppliers put prices up for households on standard variable tariffs and it's fair to say the price cap, even though still months from being signed off and introduced, is looking like a key factor in the latest tariff moves from British Gas and EDF.
This cap will apply to those on standard variable rates - about two-thirds of UK households - and will limit the amount they can be charged for each unit of energy they use.
While this move has proved politically popular, we at MoneySuperMarket believe it is not the solution to expensive energy bills.
It is hoped the cap will save SVR customers around £100 a year, but our argument is that customers on SVR tariffs could save £250 a year by switching to a fixed rate tariff TODAY.
The cap could also backfire if it means energy users assume their capped bill is a competitive deal.
If they stop shopping around (or never even start), energy providers won't have the incentive to compete for business with low fixed rate tariff prices. The market will stagnate and there'll be significant customer detriment.
A cap is already in place for vulnerable customers, including those in receipt of certain benefits.
The government has given the go-ahead for this cap to be raised to reflect rising wholesale energy costs on international markets, demonstrating that the existence of a cap doesn't not mean a freeze on prices.
What price movements have we seen recently?
If you look at the average of SVR prices from the Big Six suppliers, they currently stand at around £1,130 a year.
When we look at actual energy prices given to customers who run a quote on our energy channel, we find the average price at the end of Q1 2018 stood at £874, primarily for fixed rate tariffs lasting 12 months.
That's up by around £8 on the previous quarter, but it's almost £50 less than the same period last year.
And that means there are fixed rate tariffs available that are well over £250 cheaper than a typical Big Six SVR customer would pay.
This highlights the immediate savings to be made from switching and demonstrates why the proposed price cap is a red herring.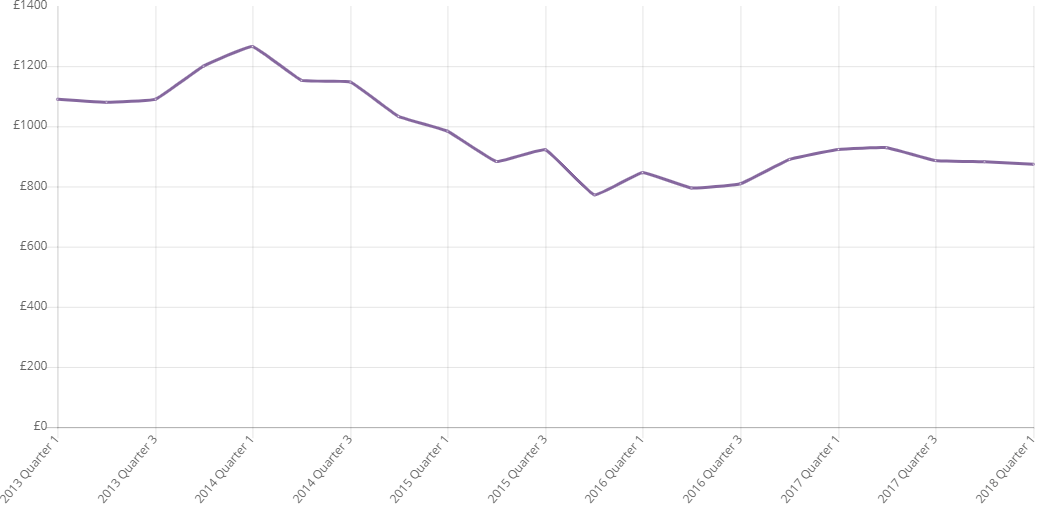 Average Price by Region
When broken down by regions, the data shows that households in the North East saw prices edge up by 2% in the first quarter, whereas the South East recorded a 5% drop.
Prices went up in five regions in the period (London, East, North East, North West and Yorkshire & Humber) meaning they fell in East Midlands, Scotland, South East, South West, Wales and West Midlands.
The gap between the least and the most expensive regions changed by around £6, meaning Yorkshire is £61.50 more expensive than the South East.
Yorkshire's typical annual quote is £902.30. The least expensive is the South West at £840.80.
Stephen Murray, our energy expert, commented: "People are always surprised that prices can vary so much from region to region, especially since there's no difference in the quality of gas or electricity coming out of the pipes or wires.
"Energy companies attribute the differences to distribution costs, how much energy they buy locally and how many customers they have in that area.
"While households can't control wholesale costs and suppliers' hedging strategy, they can control what tariff they're on. If you haven't switched for a while the chances are you're languishing on an expensive standard variable tariff and paying too much for your energy."
Switching couldn't be simpler – it literally takes five minutes online to secure yourself a competitive, fixed rate deal, either with a Big Six or a new supplier. The average household can save £250 or more, and it's a quick and easy way to bring down your bills."