Paying your energy bills
Our guide tells you all you need to know about the various ways you can pay your energy bills
How can I pay my energy bill?
When it comes to paying for energy costs, you have a few different options to choose from. You'll be able to set up a direct debit, which you can either pay monthly or quarterly, or you can pay when you receive your bill – usually every three months.You'll also be able to pay using a prepayment meter, however these can often be the most expensive option. Depending on your provider and circumstances, you may have further alternative options.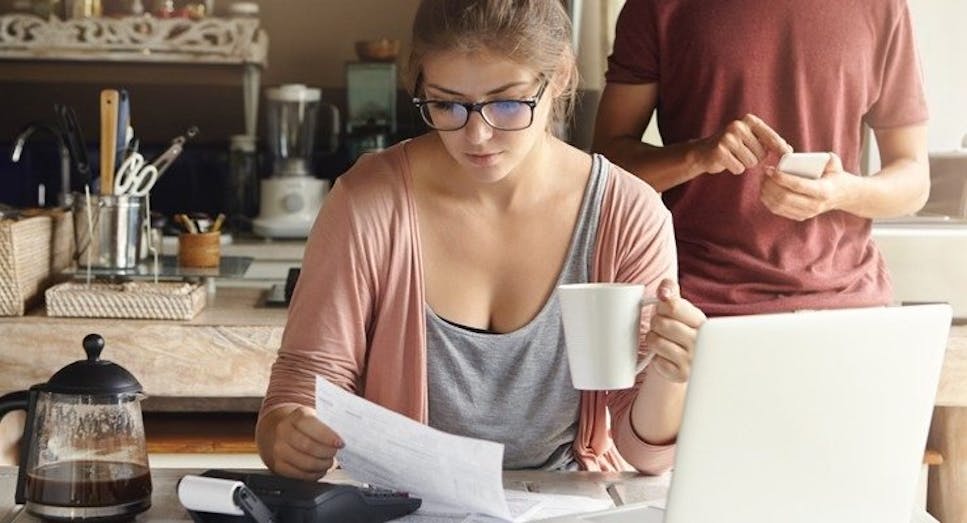 Paying my energy bill by direct debit
The most common and often the most effective method of paying your energy bill is to set up a direct debit. It means you don't have to worry about making any payments yourself, as long as you have enough money in your chosen bank account to pay the bill.You'll have the option to pay either monthly or quarterly.
Monthly direct debit
If you choose the monthly direct debit option, the payment will be taken from your account at around the same time each month. It's calculated by your provider, which estimates your entire year's usage and divides it across 12 months.However the amount you pay each month may not reflect the exact amount of energy you've used over the period. This is largely due to fluctuations in your energy usage, generally caused by seasonal changes – for example, you use more energy in the winter to heat your home in the cold.This means you may end up over- or underpaying on your energy bill each month. If you overpay, your energy account will build up credit, which can be used for:
Reducing your monthly payments in the future

Covering your energy costs in months where you use more

Claiming money back if you switch provider
However if you underpay you'll build up a debt on your account, which could result in your provider increasing your monthly payments to make up for the deficit. If your debt reaches a certain amount, your provider may stop you from switching until it's been repaid.
Quarterly direct debit
If you choose to make quarterly direct debit payments, it will work in exactly the same way as monthly payments – however the payment is taken from your bank every three months. As a result the payments will naturally be higher, but the overall cost will be similar to a monthly scheme.One thing to remember is that both monthly and quarterly direct debit options are common amongst energy customers as they usually result in cheaper energy costs. This is because many providers offer discounts to people who pay via direct debit.
Using a prepayment meter
Another option you have for paying for energy is to use a prepayment meter. This means you pay up front for your gas and electricity, and whenever you use energy the cost is taken from the balance on your prepayment meter.You can top up your meter in a number of ways, including:
Putting money on a top-up card at the Post Office

Finding a shop with a PayPoint or PayZone machine and topping up there

Going online to your provider's app or website and making a payment
Read more with our guide to prepayment meters.
Paying my energy bill upon receipt
Aside from direct debits and prepayment meters, you can also choose to pay for your energy costs upon receipt of a bill every three months. This is sometimes known as quarterly cash or cheque (QCC).You'll be able to make cash or cheque payments at the Post Office – cheque payments can also be made in a bank or by post – and card payments online or over the phone. If you choose to pay by cheque remember to make sure you send it in time to make the payment deadline.You may be offered a 'prompt' payment discount if you've made all your payments on time, though this is unlikely to be as much as a direct debit discount.
Paying your bill online or through an app
Some energy suppliers offer apps you can install on your smartphone or tablet, which let you track your usage, check your energy account balance, and top up without needing to visit a shop or use a key.
Using a payment card for your energy bills
Payment cards are another method you can use to pay your energy bills. They work by giving you more control on the payment you make – as opposed to direct debits, where the money is taken automatically.You top up the payment card, either at a PayPoint or the Post Office, and make payments whenever you need to so you can spread the cost of your quarterly bill. However when you get your bill every three months, you'll need to pay off the remaining balance by the next bill.It's unlikely you'll be get any discounts for using a payment card, and you won't be able to top up online.
Using Fuel Direct
Fuel Direct is a government scheme, also known as Third Party Deductions, which lets you use the benefits you receive to repay any debt you have on your energy account. The benefits you can use to make these payments are:
Universal credit

Pension credit

Income-related employment and support allowance

Income support

Income-based Jobseeker's Allowance
Read more with our guide to Fuel Direct.
Where can I get help paying my energy bills?
If you are struggling with your energy bills, there are a number of government schemes that can help.Winter fuel payment: The winter fuel payment is an annual tax-free payment of between £100 and £300 to help those over pension credit age with winter heating costs.Cold weather payment: The cold weather payment is a £25 grant given to people on qualifying benefits when the temperature in their area drops to zero degrees Celsius or below for seven consecutive days.Warm home discount: The warm home discount is a £140 credit on your energy bill during winter if you meet certain qualifying criteria and your energy supplier is signed up to the scheme.
Switching energy supplier
Comparing tariffs on MoneySuperMarket is the easiest way to switch suppliers and take control of your energy bill. All you need to do is tell us a little about yourself and your energy usage – the more you can tell us, the more accurate your billing will be. We'll show you a list of quotes tailored to your needs, so you can compare energy tariffs from providers across the country.Once you've found the tariff you want to switch to, just click through to the provider to finalise your deal. Thanks to the energy switch guarantee, you'll be swapped over to your new provider within 21 days without any hassle.There won't be any interruption in your gas or electricity supply, and if there are any issues your new supplier will work to resolve them as soon as they can.
Switch with Energy Monitor
Switching your energy supplier is quicker and easier with MoneySuperMarket's Energy Monitor. We'll let you know as soon as there's a better tariff available for you, so you can effortlessly switch in minutes.