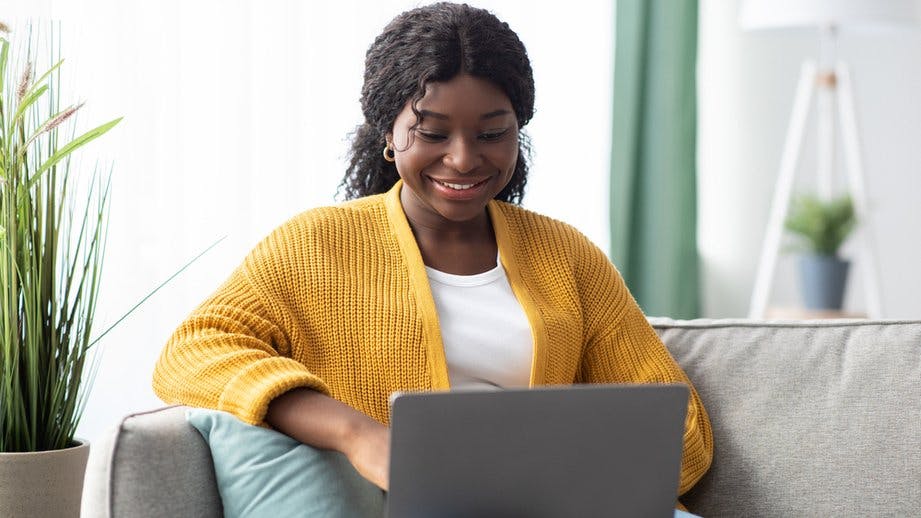 Struggle to get a good, reliable Wi-Fi signal around the home? A W-iFi booster could be the answer. Read on and we'll walk you through what you need to know.
What is a Wi-Fi booster?
A Wi-Fi booster is a small device that extends your internet connection throughout the home and into harder to reach places.
If you have a house with thick walls, lots of floors or distant rooms, chances are the connection isn't as strong in those places.
A Wi-Fi booster can go a long way to fixing that problem.
How do Wi-Fi boosters work?
Wi-Fi boosters work by taking your existing home signal, sent out from your router, and extending it into other parts of the home.
Some use powerline Ethernet technology, sending your connection over your home's electrical circuits.
Such devices are easy to set up - they come with two power adapters, one which plugs into a socket near your router (which you connect to the adapter using an Ethernet cable) and the other in the space where you need better internet.
Others, known as repeaters, act as secondary routers, with one signal connecting to your main router and another available for you to use in parts of the home that have previously struggled to get online.
Just make sure that it's placed somewhere it can connect to the main router easily.
Do Wi-Fi boosters extend your signal?
Yes. Whether you go for a powerline option or use a repeater, the aim of a Wi-Fi booster is to extend your signal throughout the home or even outdoors.
A good one will ensure you can get connected in more places than before, without experiencing dropouts or patchy service.
Wi-Fi extenders vs boosters
Different brands use different terms for Wi-Fi boosters. Some call them extenders or repeaters, but ultimately they all do the same thing - bring more stable internet into places that didn't previously have it.
That said, the technology used may differ depending on your budget and your broadband provider.
Powerline Ethernet systems use two adapters to extend your Wi-Fi by using your electrical network.
Repeaters are secondary routers that extend your network and then broadcast a stronger connection wherever you need it most.
On top of that, powerful Mesh Wi-Fi systems allow you to spread your broadband all over the home.
These, such as Google's Nest Wi-Fi, are made up of a main router and a series of nodes which talk to each other to deliver a better signal wherever you want to get online. These, however, are an expensive option.
Who can I get a Wi-Fi booster from?
Wi-Fi boosters are available from a wide range of broadband providers, usually for an additional monthly fee.
Alternatively, you can buy your own and create your own extended network at home.
Sky Wi-Fi booster
Sky offers a Broadband Boost service for £5 a month, including its latest Sky Broadband Hub, which it says should guarantee a solid connection in every room.
However, if this isn't the case you can contact them to get dedicated Sky Wi-Fi boosters to push the signal further into your property.
Virgin Media Wi-Fi booster
Virgin Media offers what it calls Wi-Fi Pods to those who are having trouble getting Wi-Fi throughout the home, an issue it says should be ameliorated by its Intelligent Wi-Fi, parts of its Hub 4 and Hub 3, designed to boost connections.
If you need a Wi-Fi Pod, you can get one as part of its Intelligent Wi-Fi Plus service, included with Ultimate Volt and Gig1 packages and £5 a month on all other deals.
The Wi-Fi Pods use mesh technology to create a stronger connection and put an end to black spots.
BT Wi-Fi booster
If you take out BT's Compete Wi-Fi deal, then you'll get its latest Smart Hub 2 and a Wi-Fi Disc, essentially an extender that will bring Wi-Fi into your home.
If it doesn't BT will give you £100. It uses mesh tech, meaning you should only need one Disc to get great coverage.
You can buy a BT Wi-Fi Disc if you don't take out Complete Wi-Fi, but this doesn't include its guarantee, meaning no money back if your coverage isn't boosted.
Vodafone Wi-Fi booster
Vodafone Pro Broadband customers can lay their hands on a branded Super Wi-Fi Plus booster that includes an Alexa-featuring speaker.
What's more, it offers 4G backup, meaning if your home broadband goes down, you can still access the internet using Vodafone's mobile network.
TalkTalk Wi-Fi booster
TalkTalk offers a Wi-Fi extender kit that utilises power Ethernet tech, meaning you can plug it into your router and then extend your network through mains power.
It's easy to set up, but not quite as cutting edge as the mesh networks available from other networks. You'll need to pay a one off fee of £45 to get it.
TP-Link
TP-Link offers a whole range of extenders, with prices starting from £40. They use power Ethernet tech and are a cheap and easy way to get better broadband at home.
Google Nest Wi-Fi
Google's own router does not come cheap, with prices for the main device starting at £129 and rising to £229 with two additional extenders. The coverage it offers, though, is exceptional.
Amazon eero
Amazon's mesh Wi-Fi system is excellent, but is also expensive. £249 gets you a router and two extenders, with in-built smart home hub tech. One for the hardcore.
Do Wi-Fi boosters increase your broadband speed?
Wi-Fi boosters will definitely increase the broadband speed in areas of your home that have previously struggled to get connected.
Just be aware that the further you go from your device, the weaker the connection and the slower the speed.
How can I improve my broadband speed?
Improving your broadband speed doesn't always require a new set of extenders.
Firstly, check whether you have an up-to-date router from your network. If not, ask for a new one, or switch providers.
Modern routers come with dual band tech and intelligent features designed to boost speeds.
Be sure to keep your router in a place where all devices can connect easily, meaning away from walls and big electrical items.
For more, read our guide to improving your broadband speed.