Carriage of own goods van insurance
What is carriage of own goods van insurance?
Carriage of own goods van insurance is a type of business van insurance that covers you for driving your van for business use while carrying items you need for work. It differs from other types of cover such as goods for hire or reward, haulage, and courier cover as it only applies to items you own.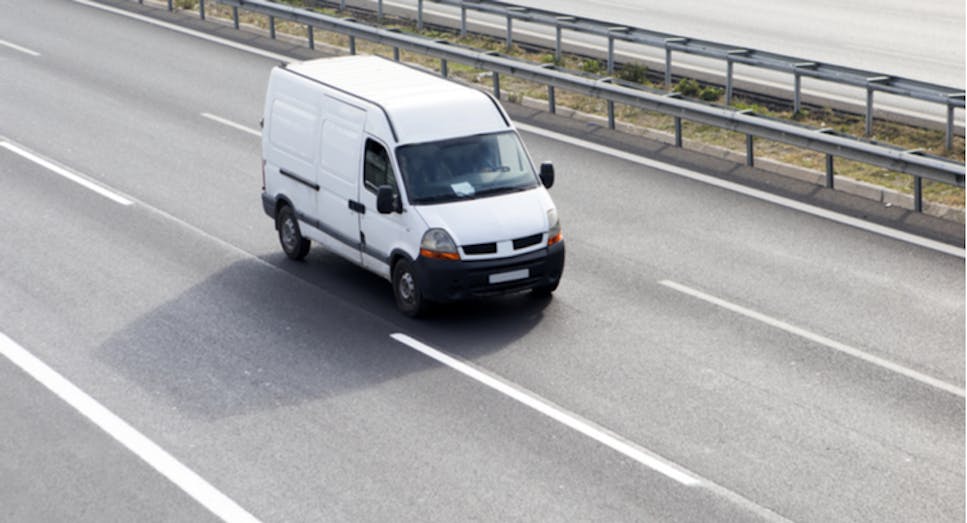 Who needs carriage of own goods van insurance?
If you mostly use your van for social reasons but also to commute to your place of work – even if the van itself isn't part of your work – you'll need carriage of own goods cover.
Carriage of own goods van insurance can be useful for anyone who uses their van for commuting or business purposes and keeps their possessions in the vehicle. For example, carriage of own goods van insurance could help you if:
You're a builder and you carry your own tools and some building materials in your van between jobs

You commute to various places of work and carry personal possessions in your van, such as CDs or clothes

You're a florist and you carry tools, flowers from a wholesaler, and bouquets to a market stall. However, you won't be covered to drive with bouquets you intend to deliver to customers or commercial clients. These would then be owned by someone else, and so would require hire and reward insurance too

You're gardener and you also take away garden waste, grass cuttings and brambles from a customer's garden to dispose of
What types of carriage of own goods van insurance are there?
You'll be able to take out a carriage of own goods van insurance policy with one of the following levels of cover:
Third party only: this covers you for damage to someone else's vehicle or property, but not your own. It is the minimum legal requirement for you to drive your van

Third party, fire, and theft: this includes everything in third party cover, as well as damage caused by fire, explosions, lightning, or self-ignition, and theft or attempted theft

Fully comprehensive: fully comp insurance includes everything mentioned above, plus accidental damage caused by you or another driver
What does carriage of own goods van insurance cover?
Carriage of own goods is a van insurance policy that covers you for using your van for your declared work purpose(s). It allows you to carry any raw materials or finished products from suppliers to a workplace or between workplaces, as well as waste product away from a client or workplace.
You won't be insured to carry finished products for delivery, for which you'd need hire or reward cover, while if you were picking up other peoples' finished goods for delivery you would need courier insurance.
A carriage of own goods policy also allows you to carry items you need for your work. However it doesn't insure the items themselves from damage and theft. This would require a separate policy, or you could get damage and theft cover as part of your business insurance.
You'll only be insured for the business(es) you declare to your insurer and any items associated with that businesses. If you use your van for activities related to an undeclared business, your insurance policy won't be valid and you won't be covered.
You must also tell your insurer if you're transporting any dangerous or valuable goods that could increase your risk factor. For example, fuels, chemicals, toxic waste, or scrap metals all need to be declared for you to be covered to drive your van. It is your responsibility to tell insurers everything they need to accurately assess your risk, even if they have not specifically asked you.
Like with other van insurance policies you'll also have the option of adding extra cover for:
Foreign use: for working and driving abroad, though the specific countries that are covered will depend on the policy and provider

Legal cover: if someone else is injured or their possessions are damaged as a result of your driving

Replacement/courtesy vehicle: if your vehicle is out of action you'll be given a courtesy r a replacement vehicle

Windscreen cover: for if your windscreen needs repairs or replacement

Breakdown cover: if you break down your insurer will arrange for help to get you moving again
What affects the price of carriage of own goods van insurance?
Carriage of own goods van insurance costs can vary depending on a number of factors, including:
Your vehicle: larger vans are generally seen as a higher risk, both due to their increased chance of being in an accident as well as their ability to carry more goods – this could make them more of a target for theft.

Your goods: expensive or valuable goods could make your van more attractive to thieves, therefore your insurer is more likely to raise the cost of insurance for your van

How you use the van: the more time you spend driving the higher the risk of something happening to your vehicle, therefore people with higher annual expected mileage will often pay more for cover.

Your driving history: older, more experienced drivers can expect to pay less for most types of motor insurance, and if you've got a limited history of making claims this can also help lower premiums.
Compare commercial van insurance
Finding a better deal on your van insurance is easier with MoneySuperMarket's van insurance comparison tool. All you need to do is give us a few details about your van and the way you'll be using it, including how many miles you think you'll be driving and what you'll be carrying in the vehicle.
Then we'll give you a list of quotes tailored to your needs – you'll be able to browse through and compare them by their overall cost and level of cover you get with each policy. Once you've found the right deal, just click through to the provider to finalise your purchase.
However as with any kind of insurance, you should know that the cheapest option isn't always the best. You'll be better off looking for a policy that covers you for everything you need at an affordable price. That means finding a balance between cost and coverage – this is why comparing your options is so important.
If you are in a trade like waste disposal or scrap metal, you may find you need to approach a specialist broker to find a policy tailored to your needs. Your trade association may have suggested specialists.