Find specialist cover for your van
Specialist van insurance can cover you for things a standard policy won't, such as using your van for business or driving after a conviction – here's how
What is specialist van insurance?
Specialist van insurance is what you'd take out to insure your van if standard insurance doesn't provide the right level of cover you need. A standard private van insurance policy is mostly designed for social, domestic, and pleasure use – for any extra cover or if you don't qualify for a standard policy, you'll need to look for specialist insurance.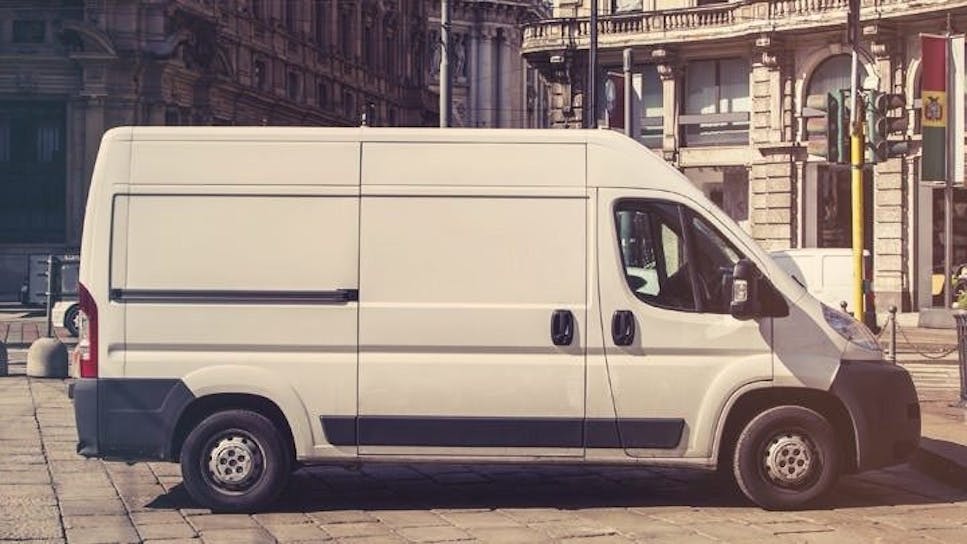 Do I need specialist van insurance?
A specialist van insurance policy could be right for you if:
You're a young driver: Young drivers might struggle to find affordable cover, as insurers will generally see you as a higher risk due to your inexperience. Choosing a specialist policy designed for young drivers could bring prices down

You're a convicted driver: Likewise if you have any previous convictions, related to driving or not, finding affordable cover can become harder. However some insurers offer specialist cover for convicted drivers, meaning you could still find an affordable quote

You use your van for work: Standard van insurance policies are only for social, domestic, and pleasure uses. You won't be insured to drive your van if you use it for business, so a specialist commercial van policy is a must

You only use your van at certain times: Insurers offer short term insurance that could be a cheaper option if you only need cover temporarily

You have an unusual type of van: Certain types of van, such as those with modifications or vans used for exceptional purposes, might require specialist cover as these factors tend to void standard policies
Van insurance for young drivers
Some providers might have an age limit for van insurance policies, and most are likely to charge higher premiums if you're aged between 18 and 24 either way. This is because younger drivers are statistically more likely to be involved in an accident on the road – therefore making them a higher claim risk.
However as a young driver you can ask your insurer about black box or telematics policies. Telematics insurance means your van will be fitted with a black box that monitors your driving habits – and the more you demonstrate your ability to drive sensibly, the lower your premiums will be.
You can learn more about reducing the cost of cover with our guide to van insurance for young drivers.
Van insurance for convicted drivers
Convicted drivers might also struggle to find an affordable quote for van insurance, as providers are likely to charge more if you have a history of convictions – even if they aren't related to driving. You might be able to find cover designed for convicted drivers, however it may come with more restrictions on how you can use your van.
There are steps you can take to help lower the cost of cover, such as improving your van's security and taking driving courses – learn more with our guide to van insurance for convicted drivers.
Van insurance for business
A standard van insurance policy only covers you for driving your van for social, domestic, or pleasure reasons – for example, using your van for your weekly shop or a staycation. However as van insurance works differently to car insurance, you'll need extra cover if you plan on using your van for work.
Business van insurance policies come in different shapes and sizes, but you can generally categorise them as:
Haulage and courier: A haulage and courier policy insures the transportation of goods over long distances with your van. 

Hire and reward: Hire and reward policies let you use your van for one-off jobs, such as home furniture removals

Carriage of own goods: With carriage of own goods cover you can use your van to commute and carry items you own for your business.
Learn more about the different types of commercial van cover with our guide to business van insurance.
Short term van insurance
If you don't own a van yourself, or you only use your van sporadically, you might benefit from short term van insurance rather than a year-long policy. You can get short term cover that lasts anywhere from 24 hours to a couple of months, depending on what you need it for.
The cover should work in the same way as a regular policy, however it will only be temporary and therefore could be the cheaper option.
Other types of specialist van insurance
Some types of van won't be covered by most insurers under a standard policy. You might need to consult a specialist insurer if your van falls under one of the following:
It's been modified

It's imported

It's left hand drive

It's used to transport hazardous materials

It's been fitted with a refrigeration unit

It's a special type of van or truck, such as a pick-up or tipper
How much does specialist van insurance cost?
The cost of specialist van insurance varies between providers, but it's generally based on the following factors:
Your age: As mentioned above, younger drivers generally pay more for cover due to the higher risk of being involved in an accident

Your van: Bigger and more powerful vans are also more expensive to insure as they're seen as harder to control, and therefore more likely to be involved in an incident that would result in a claim

Your excess: Excess payments are the amount you contribute to a claim before your insurer pays the rest. Volunteering a higher excess fee can indicate you're only likely to claim when you really need to, so insurers might lower your premiums as a result

Your policy: Adding higher levels of cover and more additional policies to your van insurance is usually likely to raise the price. However as a result of many choosing comprehensive insurance policies, the price of this level of cover has been dropping – between October 2018 and March 2019, comprehensive policies were on average £936 cheaper than third party*

Your driving history: Drivers with more claims or convictions usually pay more for car insurance, while claiming less can help you build up a no claims discount on your premiums

Your security: Installing security measures such as alarms and immobilisers can help keep your van safe from theft, which in turn can reduce your premiums
Compare van insurance
Comparing van insurance quotes with MoneySuperMarket is the best way to find a cheaper deal for cover. All you need to do is give us some information about yourself, your driving history, and the van you want to insure, and we'll show you a list of deals tailored to your requirements.
You'll be able to compare quotes from a range of providers by the cost, the amount of cover you'll get, and any additional extras available. Once you've found the right deal, just click through to the provider to finalise your purchase.
Remember as with all insurance, the cheapest option isn't always the best suited to you. You should aim for a balance between price and level of cover, so you can be sure you have the right policy for your needs.