Our guide to joint savings accounts
You may be thinking about combining your savings with a partner, friend, or family member. Our guide gives you the rundown on joint savings accounts
If you're saving towards a shared goal with someone else you might be thinking about getting a joint savings account. Whatever the reason, our guide explains what a joint savings account is and how they work. 
What are joint savings accounts? 
A joint savings account is when two people are in control of a savings account. It's similar to having your own savings account, but in this case, two people can both withdraw and deposit cash into the account.
Joint savings accounts are ideal if you're saving towards a shared goal such as a house deposit, home improvements, wedding or just an emergency fund.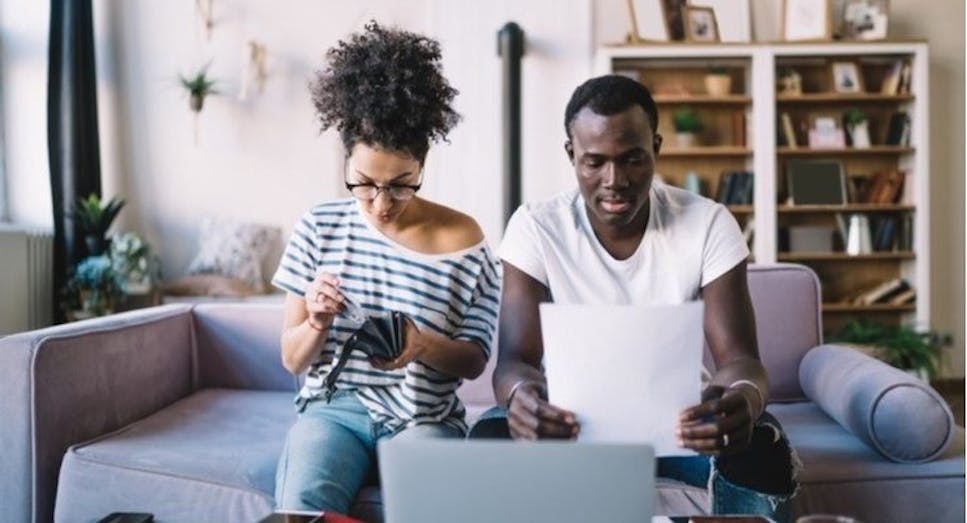 How do joint savings accounts work? 
Joint savings accounts work by having two or more people named as account holders. With a joint savings account, more than one person controls the account. You and the other account holder(s) can access the account, deposit, and withdraw money, and view transactions. 
You are still able to keep your own sole savings account, in addition to your joint savings account.
You could earn more interest on your joint savings account if the combined balance means the value of the account is more than your own personal account. 
Who can open a joint savings account? 
You need to be over 18 and have a permanent UK address to open a joint savings account in the UK. You may also need to be a current account holder with the savings provider to get a joint savings account, but not always.
Joint savings accounts usually have two account holders but depending on your provider you could have more than two. 
Things to consider before opening a joint savings account
 Before opening a joint savings account, there are a few things you should think about: 
1. Do you have the same attitude towards money as your account co-owner? 
If you have different attitudes to money and saving this could become an issue, particularly if you're a super saver and they're more of a spender. You both must have similar attitudes toward saving, so you can achieve your savings goal.  
2. How might it affect your relationship with your account co-owner? 
When you choose to enter a financial agreement with someone, it's important to consider what can happen if things don't go to plan. For whatever reason, opening a savings account with somebody else might sour your relationship.
So, you should think about if this is a worthwhile outcome. Consider what might happen if your relationship breaks down and you no longer want to have a shared savings account, for example. 
What are the pros and cons of joint savings accounts?  
Here are some of the advantages and disadvantages of having a joint savings account: Pros 
Get to your savings goal quicker: Ideally, if you're saving with someone else, that's more money being put into your savings account. When you're combining your savings with another person, you could hit your savings goal faster as more than one person is putting money in 

Higher interest: Some savings accounts will pay higher interest with a higher balance. If you're doubling up your savings with someone else, then this could be a possibility for you 

Use savings for what it's intended for: If both of you are saving towards a goal, it may be easier to ensure your funds are being saved for a specific purpose. You may be less likely to squander your savings on something else when you're sharing a savings account with someone else because you'll feel more accountable 
Cons 
Harder to close the account: Depending on your provider's rules, it might be tricky to close a joint savings account. For example, you might want to close it but the joint account holder doesn't – you may be unable to close your account unless you both agree to 

Your co-owner can withdraw whenever: Your co-owner will have the same level of control over your account that you do. So, they can withdraw from the account at any time. This could get  in the way of your saving goals and cause a breakdown in trust 

Can't open certain types of accounts: You won't be able to hold a joint ISA because ISAs can't be held in joint names 
Can I add someone to my existing savings account?  
If you already have a savings account with your bank, you may also be able to add a named saver to your account. It will depend on who you bank with and your personal circumstances. 
How will tax affect a joint savings account?  
Half of the interest earned on a joint savings account will be given to each account holder, and then set against their individual Personal Savings Allowance. Even if you and the account co-owner are in different tax brackets, interest will still be split evenly.  
Is my money safe in joint savings accounts? 
Joint accounts are protected by the Financial Services Compensation Scheme for up to £170,000. For joint accounts, the FSCS presumes that each account co-owner holds an equal share. So, whether one person has deposited £170,000, or both of you put in £85,000 each - it will all be protected.  
What if the co-owners are in disagreement? 
If you and your co-owner are in disagreement over how to close the account and how the money is to be split, then you can freeze the funds. This means that nobody will be able to access the money until all parties or even the court decide how best the balance can be distributed between co-owners. This can often happen after a relationship or marriage breaks down.   
Legal protection across relationships
If you're still in disagreement about how to close your account, the legal protection will depend on the relationship between parties: 
Married couples: Usually, married couples will have the funds in their joint account divided equally between them, irrespective of how much they individually put in. This will vary depending on where you live in the UK 

Friends and family: For a joint savings account where the parties are friends or family will be instructed to split the money depending on how much they each contributed 
What is an alternative to joint savings accounts?
 If a joint savings account isn't for you, there's another way to combine your savings with others: 
Combining Lifetime ISAs: If your savings goal with a joint savings account is to save towards your first house together, you can combine your Lifetime ISAs. You can put your individual LISAs together to pay for the house deposit. You will both need to meet the eligibility criteria and that means neither party can already own a property 

Joint current accounts: Much like joint savings accounts, joint current accounts let you manage money that you share with a partner. But with the critical difference that you can set up direct debits for paying household bills. And will allow you to borrow money through an overdraft facility, as long as both account holders are approved.
Other useful guides 
If you want to strengthen your knowledge about saving, take a look at our other guides: 
How to choose the best savings account 
Compare savings accounts with MoneySuperMarket 
Here at MoneySuperMarket, we don't currently offer joint savings accounts. However, we can still help you find your next solo savings account. We have a wide range of savings accounts for you to pick from.   
Use our nifty filters and browse our range of products including cash ISAs, fixed-rate bonds, and easy access accounts.  
You can see our accounts ordered by interest rate, term, and minimum and maximum deposit. So, you can quickly and easily find the one that suits you best and apply direct.   
Frequently asked questions
What are the rules around direct debits and overdrafts for joint savings accounts?
Overdrafts are a typical feature of joint current accounts but are not available for joint savings accounts. This is because savings accounts are not designed for withdrawals.
Direct debits are not a feature of joint savings accounts either. In fact, regulations stipulate that you cannot set up a direct debit from any kind of savings account.
So if you require a shared account for paying household bills, you'll require a joint current account instead.

Will a joint savings accounts help my credit score?
Opening a joint savings account won't impact your credit history. This is down to the fact that credit reference agencies don't scrutinise savings accounts when determining your credit report.
For that reason, joint savings accounts are not a way to improve your credit score. But they won't harm it either.
That's in contrast to joint current accounts. If you open one of these with a partner, you're deemed to be linked financially. Which means that a partner's poor credit history could affect your chances of securing credit in future.

Can you use mobile and online banking with a joint savings account? 
Yes, you'll be able to manage your joint savings account online or via a mobile app, just as you would with any other savings account.
Both account-holders will be able to log into online banking with shared log in details. And just as critically, both can download the provider's app and register on separate on mobile devices, too.
How do you close joint savings accounts?  
When you want to close your account, the balance will be divided between all co-owners. Your provider will usually need this agreed upon in writing by all account co-owners.