What is the best way to fund a wedding?
Your big day can come at a big cost. In our guide, we explore the different ways you can fund your wedding
How much will a wedding cost me? 
How much your wedding will cost will depend on a range of factors. Your wedding date can influence how much your nuptials will be as generally summer weddings are more expensive than winter weddings. Apart from when your wedding takes place, where it happens and what you choose to wear will also contribute to the cost.

According to bridal magazine, Hitched, the average cost of a UK wedding is £17,300. This is a 90% increase on the average cost of a wedding in 2020, which was £9,100. The rise in wedding costs could be because of the removal of covid restrictions after the pandemic. However, if you want to find out how you can fund your wedding and make the big day more affordable for you - we've outlined some ways in our guide.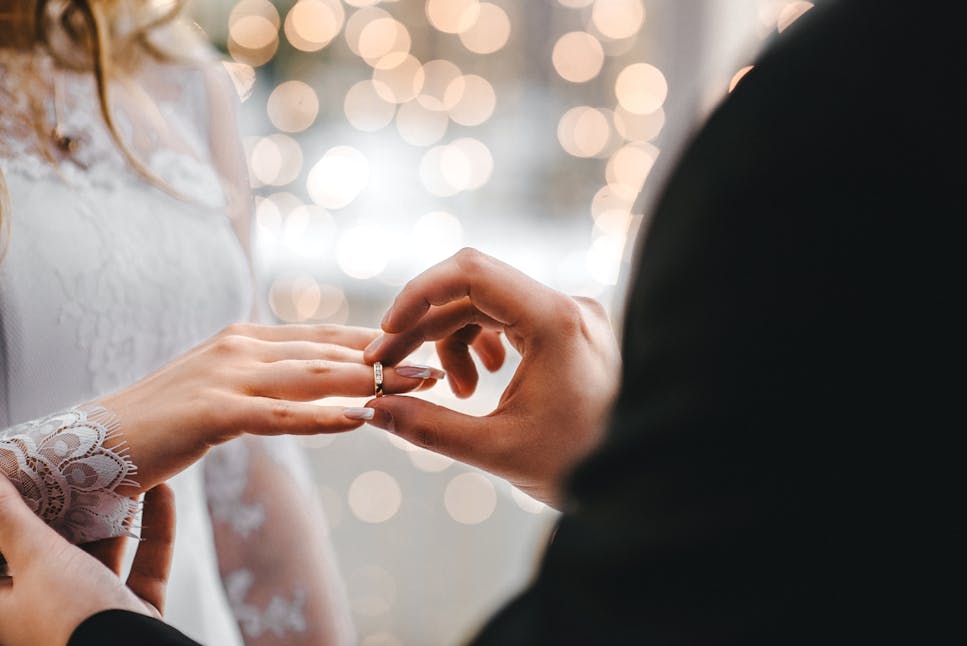 Should I use my savings to pay for my wedding?  
Using your savings to pay for your wedding could be the cheapest option as you won't be charged any interest for borrowing. If your wedding is many months or years away, you can even use the time to come up with a budget – so you have enough money to save without needing to borrow. Combining your savings with your partner in a joint savings account could also help reach your savings goal quicker as well as doubling up your cash. Although using savings to pay for a wedding means you won't get into debt or pay interest, there are some things to consider:  
Saving for a house deposit? If so, it might be best to hold onto your savings. As you can't use a loan or credit card to pay for your deposit 

Savings rate: If you're able to borrow interest-free, it could be a better idea to leave your savings so they can earn interest 
Can I use my credit card to pay for my wedding?  
Yes, you can use your credit card to fund your wedding. There are different types of credit cards on the market and some are more suitable than others to borrowing for a wedding.   
The major advantage of using a credit card is the consumer protection offered under Section 75 of the Consumer Credit Act. This means any purchase you make which costs between £100 and £30,000 is protected, and you could get your money back from your card provider if something goes wrong. 
Rewards credit cards 
What is it: Used by savvy shoppers, rewards credit cards reward you for everyday spending. With a rewards credit card, you can earn cashback, Airmiles, vouchers or other interest-free perks. You need to pay the balance each month. 
Pros: Funding your wedding this way allows you to gain extra benefits you can use towards the cost of your wedding. So, for example, you can use your rewards credit card to gain air miles to make savings on your honeymoon. 
Cons: If you don't pay off the credit card balance each month, you'll be charged interest which can be more costly than the rewards you've gained. By not paying off the balance you also run the risk of damaging your credit score.  
0% interest purchase credit card 
What is it: A 0% interest purchase credit card is a type of interest free credit card. These cards allow you to make big purchases without having to pay any interest for a set amount of time – in some cases up to two years, or even longer.  
Pros: 0% interest purchase credit cards could be ideal for funding a wedding as you don't have to pay interest for a set amount of time. If you manage to pay off your balance before the term ends, you can borrow interest-free. 
Cons: It can be hard to be accepted for this type of credit card if you don't have a good credit score.  The credit limit you're offered might not cover your total wedding costs. If you don't manage to pay off your credit card balance before the 0% period is over, you'll be charged interest on your remaining balance every month. Meaning, it can take you longer to clear your debt. 
Can I use a loan to pay for my wedding? 
Taking out a loan for your wedding might not be what you had in mind for your 'something borrowed'. However, loans can be an effective way of spreading the cost of your wedding. 
What loan can I get: Wedding loans are usually unsecured personal loans. These loans have a fixed rate of interest and you agree to pay back your debt, plus the interest, over a set term, typically three, four or five years, for example. The interest rate you'll be offered will depend on your credit score. In general, the higher your credit score – the cheaper your loan.  
Pros: With a personal loan, once you're approved, you'll get access to the money quickly. Personal loans can be flexible when it comes to how much you can borrow and when you'll pay it back. If you manage to make the monthly payments on time you can improve your credit score. 
Cons: Taking out a wedding loan isn't a decision which should be taken lightly as it can be very expensive. Because you're paying interest on your loan, it'll cost you more than it would if you used your savings.  
Missing repayments will negatively affect your credit rating which will make it harder to borrow in the future. Early repayment charges can also be expensive if you want to pay off your loan before the term is over. 
Can I use an overdraft to pay for my wedding?  
Overdrafts are a feature of most current accounts. Your overdraft allows you to spend more than you have in your current account. Because of the nature of overdrafts, they're not suitable for long-term wedding financial planning.
However, your overdraft could help you cover short-term unexpected wedding costs. It's important to remember that overdrafts can come with high-interest fees so are best to be used sparingly. The money available to you in your overdraft will be less than what you'd get with a personal loan. This limits how much of your wedding costs you could really cover with your overdraft. 
Should I borrow from friends and family to fund my wedding? 
Weddings are special events and often involve different generations of families, so borrowing from loved ones can sometimes be an option. Depending on your relationship, borrowing from family and friends could even be interest-free and therefore cheaper than a traditional credit agreement. It's important to remember that borrowing from your nearest and dearest could put a strain on your relationship, for example if you fail to pay them back.  
Other useful guides
If you want to learn more about loans, we have a range of guides you can read:

Borrowing from family and friends guide
Compare loans with MoneySuperMarket 
If you're looking for a loan, then MoneySuperMarket can help you. We can show you deals from a range of leading UK providers – and searching won't harm your credit score.  
We can help you find loans best suited to your needs – and at the lowest rates. When you search with us, we'll also show you your chances of being accepted, so you can apply for a loan with greater confidence.  
MoneySuperMarket is a credit broker – this means we'll show you products offered by lenders. We never take a fee from customers for this service. Instead we are usually paid a fee by the lenders, but the size of that payment doesn't affect how we show products to customers.