Pets causing damage? Make sure you're covered
Did you buy or adopt a dog during lockdown? Act now to get home and pet insurance in place
We may well be a nation of pet-lovers, but we might not be quite so fond of our four-legged friends when they wreak havoc around our homes.
New findings from MoneySuperMarket reveal the UK's dogs are costing their owners more than £1.7 billion a year in household damage,* with further research revealing Brits are spending an average of £164 per dog on putting things right.**
Dog ownership has soared
The number of people owning dogs shot up in 2020, with almost fifth of Brits adding a dog to the family in lockdown.
But while, on the plus side, our mutts may have given us companionship and got us out exercising, on the downside, not all our hounds are as house-trained as we'd like them to be.
Dogs can cause all sorts of damage to our properties and possessions by chewing, scratching, tearing things up, and other kinds of antisocial behaviour.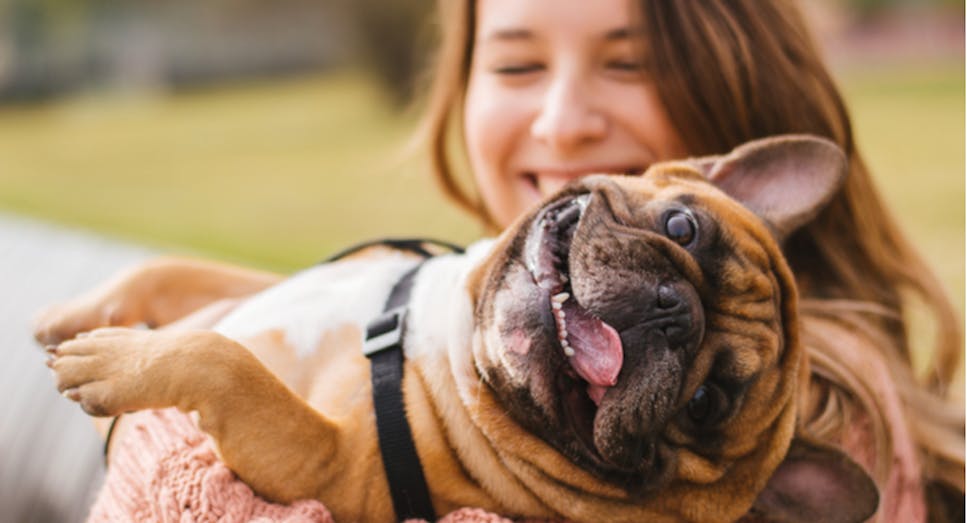 Which breeds cause the most damage?
According to MoneySuperMarket's research, Weimaraners are the UK's most destructive dog breed, causing an average of £265 worth of damage a year – compared to the national average of £164 per canine.
The mid-sized Labradoodle takes second place, causing an average of £240 worth of damage, followed by the small Cavachon at £233.
At the other end of the scale, Labradors are the most furniture-friendly breed, costing their owners only £138 in damage – £26 less than the national average. They are followed by Terriers (£142), Jack Russells (£145), and Spaniels (£159).
Top items damaged by dogs
Carpets top the list of the 'most damaged household items' (20%), followed closely by sofas or rugs (17%), chairs (14%), and wooden floors (12%).
Pet insurance is important
In addition to the costs arising from dogs damaging furniture and furnishings, pet health is a significant expense.
Findings from MoneySuperMarket show dog owners fork out an average of £214 a year (excluding claims) for vet visits and specialist treatments.  
Worryingly, despite high annual vet bills, a third of dog owners don't have comprehensive pet insurance in place.
Act now to get pet cover
If you took on a dog during lockdown – or already owned a pet prior to 2020 – you need to ensure you have adequate insurance for that animal.
This will give you the peace of mind of knowing that if your pet falls ill, or needs to be taken to the vet, you are covered for the bills and treatments.
Without this cover in place, there's a risk you may not be able to afford the best care for your dog or cat.
Make sure you understand what you are and are not covered for
When purchasing pet insurance, you need to be aware that policies do not usually cover routine treatments, such as vaccinations, microchipping, nail clipping or neutering.
They also don't cover preventative treatments, behavioural problems or pre-existing conditions.
Pet insurance is designed to cover unexpected illnesses and accidents. Find out more here.
Check your home cover
In addition to pet insurance, given that owning a dog puts you at risk of having pieces of furniture and other household items destroyed, it is worth checking your home insurance policy to check you are covered for any accidental damage your pet causes.
This is the case for both first time dog owners and those with years of experience.
It's also the case even if you take steps to minimise the risk (see below).
While preventative measures can certainly help, the reality is, it isn't always possible to stop your dog – or other pet – from causing damage around the home.
But without adequate cover in place, you could find yourself having to cough up hundreds of pounds for repairs.
Standard contents insurance policies often include some cover for accidental damage.
The best approach is to check your policy and scour the small print to see whether 'accidental damage caused by pets' is covered – and whether any exclusions apply.
Find out more about home contents here.
Steps you can take to try and prevent your pet from causing damage
Look into paying for classes or training to try and stamp out antisocial habits

Consider spraying your furniture with animal-safe repellent

Make sure you exercise your dog regularly

Ensure all pets are stimulated so they don't get bored. This should help reduce the risk of them taking out that boredom on your property and possessions
*Based on 10.1million UK dog owners (PDSA Animal Wellbeing Report 2020, https://www.pdsa.org.uk/media/10509/20039_pdsa-paw-report-2020_7-10_press_3_online-5.pdf)  x £164 (average cost of annual damage caused by dogs)
**All data based on polling by One Poll between 18/09/2020 and 30/09/2020