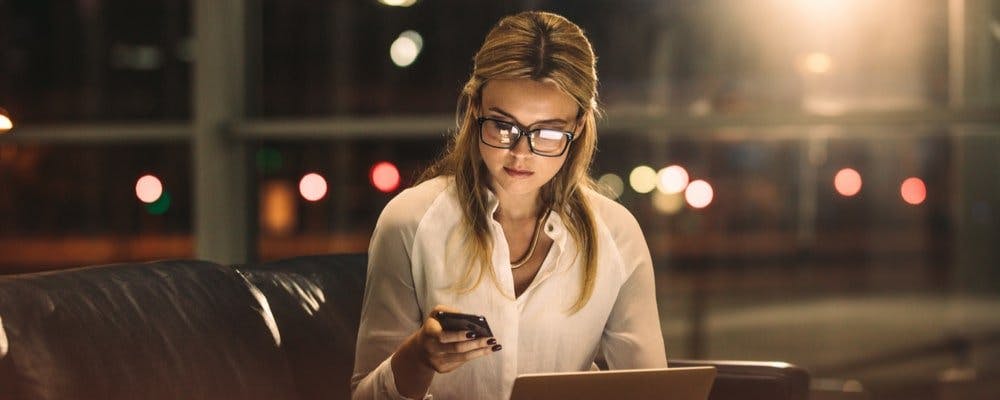 Want to switch mobile network? It doesn't have to be stressful. Follow our handy guide and we'll explain when you can switch mobile provider and how to do it...
Why switch mobile phone network?
There are loads of great reasons to switch mobile networks.
Loyalty doesn't always pay and there's a good chance that you can find a great deal with a rival provider, whether you want a new phone or just want to pay less each month.
Poor network service - if your network's service isn't living up to its billing, it's time to switch.
With ever more affordable 5G deals and better indoor connections than ever, you could finally be able to use your smartphone as intended.
Better deals - there are always better deals to be had. Most packages, whether a phone contract or SIM only deal, offer unlimited calls and texts, and with data getting cheaper, you can get a great bundle to ensure your needs are met while costs are kept down.
A spanking new phone - This is a biggie. Switching networks means you should be able to score a brand new phone with better specs than your existing device.
Better roaming - Roaming is no longer a given with many networks. If you use your phone while travelling, then you'll want a deal with the likes of O2 or BT, or one of Vodafone's EVO deals.
Desired phone not available with existing network - Some networks don't offer a wide range of devices.
If you want a niche product or just can't find the iPhone you want with your existing provider, then it's time to shop around.
Finding out if you're eligible to switch
Before you decide to make the move, you need to check whether you're eligible to switch mobile providers
Switching network when you're out of contract
Switching network when you're out of contract is easier than ever.
You can either log into your network account online or text your provider to get a PAC (port authorisation code) for keeping your current number or STAC (service termination authorisation code) if you want to switch to a new number with your new network.
From there, your old network will also tell you about whether you have any outstanding balance to pay on a device or any contract fees.
Once you pass the code onto your new network, it will transfer you across within one working day.
Our full guide on switching mobile networks using text-to-switch has even more details.
Switching network when you're in contract
Switching mobile networks when you're in contract can be done, but is not as straightforward as when your deal is up.
You can do so if you're in the first 14 day cooling off period, as long as you took out your contract over the phone or online (such a grace period doesn't exist if you started the deal in store), have 30 days left on your current deal or if your network raises prices above the retail price index (RPI) rate of inflation.
Some networks may also let you leave if coverage doesn't meet an acceptable coverage guarantee, but not all providers offer these.
Read our guide to switching networks when in contract to get the full lowdown.
Which networks can I switch to?
With Moneysupermarket, you can switch to any of the big name mobile providers and a whole host of smaller ones. Just follow the links below to find out more.
How to find the best mobile phone deal
Finding the best mobile phone deal needn't be an onerous task. Start off by using our mobile phone deals page to see what you can get.
From there, it's good to consider a wide range of factors. What is your chosen network's coverage in your area.
If you live in a big town or city, do they offer 5G yet? And if not, when is it likely to launch? Nearly all new top-end phones have 5G connectivity, so this is a key consideration.
If you don't need extras like roaming or freebies like streaming access, then consider smaller providers like iD Mobile and SMARTY.
And if you don't need a new phone, then definitely weigh up getting a SIM only deal, as this won't break the bank and will likely get you better data too.
Finding the best coverage in your area
Checking coverage in your area is easy. You can take a look at our handy guide to see how network coverage compares and check out which larger networks (EE, O2, Vodafone and Three) some smaller providers utilise in order to offer wider connectivity.
Input your postcode on Ofcom's dedicated coverage checker and it will tell you details on coverage both inside and out, as well as outlining which networks offer 5G in your area.
Can I keep my phone number?
Absolutely. To keep your number you can text, call or log onto your mobile network's website and get a PAC.
This can then be sent to your new network, ensuring you get the same number once you've switched.
Switching to a SIM-only deal
A SIM-only deal is an excellent option when you come to the end of your contract. Here's why you might want to consider one.
You want to keep your old phone - if you don't want a pricey new handset, then SIM only is the way to go. If your phone is unlocked, it can take a SIM from any network
Better deals - prices for SIM only deals are way below those for phone contracts and will give you huge data packages at the fraction of the cost of a deal that comes with a handset
More flexibility - while 24 month and 12 month SIM only deals are great for keeping costs right down, one month rolling contracts mean you can switch whenever you please
25GB of 5G data
Unlimited minutes
Unlimited texts
download speed limit
3 months free Disney+

12 month contract

From O2

12GB of 5G data
Unlimited minutes
Unlimited texts
download speed limit
First 3 months half price

1 month contract

From Virgin Mobile

30GB of 5G data
Unlimited minutes
Unlimited texts
download speed limit
Unlimited social media

1 month contract

From VOXI

20GB of 5G data
Unlimited minutes
Unlimited texts
download speed limit

1 month contract

From giffgaff

Exclusive
6GB of 5G data
Unlimited minutes
Unlimited texts
download speed limit
Discounted price for 3 months

1 month contract

From Lebara Mobile

Exclusive
12GB of 5G data
Unlimited minutes
Unlimited texts
download speed limit
First 3 months half price

1 month contract

From SMARTY