Are solar panels covered by home insurance?
If you have solar panels installed on your home, it's important to have adequate insurance in place
Looking for home insurance?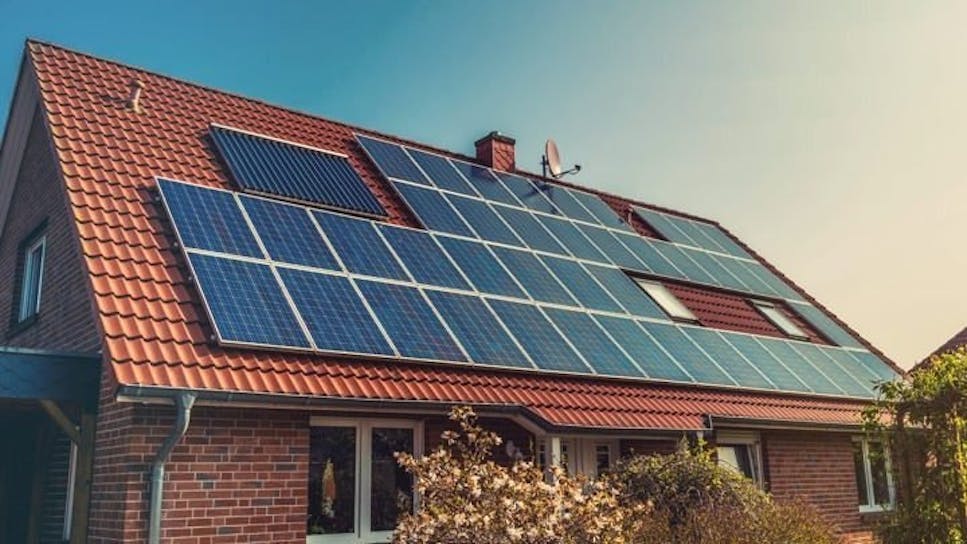 How do solar panels affect home insurance?
More and more people are starting to attach solar panels to their homes – in fact, in the summer months, more than a tenth of the UK electricity supply comes from solar power. That's great news for the planet – but if you're thinking about installing solar panels yourself, what would it mean for your wallet?
Solar panels don't come cheap – even just a few square metres could set you back thousands of pounds. But they're still a great investment, since fitting solar panels could save you hundreds of pounds a year on your energy bills. 
What's more, if you produce more solar energy than you use yourself, you could even get paid to supply some extra juice to the national grid. And these panels are durable too – the newest models should keep supplying power for 40 or 50 years.
But there's always the risk that something might damage your solar panels – and with a hefty installation cost, you'll want to make sure your solar panels are protected by your home insurance. 
That way, your investment in the future won't leave you out of pocket if the worst happens. Luckily, our guide gives you the lowdown on solar panels and home insurance, so you can produce your own electricity with peace of mind. 
Are solar panels included in home insurance?
The good news is that many home insurance policies will include solar panels as standard. For most insurers, solar panels aren't an expensive gadget: they'll consider your solar panels to be part of the fabric of your house, just as much as the roof or walls. 
This means that they should be fully covered by your buildings insurance – but it's always better to check with your insurer, just to make sure your solar panels are included.
Is home insurance more expensive with solar panels?
Most insurers include solar panels as standard – which means it shouldn't cost any extra to get your solar panels insured. In a few cases, though, you might still find that home insurance costs a little bit more when you install solar panels.
Insurers base their premiums on the value of your house, and they sort homes into different brackets. Solar panels are a great investment for your future – and like any improvement to your home, there's a good chance they'll increase the value of your property. 
Usually this is great news, but there's a chance it will nudge your home into the next bracket up. But don't worry – even then, the added cost of insurance should be easily cancelled out by the savings you'll be making on your energy bills. 
Do I need to let my insurer know if I'm installing solar panels?
It's always a good idea to contact your insurer when you're making any significant changes to your property – and that includes adding solar panels. They need to know exactly what's included in the structure of your home just in case it needs to be rebuilt. 
Adding solar panels increases the rebuild value of your home, and that's definitely something you'll need to let them know. Plus, you'll want to be absolutely certain that your solar panels are included in your policy – so give them all a call if you're considering it. 
Are all types of solar panel covered by my home insurance?
Pretty much every type of solar panel should be covered by your home insurance, whether they're photovoltaic panels, hybrid panels with heat exchangers, or solar tiles – so long as they're attached to your home. If you have a freestanding solar panel in your garden or on a balcony, it doesn't count as part of the structure of your house – so it won't be included as part of your buildings insurance. 
Will home insurance pay out if my solar panels are damaged accidentally?
Your home insurance will protect your solar panels against fire, water, extreme weather, falling trees, and plenty of other dangers – but what if someone damages them by mistake? It's always worth checking with your insurer first, but in many cases your standard policy won't include accidental damage to your solar panels. 
Luckily, most insurers offer accidental damage cover as an add-on to their standard policies. It'll cost you extra, but it means your panels will be protected if anyone breaks them by mistake. 
Does home insurance for solar panels cover wear and tear?
Sadly, home insurance doesn't cover wear and tear: it's up to you to keep your property in good working order, and you won't get compensated when your solar panels finally reach the end of their lifespan. 
The good news is that these days, solar panels are pretty sturdy – a good brand should come with a twenty-year warranty, and you can expect them to keep working for up to twice that time. So as long as you keep them in good nick, there shouldn't be anything to worry about. 
Can I get paid for having solar panels?
A good solar panel setup could end up producing more electricity than you actually use – and the extra power gets routed into the National Grid. And just like any other electricity supplier, you can get paid for it!
Until March 2019, you could sign up for the government's feed-in tariff programme, which paid households for every kilowatt of electricity they produced. Sadly, that programme is no longer open for new applicants. It's been replaced by the Smart Export Guarantee (SEG). With the SEG, you can sell your surplus electricity to power companies – and unlike the feed-in tariff, the SEG lets you shop around to see which company will offer you the best price.
The downside, though, is that the SEG only pays you for surplus power –any electricity left over after your own usage. To take advantage of the scheme, you'll need a smart meter, so the company knows exactly how much electricity you're using, and how much you're selling to them. 
Compare cheap home insurance with MoneySuperMarket
Whether you decide to go for solar panels or not, it couldn't be easier to find a great deal on cheap home insurance with MoneySuperMarket. Simply give us a few quick details about yourself and your property, and we'll compile a list of quotes tailored to your exact requirements.
You'll be able to browse and compare deals by the overall monthly and annual cost and the level of cover you get, so you can find the policy that gives you everything you need. We'll do all the hard work for you – once you've chosen a great deal, just click through to the provider.
As with all insurance products, the cheapest option isn't always the best. We recommend aiming for a balance between cost and cover, so you can avoid under-insuring yourself or overpaying for a policy you don't need.
Looking for home insurance?