Discover the top smart thermostats in the UK right now
Read our guide to find out more about smart thermostats
Smart thermostats give you the power to manage your heating from your phone, tablet or computer, but which one is best for you?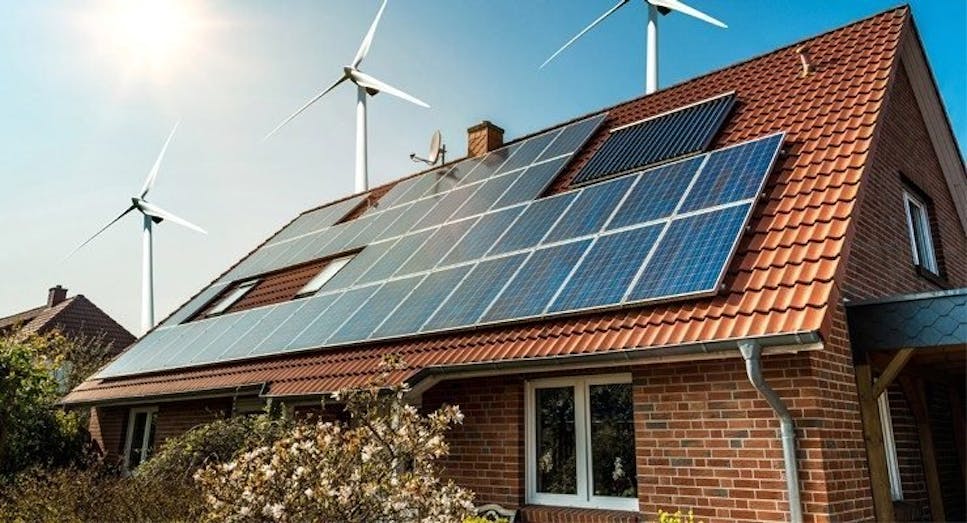 Which smart thermostat is best for me?
Smart thermostats have transformed the way we heat our homes. Features like app controls, zoned heating and home-away detection are convenient and help cut energy bills – and they're also better for the environment.
There are many smart heating systems on the market today with a huge variation in technology and pricing, which can make it confusing when choosing one to buy.
One of the most important considerations when buying a smart thermostat is its compatibility with your existing smart home devices, if you have one. If you are already controlling most of your smart home kit through Amazon Alexa, it makes sense to buy a smart thermostat that's also Alexa compatible.
It's also a good idea to check with your energy company to see if any smart thermostat deals are available as an existing customer.
We've compiled a list of the 4 best smart thermostats in the UK, picking out the best features so you can see whether it could benefit your household.
Want to learn more about smart thermostats? Read our guide to find out what a smart thermostat is and how one works.
What are the best smart thermostats?
There's a range of thermostats available from different manufacturers at varying costs. We wanted to give you as much detail as possible so have picked out the UK's top 4 smart thermostats in 2020:
Hive Active Heating

Nest 3rd Generation Learning Thermostat

Tado° V3 Starter Kit

Honeywell Evohome
Hive Active Heating
Hive Active Heating is a brand of smart thermostats released by British Gas, which they claim can save you up to £120 a year on your heating bill.
They generally cost around £179 – if you're with British Gas, you will receive a discount and have professional installation included, as well as the choice to spread the cost over 12 months with no interest. Professional installation usually costs £70.
Hive smart thermostats are compatible with most gas and LPG boilers, as well as most oil boilers with an existing thermostat or programmer, and most electric boilers with a standard room thermostat/programmer.
When you buy a Hive smart thermostat, you'll receive the thermostat itself, as well as the Hive Hub, a receiver, batteries, and use and installation guides – though you can also buy Hive without the Hub. It works with Alexa and Google Assistant, and comes with features including:
Geolocation: Hive knows if you've left your home with the heating still on, so can remind you to switch it off while you're out

Multizone: You'll also be able to turn the heating on or off in certain rooms or areas of the home – for example, if everyone is downstairs you can turn the heating off upstairs to save energy

Time slots: Hive also lets you set up to six time slots on a schedule, so your heating and hot water works with your daily routine

App control: All of these features can be managed via the Hive app, which you can download to your smartphone or tablet

Hive Radiator Valves: By pairing the new Hive Radiator Valves with Hive Active Heating, you can control every room in your house via your smartphone or tablet
Nest Learning Thermostat
Nest is one of the biggest names in the smart home market, and for good reason. This Google-owned company delivers well-designed, easy-to-use products packed with smart features.
The Nest Learning Thermostat (third generation) is renowned for its ability to learn your routines and adjust itself accordingly. This means that over time your heating system can actually adapt to suit your needs, without you having to do anything.
It is compatible with combi-boilers, heat-only boilers, zoned systems, and heat-only heat pumps, as well as domestic hot water tanks, hydronic underfloor systems, and heating systems using OpenTherm technology.
The Learning Thermostat costs £219 and comes with the display and base, a Heat Link heating controller, screws and an optional trim plate, as well as user guides and a warranty.
Nest is a good system to invest in if you're planning to build a wider smart home setup.
Nest's thermostats can include features such as:
Smart schedule: The Nest Learning Thermostat learns the more you use it, so it can start building a temperature schedule based on your habits

Geolocation: It also knows when you've left home using your phone's location, meaning it can turn the heating down when no-one's in – helping you prevent energy wastage

Nest Leaf: The Nest Leaf feature lets you know when you've changed the temperature enough to start saving energy

Sensors: The device also houses a number of sensors to track the home's temperature, humidity, and whether anyone's at home

Multi-zone: With Nest you can control up to 20 thermostats in your home, and you can control Nest in three homes from your account

Hot water control: You can control your hot water tank through the Nest app too. You can boost the heat so that you have extra hot water if you want it. And when you're away from home for a few days, you don't have to remember to turn off the hot water
Tado Smart Thermostat
The Tado Smart Thermostat connects to a wider range of heating systems than most and offers a 12-month money back guarantee.
Tado smart thermostats are compatible with combi, system, and heat-only boilers, conventional and condensing boilers, hydronic and electric underfloor systems, air and ground-source heat pumps (heat only), and zoned systems.
The Tado smart thermostat starter kit V3 costs £199.99 and the Internet Bridge that securely connects the system to your router. You'll be able to install it yourself with its online installation service, or Tado also offers a professional installation service for £90.
Tado also offers a Smart Radiator Thermostat, which is suitable for homes using district heating – so without their own boiler – as well as homes with their own central heating set up.
Tado's thermostats work with a range of smart home devices, including Google Assistant, Alexa, and Apple HomeKit. You'll be able to use features such as:
Climate Assistant: the Tado Climate Assistant offers services such as geofencing, weather adaptation, open window detection, and insightful reports to help you achieve home comfort

Multi-room control: you'll also be able to control the heating in specific rooms in your home to prevent energy wastage

Smart schedule: Tado will let you create a schedule for your heating and hot water so you only use energy to heat your home when you need to

App control: you can manage your Tado smart thermostat through its useful app

Healthier Air: With the Air Comfort Skill, Tado advises you on how to keep the air in your home healthy. It also gives you insights about the outdoor air quality
Honeywell Evohome
The Honeywell Evohome gives you total control over your home, with individual thermostats for each radiator enabling you to set an independent heating schedule for every room in your house.
Perhaps some members of your household prefer different temperatures to others, or you have one room that always seems to be hotter or colder than the rest, Evohome could be the answer to your problems.
Evohome allows you to control up to 12 zones and within those zones you can control each radiator down to a set degree in temperature, but you can also set the same temperature throughout the entire house if you prefer.
There are a number of pre-set settings that give you the option to reduce the entire house by a few degrees or override the system entirely and the Evohome system is compatible with IFTTT, Google Assistant and Amazon's Alexa. The Honeywell Home Evohome Connected Thermostat Pack costs £218.99.
Zoning: Different rooms need different temperatures, so Evohome lets you create up to 12 individual heating zones

Smart features: Whether it's lowering the temperature in one room, or creating weekly schedules for each of your zones, Evohome gives you the flexibility to change things to suit your plans

Flexible Control: There are several ways to control your Evohome system. Whether it's in the room, via the Total Connect Comfort Intl App, a web browser, or in sync with voice assistants

Hot water control: With Evohome smart control, you can make sure there's always enough hot water when you are home – and save energy when you're not
Those are our top 4 smart thermostats in the UK at time of writing however, they are not the only brands available. You can search online and in different electronic shops for other models. It's a good idea to read reviews before buying so you know how other people have fared with these products – it could save you a lot of hassle when you do buy.
Save by switching energy suppliers
Smart thermostats aren't the only way you can save money on your energy bills.
Switching is suspended right now, due to unprecedented market conditions. But in normal circumstances, switching to a new tariff can cut your energy bills significantly.
All you need to do is tell us a little about yourself, your home, and your approximate energy usage – the more you can tell us about how much energy you use, the more accurate your quote will be.
Then we'll show you a list of energy tariffs tailored to your needs, and you can sort them by the overall price per month and year, as well as the yearly savings you could make by switching.
Once you've found the deal you want, just click through to the supplier to finalise your purchase.  
If you choose to fast track your switch, you should be with your new supplier in just five working days. 
Furthermore, thanks to the Energy Switch Guarantee, you won't be without gas or electricity at any point, and if there are any issues the supplier will work to resolve the issue as soon as possible.
Find out more and compare energy prices now. 
Switch and save with Energy Monitor
Switching your energy supplier is quicker and easier with MoneySuperMarket's Energy Monitor. We'll let you know as soon as there's a cheaper tariff available for you, so you can effortlessly switch and save money on your energy bill.