How to choose your first credit card
Make the most of your first credit card by finding a card that best suits your needs
A credit card can be a useful money management tool - according to our data on young people and credit cards, 59% of 18-24 year olds in the UK have a credit card. But with hundreds of credit cards to choose from – how do you know which is the best first card for you?
When choosing your first credit card, the best way to find one that suits you is to ask yourself what exactly you need a credit card for and your financial situation and goals.  
Our guide can help you navigate the world of credit cards. Then, once you've figured out the type of card you want, MoneySuperMarket can help you compare deals, see which cards you're eligible for and help you apply.   
Should I get my first credit card?
When thinking about getting your first credit card, it's important to weigh up the advantages and disadvantages of borrowing on plastic.  
Used responsibly, a credit card can improve your credit score giving you access to lower interest rates and better deals on all your borrowing from mortgages to loans.
Credit cards are mainly intended for everyday spending and short-term borrowing. It's very important to pay off your credit card in full each month so you don't incur high interest. 
The main benefits when a card is used this way include:
You can make the most of your first credit card by only spending what you can afford to pay back. If not, you'll usually face interest charges on top of the amount you owe – unless you're on an interest-free introductory deal for purchases or balance transfers.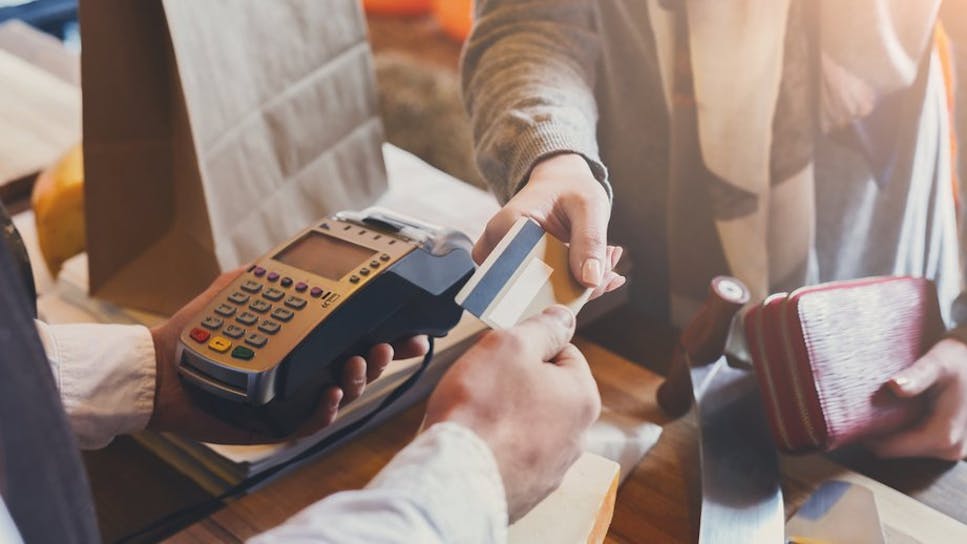 Am I eligible for a credit card?
Whether or not you can take out a credit card will depend on a number of factors, including:
Your age: Most providers will want you to be at least 18 to qualify 

Your income: Some credit cards will require you to earn a certain amount or be in full-time employment
Your finances: Any county court judgements or bankruptcies can put lenders off giving you credit  
Lenders will look at your credit report to see what other debts you have and to check your repayment history, which is likely to be limited when you apply for a credit card for the first time. If you have little or no credit history, this can put you in the "high-risk borrower" category, as there is little or no evidence you can borrow money responsibly.
However, lenders will all have different acceptance criteria and some offer credit cards aimed at first-time borrowers.  
You can avoid being rejected for a credit card – which can damage your credit score - by finding out which cards you're likely to be offered before you apply using MoneySuperMarket's handy eligibility checker. We can show you what cards you're most like to be accepted for without harming your score.  
What to consider before choosing your first credit card?
Credit cards can be handy but only if you use them wisely. When misused, a credit card can lead to debt problems, which could affect your credit score and make it difficult to secure credit in the future. So, think carefully about why you want a credit card.
Before applying for your first credit card, you should also think about: 
Representative APR
Providers only have to offer the representative APR – or advertised interest rate – to 51% of successful applicants; the rate you are offered will depend on your financial situation. 
Credit limit
The credit limit you are given will also depend on your financial situation and credit history, and you won't usually know what it is until you receive your new card. You may be able to request a higher credit limit in the future if you pay your bills on time.  
Credit utilisation ratio
Your credit utilisation ratio is the amount of credit you've used in relation to how much you have available. A lower credit utilisation ratio is usually seen positively. For example, if you want to improve your credit score it's generally advisable to keep your credit utilisation at 25% or lower. 
Introductory APR
Some credit cards offer low or 0% interest rates to attract new customers. However, these interest rates don't last forever – once the introductory period is over, you will start paying the standard interest rate.  
Minimum repayments
It's best to pay off your entire balance each month. But if you can't do this, you should aim to pay at least the minimum monthly repayment . Failing to do so will damage your credit score and could spell the end of any benefits – including low or 0% interest rate periods.  
Fees and charges
If you miss a payment or exceed your credit limit, you'll probably face penalty fees and charges. Cash withdrawals from an ATM using a credit card will also typically incur fees and immediate interest, while overseas purchases usually trigger separate charges – which can be high.  
How to best use your first credit card
 You'll be able to use your first credit card as soon as it is activated.  
Ideally, you should try to clear your credit card balance in full every month.
This way you can make the best use of your first credit card and take advantage of what they offer - including improving your credit score and if you regularly clear the card balance you won't pay any interest on your card borrowing. Beyond this, how you use your first credit card will depend on what type of card you have and why you took it out.  
For example, if you chose a credit card offering 0% interest on purchases for an introductory period, you could use it to spread the cost of a big purchase such as a holiday – while enjoying the extra protection offered on credit card transactions under section 75 of the Consumer Credit Act. 
How to choose the best first credit card
There are lots of different types of credit cards to choose from. Finding the best first credit card for you will depend on how you plan to use it. 
Credit builder cards
Credit builder cards can be an ideal credit card for beginners. This is because they allow you to build up your credit history and are aimed at those who have previously struggled with debts and have no or poor credit history. What makes this a good first credit card is that they come with low credit limits, typically up to just a few hundred pounds, and higher than standard interest rates.  
Credit builder cards can be easier to get than standard cards, which is one reason they are the most popular choice among 18–24-year-olds, according to MoneySuperMarket data.
Student credit cards 
If you're at college or university, a student credit card can make a very good first credit card. You'll usually need a student bank account with the card provider to qualify, but you may be offered a range of benefits, including interest-free purchases for a limited time.  
 As with standard cards, you'll pay interest if you don't clear your balance in full each month (outside of any interest-free offer periods). Any missed repayments or failing to meet the minimum monthly repayment is likely to have a negative impact on your credit score. 
Other types of credit cards include: 
How to apply for a credit card for the first time?
Applying for your first credit card can seem daunting. Here, MoneySuperMarket breaks down the application process for you:
Explaining why you want a credit card: You'll usually be asked what you'll want a credit card for and how it'll be used. So, decide on the type of credit card you're after. If you're looking to build your credit score, then you may want to choose a credit builder card. If you want to buy something expensive and you'd like to spread the cost, then a purchase credit card could be an option for you. 

Providing information: Generally, lenders will ask you for some personal details such as your salary and proof of ID. You'll need to state your salary, so you can prove you can pay what you will owe.

Eligibility:  When applying for your first credit card, eligibility is something that might be on your mind. Compare credit cards with us, so you can find out what cards you're likely of being accepted for. Knowing which credit cards, you're more likely to be eligible for, can help you to apply with confidence. 

Choose the card: When picking the card you want, you need to remember that different lenders will offer different deals and interest rates, depending on your financial circumstances.

Getting the card: Once your application is accepted, you'll receive your card.  
Other helpful guides:
It can be tricky choosing a credit card for the first time. Let MoneySuperMarket walk you through the different stages of the process with our range of credit card guides... 
Compare credit cards with MoneySuperMarket
Let us help you choose the best first credit card for you. It's quick and easy. Just tell us a little about yourself and your finances, including your income, employment status, and what you want to use the card for, and we'll give you a list of options tailored to your needs.
Our free eligibility checker will show you how likely you are to be accepted if you apply for a particular deal. Then all you have to do is pick the card you want and click through to the provider to finalise your application.  
If it's accepted, your provider will send your card through the post for you to activate.
MoneySuperMarket is a credit broker – this means we'll show you products offered by lenders. We never take a fee from customers for this broking service. Instead we are usually paid a fee by the lenders – though the size of that payment doesn't affect how we show products to customers.