Everything you need to know about student credit cards
Credit cards can give you flexibility with your spending, help you clear debt more easily, build your credit profile and earn rewards. Some cards are even designed specifically for students
Credit cards can provide a number of benefits for students, such as flexibility with spending, help with budgeting and building a credit history – which will help for later in life, including when it comes to getting a mortgage.
Used wisely they can be a useful asset, and you can even make them work to your advantage by gaining cashback and loyalty points. But credit cards also come with risks - your debt could start to grow and interest charges can be high if you don't pay off what you owe.
What is a student credit card?
A student credit card is a credit card designed specifically for students and is a way of spending money you don't yet have as a way of budgeting.
Student credit cards tend to have lower spending limits and charge a higher interest rate than standard credit cards.  

They could offer cashback and rewards, introductory periods for purchases, be designed for spending overseas, or allow balance transfers to help manage existing debt.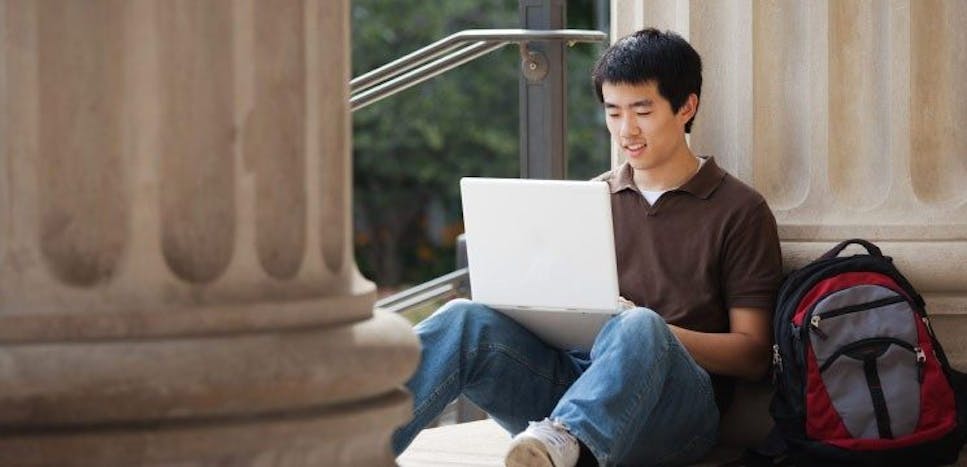 What do I need to consider before applying for a student credit card?
Be confident you'll be able to repay what you spend on it every month. Otherwise, any of the benefits you enjoy by using it could be wiped out because you'll start to fall into debt and incur interest charges. 
Check your credit rating and look at ways you may be able to give it a boost. As a student you may not have borrowed previously and haven't had time to build up a credit score, but it's still worth checking there are no mistakes on your credit report and seeing what steps you can take to improve it. 
Think about what type of credit card would be suit your needs: 
Am I eligible for a student credit card?
You might think because you're not in full-time employment and you're still studying that a credit card is off limits. But this isn't necessarily true. 
Provided it is affordable – that is, you have enough money coming in to clear your spending each month – you may be accepted for a credit card. 
There are even credit cards designed specifically for those who might be studying at university or college, but don't yet have the credit score and income to be approved for a standard credit card. 
There are some criteria you'll have to meet: 
• Be aged over 18 
• Resident in the UK 
• Studying a course at a UK university 
But if you're looking to get a credit card as a student, the most important thing is to use it carefully. Debt can escalate quickly if you can't repay your card in full each month and interest charges start to mount up. 
How do student credit cards work?
Like any credit card, a student credit card is a way of spending money you don't yet have as a way of budgeting. But lenders know the risks involved and as such, student cards tend to: 
Have lower credit limits (spending limits) than standard credit cards 
 

Charge a higher interest rate on the money you borrow, which kicks in if you don't clear your balance in full at the end of each month 
Other pitfalls are the same as any standard credit cards. That is: 
Avoid withdrawing cash with a credit card as this will likely incur both a fee and interest from the day you take out the money. 

Try not to spend up to your credit limit every month as this can suggest you're strapped for cash and can have a negative impact on your credit rating. 
That said, used responsibly - clearing the outstanding balance in full every month - a student credit card could help you build a credit profile and put you in a stronger position when you need to borrow in the future. 
How do I use my student credit card?
A student credit card can be used in the same way as a debit card – you'll be able to pay for things in the usual way such as contactless, chip & PIN or online. As well as the physical card you may also link the credit card to pay through a device, such as a mobile phone. 
The difference with credit cards, compared to a debit card is that you are spending money you don't yet have. This means it's important to keep an eye on your spending (you'll have a credit limit you can spend up to) and make sure you pay it off when instructed. 
If you don't pay it off in full by the given date every month, you'll start to incur interest on the debt balance. Forget to pay anything or miss the minimum monthly repayment and you're likely to be charged a fee. This is why it's good to set up an alert as a reminder, or better still a direct debit to clear what you owe. 
Some students only use their credit card for emergency purchases and then clear the balance as quickly as possible. Others might use it for their regular spending, particularly if it offers rewards – again clearing in full each month. Either way, stay on top of your account to make the most from it. 
What are the pros and cons of a student credit card?
There are a number of reasons you may wish to get a student credit card.
The advantages can include: 
Interest-free period: Some providers offer an interest-free period for a limited time for purchases – normally a few months, giving you some time to pay off the balance. But make sure you know when this period ends so you pay off the outstanding amount, or interest charges will mount up 
 

Protection on purchases: A student credit card will offer the same level of purchase protection as standard credit cards. Under section 75 of the consumer credit act you'll be covered if you buy goods worth between £100 and £30,000 if they fail to turn up, are not as described, or the company goes bust 
 

Build your credit score: Managing your student credit card repayments can help you build your credit score, particularly if you haven't taken out credit before and have a limited borrowing history. This can make it easier to get credit cards, loans and even a mortgage in the future 
 

Rewards: Some providers offer rewards when you spend, including cashback, loyalty points or cheaper railcards. Used wisely, you can make a student credit card work financially for you 
No annual fee: Student credit cards typically won't charge an annual fee  

Spread the cost of purchases: You can pay for large purchases up front and spread the cost by paying back the money you borrowed in monthly repayments. However, unless your card is within its interest-free period, you will likely end up paying more in interest 
 

Higher chance of approval: While you are studying, you may find it's easier to get a student credit card than a standard credit card 

Disadvantages or risks of student credit cards
Potential high interest rates: Student credit cards can have higher interest rates than standard credit cards. It means you'll end up paying more if you don't clear your balance each month 
 

Lower credit limits: You'll typically have a low credit limit on a student credit card. But this is a way to protect you from overspending and getting into debt 
 

Fees: As with regular credit cards, you will most likely be charged a fee if you use your student credit card to withdraw cash from a cash machine, if you make a late repayment, if you go over your credit limit or if you use your card abroad 
 

Rejected applications can affect your credit score: If you don't meet the lender's borrowing criteria for a student credit card, a rejected application could harm your credit score 
Can I get a student credit card without any income?
You may not need to have a job to get a student credit card, but you'll often need to show you have a regular income that doesn't include your student loan. This could be regular payments from your parents or a salary from a part-time job, for example. 
Student loans tend not to count as income because if you used it to pay off a credit card, this would just be one form of debt paying off another. 
Can I get a student credit card with bad credit?
You may be able to get a student credit card with a bad credit score, but if accepted, you're likely to be given a lower credit limit and face higher interest rates. This is because the card provider will deem you as being of greater risk. 
Credit card providers take into account your credit rating when they issue a card, and this helps them decide how much credit they are prepared to extend to you. 
The good news is that there are ways you can increase your credit score, which may help you get a student credit card. These include registering on the electoral roll, shutting down unused credit accounts and checking your current rating and fixing any errors.  
What are the alternatives to student credit cards?
An alternative to a student credit card would be a current account with an overdraft. Most student current accounts offer 0% interest and fee-free overdraft. How much you can borrow on your overdraft will depend on how far you are through your studies (what academic year) and your personal and financial circumstances. 
Our expert says...
"Being a student often means juggling your finances and while you should always be wary of taking on more debt, used wisely a student credit card can offer plenty of advantages such as protection on purchases, loyalty points or rewards and a headstart in building your credit rating for when you graduate.
"However, always be confident you have enough money available to clear your balance on time each month, or any benefits will be quickly wiped out."
Compare student credit cards with MoneySuperMarket
You can compare a wide range of credit cards using our eligibility checker tool. Select what you want to use the credit card for, or pick 'Show me everything' if you're not sure. 
You'll then need to fill in a few details about yourself and your finances – when it comes to 'Your employment status', select 'Other' and then 'Student' from the dropdown list. 
Enter any part-time salaries or regular income you receive from your parents in the 'Income' field. You'll then be able to compare the credit cards you could get as a student. 
Using the eligibility checker to search for cards won't affect your credit score. But if you make an application for a credit card with a provider and you're rejected, it can affect your rating. 
If you have a student current account, your provider may offer credit cards to eligible account holders so you can also see what deals it may be prepared to offer you and apply directly through them. 
MoneySuperMarket is a credit broker not a lender. You must be 18 or over and a UK resident. 
Frequently asked questions
What happens to my student credit card after I graduate?
You'll still be able to use your student credit card once you graduate. 
But if you've managed your student credit card well you may be able to get a credit card that offers a lower interest rate, 0% interest on purchases or balance transfers, cashback or rewards. 
Once you have a job with a regular salary you're likely to have a much wider choice of credit cards. 
Can I get a student credit card with no credit score?
You may be able to get a student credit card with no credit score, as credit card providers understand that as a student it might be the first time you are trying to use credit.  
 
You may be offered a lower credit limit and higher interest rates initially to cover the perceived extra risk the credit card lender believes it is taking on. As you build up your credit score over time, you might then be able to get better deals. 


Should I use my student loan to pay off my credit card debt?
Credit cards tend to be more immediate debt charged at a higher interest rate than student loans. 
If you have no other means of clearing your balance then using part of your student loan to pay off your card balance might seem sensible. But if you are in this situation, you should consider assessing your finances. 
Your student loan is likely to be supporting you to pay for accommodation and other essentials while you are studying. Using it to pay off your credit card might leave you with a shortfall in other areas.