How does Apple Pay work? A complete guide 
Apple Pay can be a convenient payment option – giving you the option to pay with your iphone or watch, both in store and online. Our guide covers how it works and what to consider
Apple Pay was launched in 2014 in the US at the same time as the iPhone 6 as an improved alternative to using debit and credit cards. It was marketed as being more convenient and secure than paying on plastic and it came to the UK the following year. 
What Is Apple Pay? 
Apple Pay is a way to make contactless payments through your iPhone, iPad, Apple Watch or MacBook. Your Apple account is linked to one or more debit or credit cards.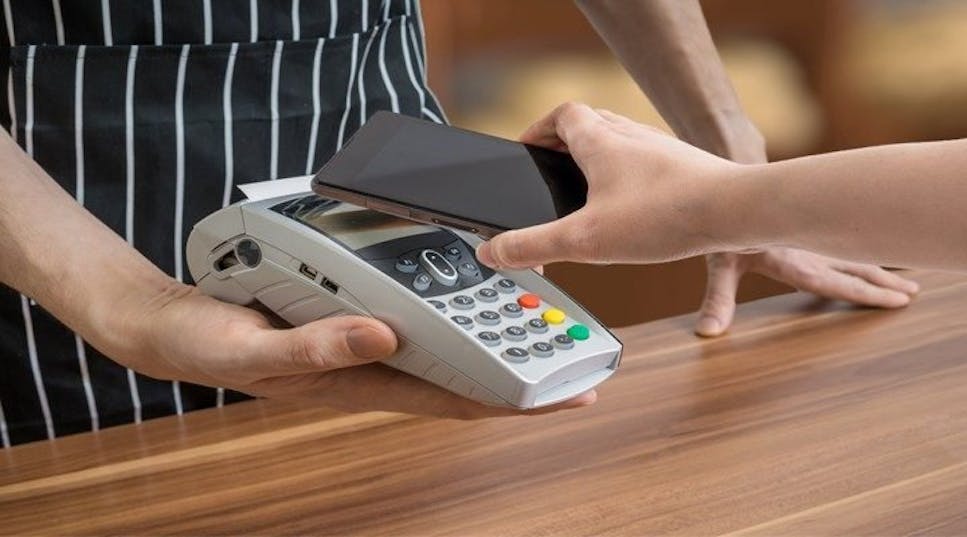 How does Apple Pay work? 
Apple Pay lets you securely tie your credit or debit cards to your Apple ID. These cards are all kept in an app called Apple Wallet, which you can then use to pay for whatever you like. 
Apple Pay uses the near-field communication (NFC) chip in your device to transfer funds up to the £100 contactless payment limit, although some retailers will allow you to go higher.  
You can also use Apple Pay for online shopping and in-app purchases. Most app vendors now accept Apple Pay for transactions, while Apple allows you to tie your Wallet to its Safari web browser – so you can make third-party payments quickly without having to set up another account.  
How do I set up Apple Pay?  
Apple Pay is part of the Apple Wallet which is built into all Apple devices from iPhone 6 onwards and allows users to securely store debit and credit card details, as well as boarding passes, train tickets, coupons and event tickets. 
Add the credit or debit card linked to your Apple ID to your Wallet. You'll need to re-enter the card's security code, and complete any extra security steps as directed by your bank 

Add additional cards by opening your Wallet, tapping "add a credit or debit card" and following the steps. This involves either taking a photo of your card or typing in its details 

Choose which card you want to use as the default for payments. You can also select other cards as and when you want to use them 

To add a card to your Apple Watch, open the Watch app on your iPhone and go to the My Watch tab. Tap "Wallet & Apple Pay", and follow the steps to add a card.
How do I use Apple Pay?
It varies slightly depending on whether you're shopping in-store or online. 
Using Apple Pay for contactless payments  
Activate Apple Pay: Go to the Wallet screen and scan your face ID or rest your finger on the 'home' button, depending on the model of your iPhone 

Choose a card: If you've more than one debit or credit card in your Apple Wallet, select the card you want to pay with  

Hold iPhone or Apple Watch over terminal: Look for the Apple Pay or contactless symbol on the card machine or ticket barrier and hover your iPhone close to it to pay. A signal will sound/vibrate through your iPhone or Apple Watch when it has registered the card
Using Apple Pay to shop online and within apps 
Select Apple Pay: When prompted at the online checkout, select 'Apple Pay' as your chosen payment method 

Choose a card: Pay with your default credit or debit card in your Apple Wallet or pick an alternative card 

Enter further details: Enter your billing details, delivery address and contact information where necessary 
What is the limit for Apple Pay in the UK?  
You can spend over the £100 contactless limit in many stores, online or in-app with Apple Pay, but it will depend on the retailer. 
 Is Apple Pay safe?  
Yes. It can be viewed as a secure way of making payments because your card numbers are not stored on your device and are never shared by Apple Pay. 
What are the pros and cons of Apple Pay?  
Advantages 
Convenience: You can pay for purchases in seconds with different devices from your phone to your watch  
Higher contactless limit: You're often not restricted to the £100 limit that governs other contactless payments 
Better security: No credit card numbers are used to make the purchase so less chance of fraud 
Disadvantages 
Availability: While the number of retailers accepting Apple Pay is increasing it may not be available everywhere 
Keeping track of spending: With such a quick and easy payment system it may be easy to lose track and overspend 
Device reliance: If it becomes your only way of paying you could be caught out if your phone or watch battery dies or you lose your device
What is the difference between Google Pay, Apple Pay and Samsung Pay? 
Google Pay, Apple Pay and Samsung Pay are very similar. Which one is right for you will largely depend on the type of smartphone or device you want to use to make payments.  
For more information about making contactless transactions using credit and debit cards, take a look at our comprehensive guides to contactless payments and credit card security.  
MoneySuperMarket can also make it easy to find the right card to buy items and services both in person and online by allowing you to compare credit cards from a broad range of providers. 
Can I pay contactless with my credit card?  
Yes. Virtually all credit cards now allow you to make contactless payments. Just look for the symbol - four curved lines that get bigger from left to right. 

Other useful guides  
For more information on different card payment methods, why not read these guides? 
Compare credit cards with MoneySuperMarket 
MoneySuperMarket offers a range of credit cards from leading UK providers, including many which support Apple Pay.  
Our Eligibility Checker tool uses your details to do a 'soft' search, so we can show you which cards you're eligible for without harming your credit score. 
Just give us a few details about you, your finances and the type of card you want, and we'll scour the market to find the perfect card for your needs.